Fashion lovers, rejoice! The 2019 Met Gala is right around the corner.
In just a matter of days, New York City's Metropolitan Museum of Art will become home to what industry insiders have unofficially dubbed the Super Bowl of the fashion world. The über exclusive fundraiser benefits the museum's costume institute, and invitees are hand-picked by Vogue editor-in-chief Anna Wintour. In addition to shelling out $30,000 for a ticket, guests are also expected to dress to theme, which this year is "Camp: Notes on Fashion."
Needless to say, an event with such esteem and notoriety is bound to produce some pretty epic pop culture moments (sprinkled in with a bit of drama, of course).
So in honor of the first Monday in May, we're taking a trip down Met Gala memory lane. From Princess Diana's arguably risqué ensemble in 1997 to Rihanna's endless parade of style perfection and the birth of Taylor Swift and Tom Hiddleston's romance, these 15 moments will always have their place in Met Gala history.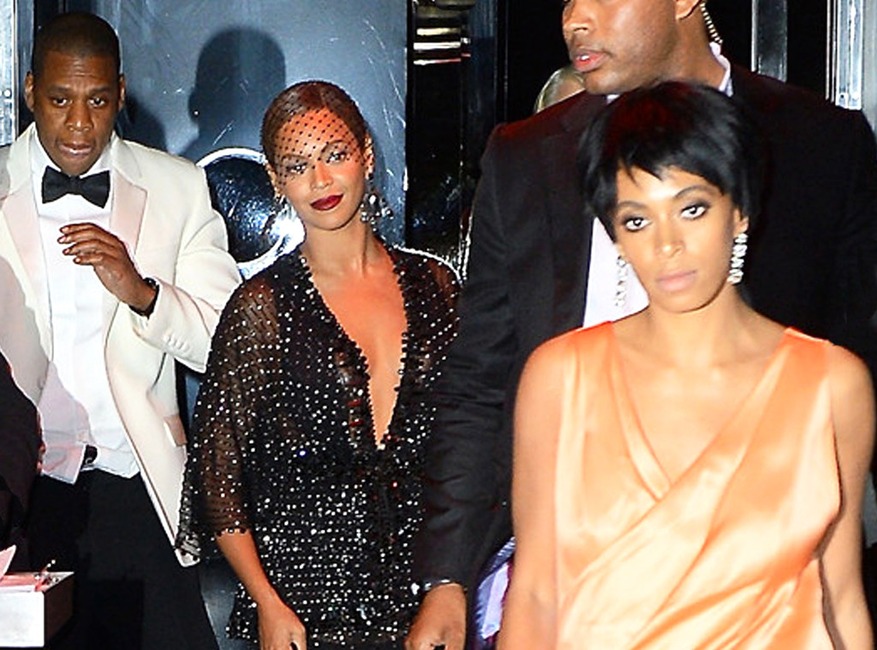 Splash News
Elevator Showdown

The 2014 Met Gala will forever go down in infamy, all thanks to a little ol' elevator ride between Beyoncé, Jay-Z and Solange Knowles. Leaked surveillance footage showed the rapper being physically attacked by Bey's little sister in the lift at NYC's Standard Hotel, which prompted the notoriously private trio (err, "united family") to release a rare public statement. Though we'll probably never know exactly what caused the showdown, Beyoncé's remix of "Flawless" alluded to it when she rapped, "Of course sometimes s–t goes down when there's a billion dollars on an elevator."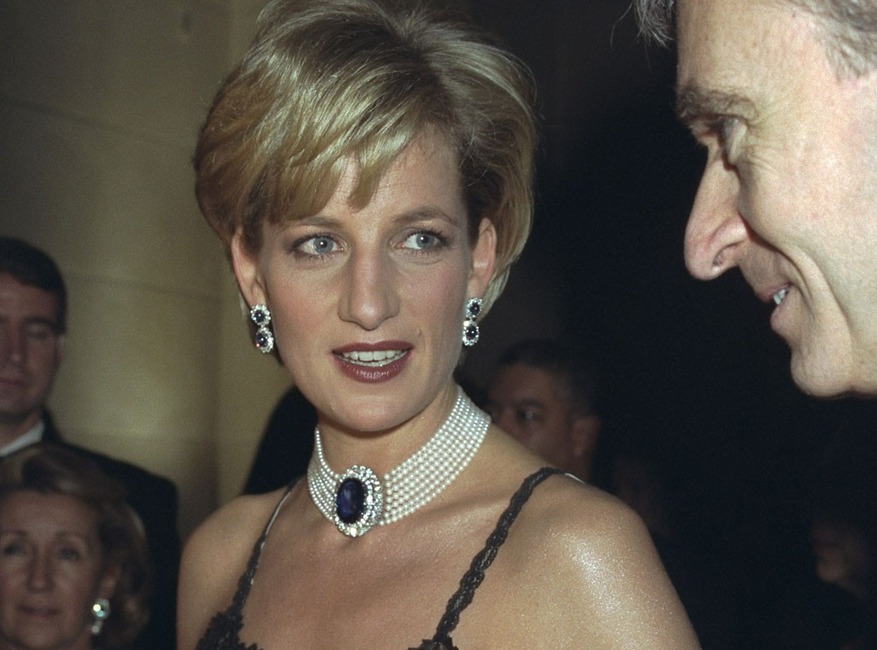 Richard Corkery/NY Daily News via Getty Images
London Calling

Princess Diana attended her first and only Met Ball in 1997, which coincidentally took place just three months before her shocking death. Though her lingerie-inspired gown—which John Galliano designed for Dior—drew criticism from more conservative Anglophiles, there's no denying Lady Di left an indelible touch on the Met Gala's legacy. To note, she and Princess Beatrice are the only members of the British monarchy to have attended the Met Gala.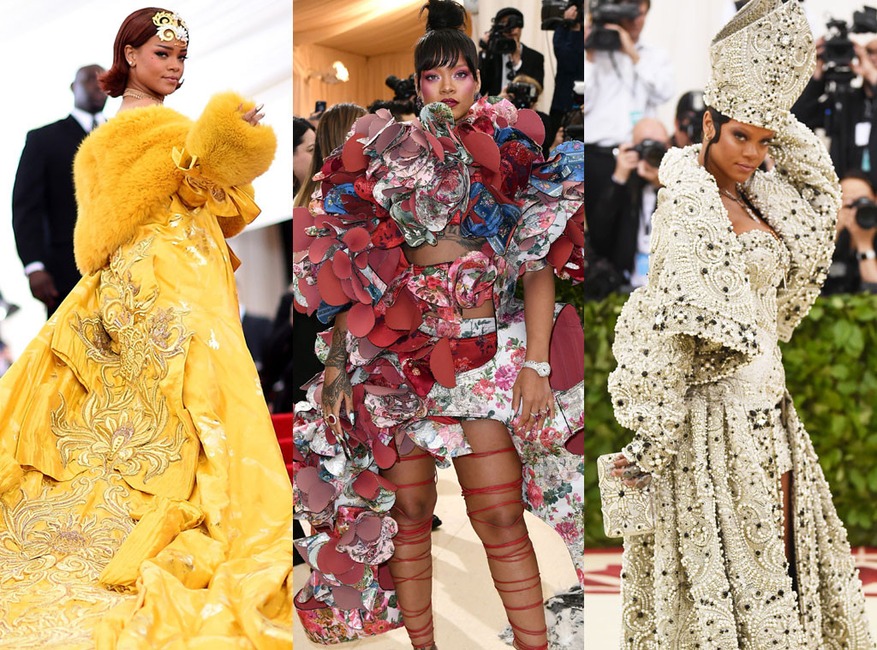 Photo by Dimitrios Kambouris/Getty Images; Rob Latour/REX/Shutterstock; Jamie McCarthy/Getty Images
Rih-Diculous

Let's keep this short and sweet, shall we? Each and every time Rihanna ascends the iconic steps of the Metropolitan Museum of Art, a moment in Met Gala history is made. We bow down over and over again.
Article continues below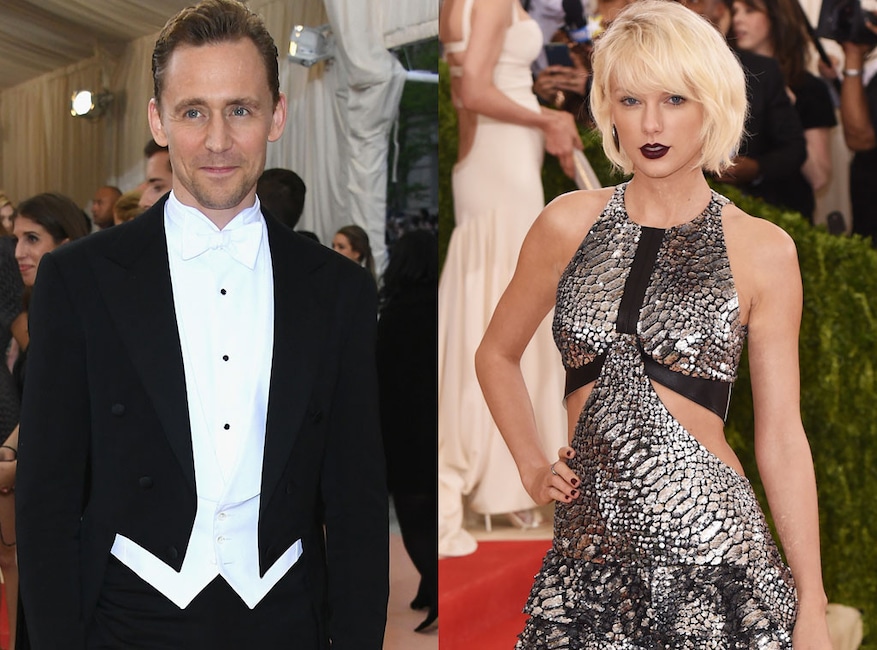 Larry Busacca/Getty Images; David Fisher/Shutterstock
Hiddleswift Is Born

Swifties can trace Taylor Swift and Tom Hiddleston's romance back to the 2016 Met Gala, where attendees caught the pair getting their groove on. Less than a month later, the pop star and Calvin Harris would go their separate ways and she'd move on with the British actor… at least for a few more months.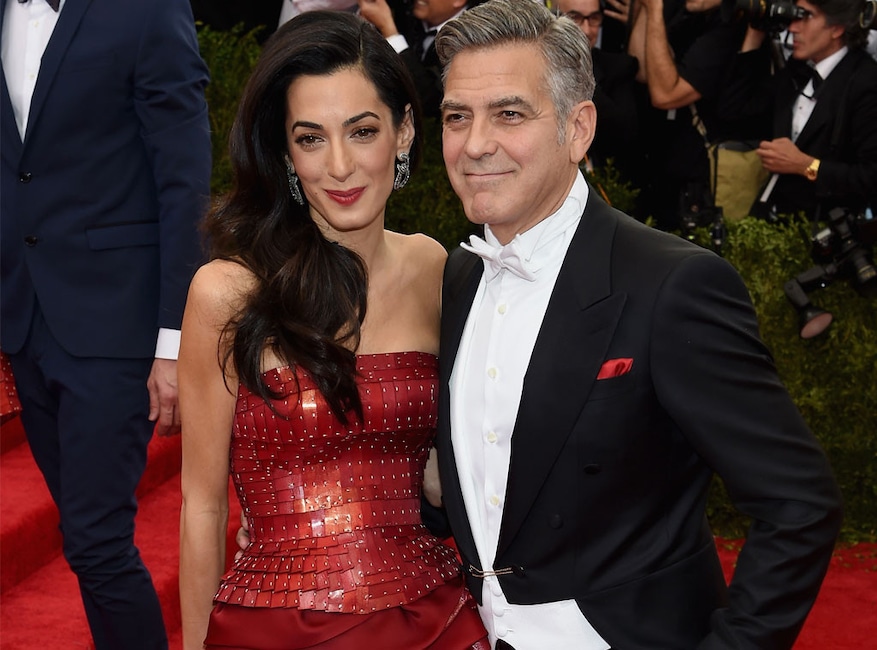 Jamie McCarthy/FilmMagic
Finally Off the Market

George Clooney and Amal Clooney made their Met Gala debut in 2015, effectively ending the A-list actor's run as Hollywood's most eligible bachelor. It also marked the first time the couple stepped out as newlyweds following their Sept. 2014 nuptials, which took place in Venice, Italy—naturally.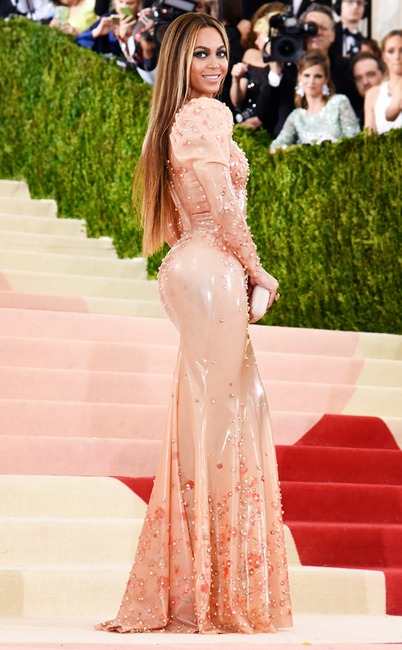 Larry Busacca/ Gettyimages
When Life Gives You Lemons

Just one week after Beyoncé dropped Lemonade, which shed new light on her and Jay-Z's marital turmoil, the performer showed up to the 2016 soiree without her usual plus-one. (Cue mass hysteria from the Beyhive.) She did have the support of Solange that evening, who was dressed rather appropriately in lemon yellow.
Article continues below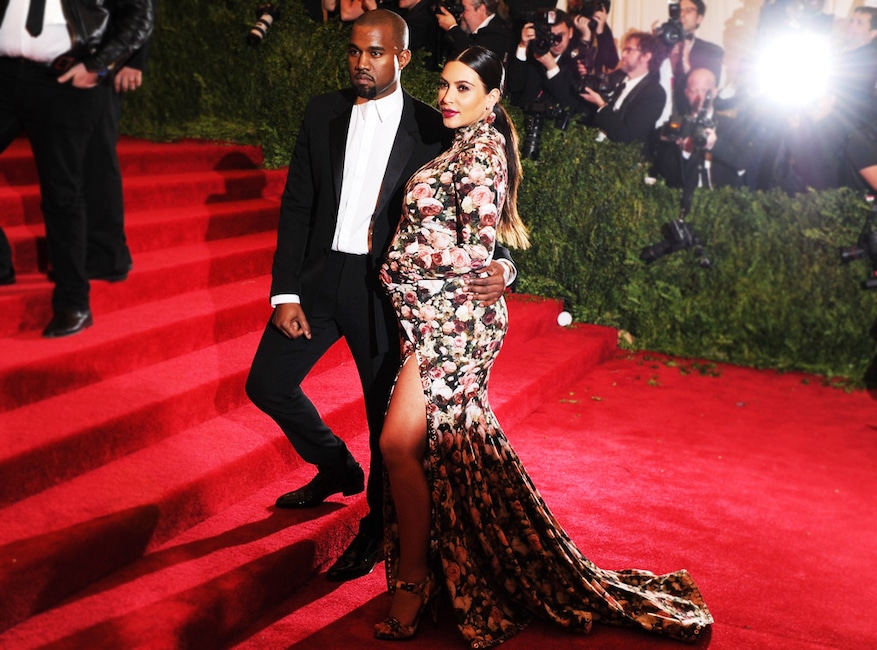 Dimitrios Kambouris/Getty Images
KKW's Big Debut

Kim Kardashian won't soon forget her very first Met Gala in 2013, where she (and a soon-to-be born North West) arrived alongside Kanye West in a publicly polarizing design by Givenchy. Two years later, KKW poked fun at herself by wearing the same floral design for Halloween. "Still fits," she captioned the moment on social media.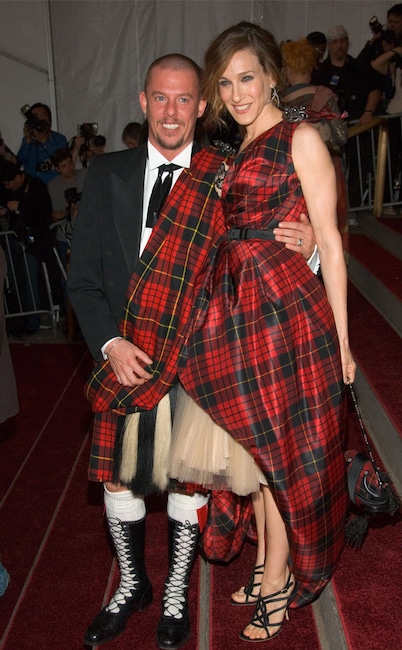 Photo by Lawrence Lucier/FilmMagic
A Legendary Pair

Sarah Jessica Parker and late designer Alexander McQueen were trés on theme when they rocked matching tartan plaid to the Met Gala in 2006, which was inspired by "AngloMania: Tradition and Transgression in British Fashion." Care to show us a better Met Gala duo? We'll wait.
Michael Buckner/WWD/REX/Shutterstock
Three's a Crowd

They say a picture is worth a thousand words, but this one of Jeremy Scott sandwiched between his 2016 Met Gala dates Nicki Minaj and Demi Lovato is worth so much more. After the former Disney star accused the rapper of throwing "shade" on Instagram, she further alluded to the awkward event in an interview with Billboard. "I had a terrible experience," she recalled in 2018. "This one celebrity was a complete bitch and was miserable to be around. It was very cliquey."
Article continues below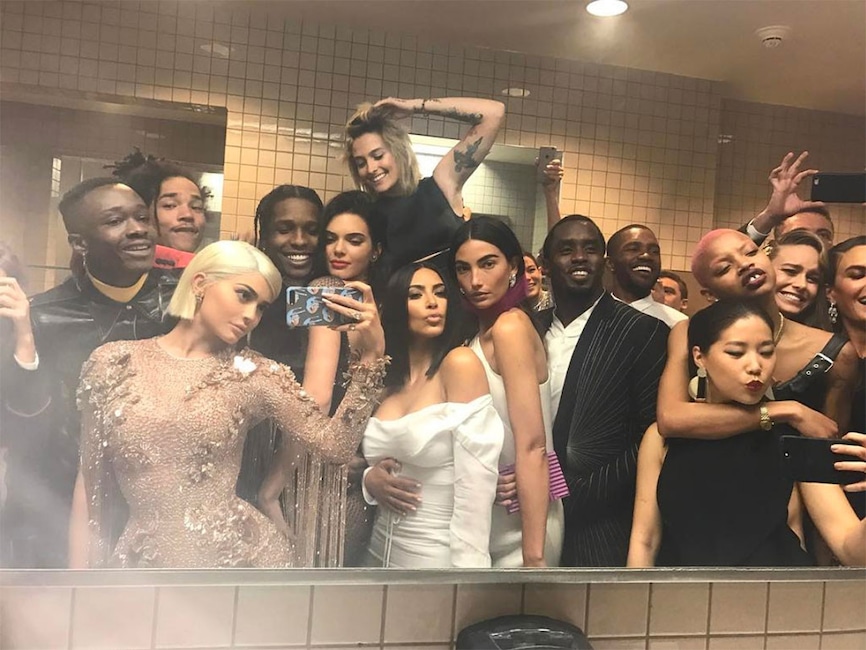 Instagram
Rule Breakers

What happens inside the Met Gala stays inside the Met Gala, or at least that was Anna Wintour's goal when she banned selfies in 2015. But two years later, several attendees gathered in the bathroom to take this sneaky snapshot. The result? A Kodak moment that will stand the test of time.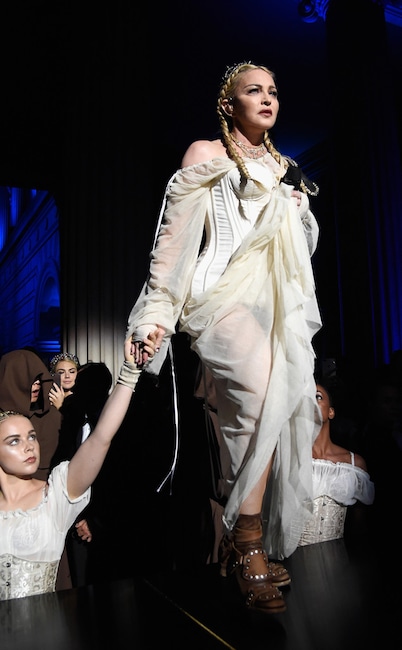 Kevin Mazur/MG18/Getty Images for The Met Museum/Vogue
A Heavenly Surprise

In 2016, Madonna appeared atop the stairs of the Great Hall with an unforgettable production of "Like a Prayer." The performance, which also featured the pop icon's rendition of Leonard Cohen's "Hallelujah," fit right in with the event's theme that year, "Heavenly Bodies: Fashion and the Catholic Imagination." Stairway to Heaven, indeed.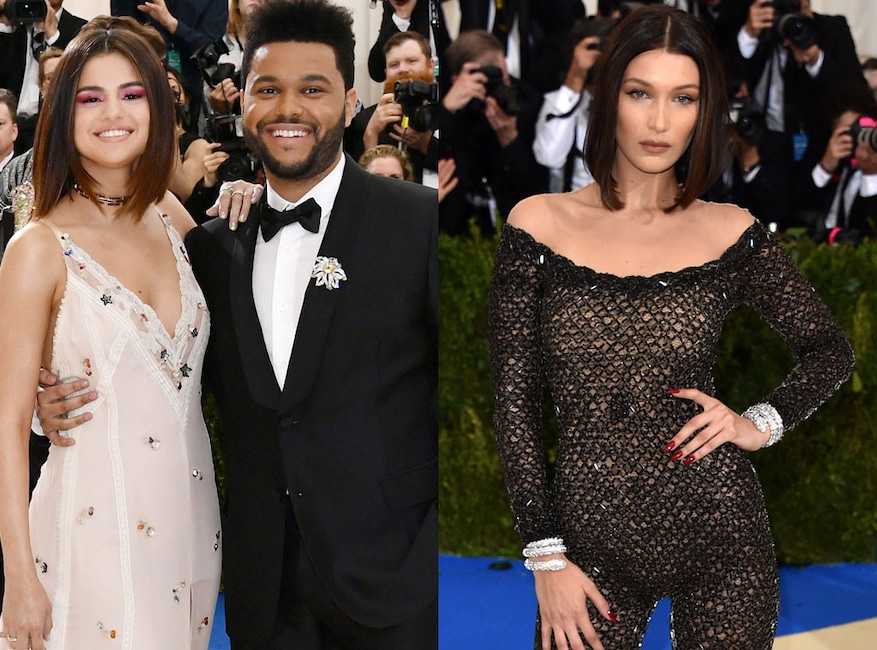 Rob Latour/Shutterstock; John Shearer/Getty Images
Thank You, Next

Dressed in the revenge catsuit to end all revenge catsuits, Bella Hadid expertly navigated what could have been quite the awkward interaction with ex-boyfriend The Weeknd and his date for the 2017 Met Gala, Selena Gomez. An insider told E! News that the supermodel kept her distance from the couple throughout the evening, but all's well that end's well for Bella and The Weeknd. They ended up reconciling a year later.
Article continues below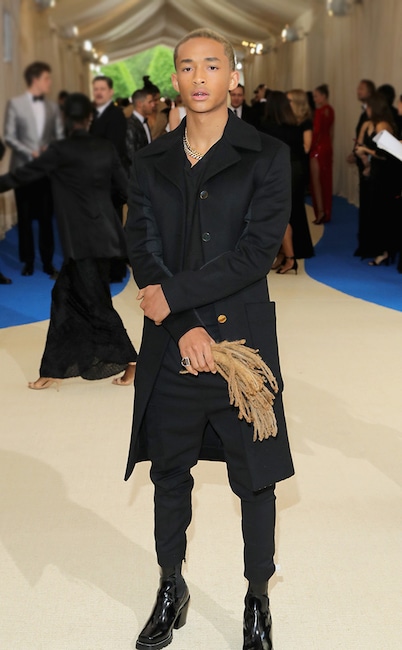 Neilson Barnard/Getty Images
Hairy Plus-One

Jaden Smith redefined fearless fashion when his freshly chopped dreadlocks accompanied him to the Met Gala in 2017. The unlikely accessory not only raised eyebrows, but also became somewhat of a tradition for the rapper and son of Will Smith and Jada Pinkett Smith. In 2018, Jaden carried a gold certification plaque for his song "Icon" onto the red carpet.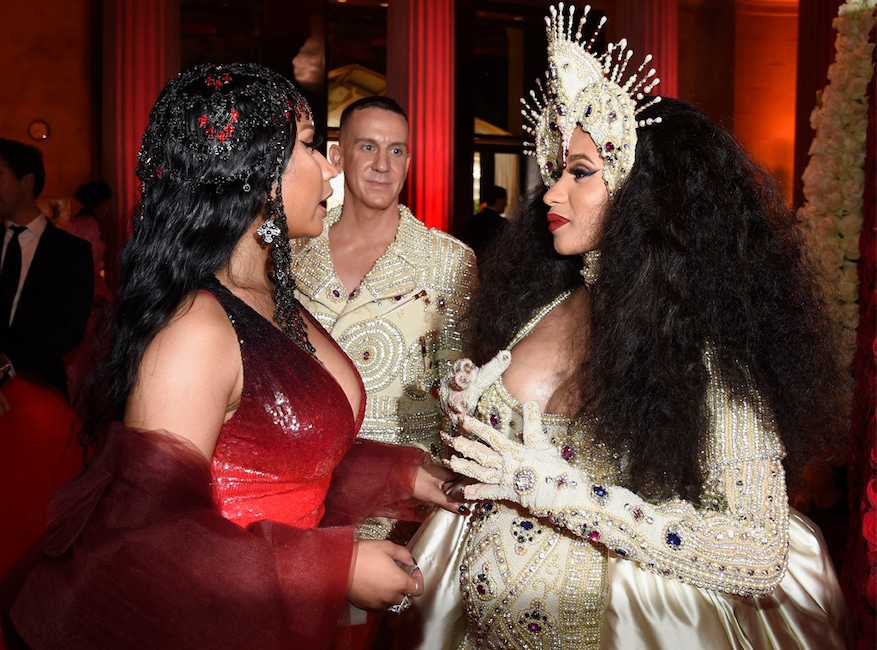 Kevin Mazur/MG18/Getty Images for The Met Museum/Vogue
Calling a Truce

For a blink-and-you-missed-it moment at the 2018 Met Gala, Cardi B and Nicki Minaj appeared to put an end to their ongoing feud after photographers spotted the rappers conversing with Jeremy Scott. That is until about four months later, when the pair were involved in a heated altercation at a New York Fashion Week party. Several weeks later, not even a red high heel and nasty facial knot could keep Cardi and Nicki from eventually finding the peace. Over Instagram they finally agreed to "keep it positive and keep it pushing."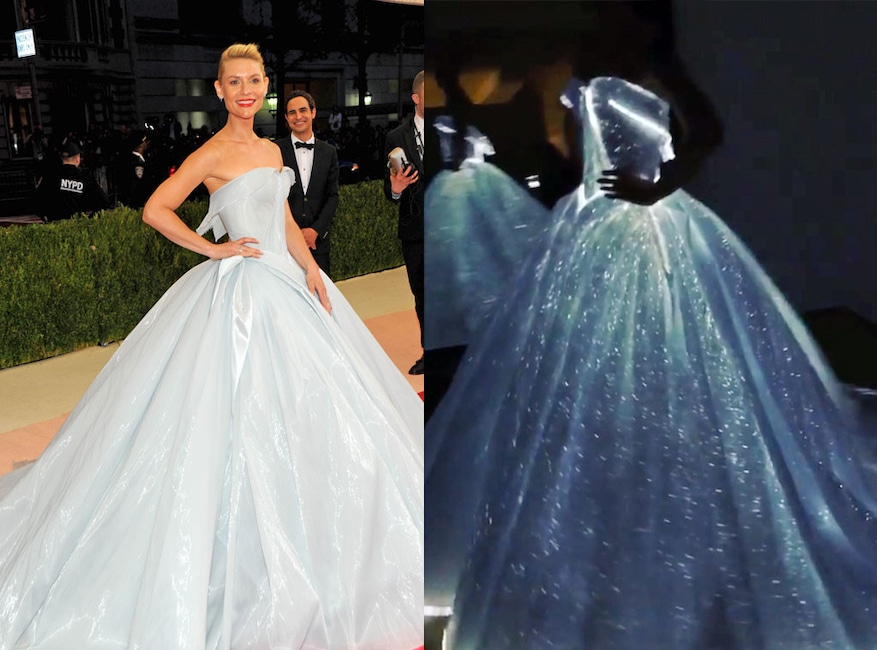 Bill Davila/startraksphoto.com; Instagram
Belle of the Ball

Claire Danes enjoyed a real life Cinderella moment when she arrived to the 2016 Met Gala in a light blue ball gown fit for the most regal of Disney princesses. Little did most know at the time, but the actress' Zac Posen design featured thousands of hand-sewn L.E.D. lights that illuminated the dance floor.
Article continues below
Something tells us this year's Met Gala will be just as memorable!
Watch E!'s Live From the Red Carpet: The 2019 Met Gala special on Monday, May 6 starting at 5 p.m. ET/ 2 p.m. PT! And don't miss E! News Tuesday, May 7 at 7 p.m. for a full recap of fashion's biggest night!
Source: Read Full Article