When Deshaun Watson was a growing up in Gainesville, Georgia, he lived in a two bedroom government-subsidized apartment with his mom, his three siblings, and two other family members.
"I grew up with pretty much nothing — in the hood, the ghetto — whatever you want to call it," the Houston Texans quarterback says on the season premiere of My Houzz (above). "We barely had lights, but my mom always made sure we had food on the table and somewhere to sleep."
But Deshaun would change his family's life dramatically — long before he was drafted to the NFL.
One Halloween, he went to a party at his church and one of his candy bars had a card attached to it advertising Habitat for Humanity. He showed it to his mom and she applied for a home through the charitable program, which requires applicants to complete community service and have good credit among other strict guidelines.
Then, one day, they got the call that they had been selected to receive a Habitat for Humanity home, which Watson says changed their lives.
RELATED: Mom of Three Wins Free Rent For A Year Playing HQ Trivia: 'It's Just Nuts'
"Receiving this house gave my family and I hope," he tells PEOPLE exclusively. "It gave us a chance to better ourselves and our future."
BEFORE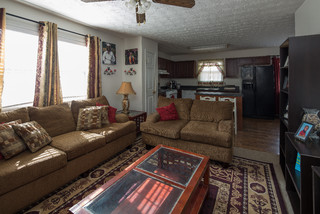 AFTER
"It was a fresh start for us to build our own foundation in a good environment — good neighborhood," Deshaun adds in the episode. "It changed everyone's lives. It made me motivated to fulfill my dreams and help me get to where I am today. I am thankful for that."
As he grew up in the house, he and his family slowly made it their home, often having 20 people over to gather in the living room and eating meals together around the kitchen island.
Some time later, Deshaun's mom, Deann, was diagnosed with tongue cancer, which inhibited her speech and ability to eat.
"She never complained," he says. "She never once was saying she wanted to give up. She's always been a fighter and that really inspired me. If she can get through that, no type of adversity can hold me back from what I want to achieve."
WATCH THIS: Cardi B Achieves One of Her 'Childhood Dreams' by Gifting Her Mom a House: 'So Happy'
Now, the quarterback is giving back to his mom in a big way, renovating their Habitat house and giving her the home she's always dreamed of.
"This is really the smallest thing I can do for her because she deserves even more," Deshaun says. "I am a momma's boy so she gets whatever she wants."
The athlete teamed up with design-build firm Infinite Home, who he connected with on Houzz, to overhaul the kitchen, living room and dining space of his childhood home.
BEFORE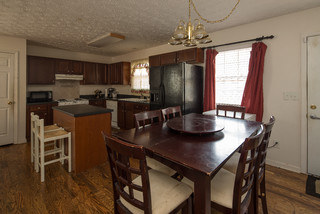 AFTER
Deshaun wanted to make sure to keep in line with Deann's design preferences while expanding the space and making it more functional. He and the Infinite Home team tackled the kitchen by expanding the center island and adding barstools, along with taking out a pantry, which used to block her view of the dining room. In its place, they created a new built-in pantry with roll-out storage cabinets. They also decided to lighten the color scheme of the entire room to make it appear larger.
BEFORE
AFTER
"Before, it was dark," Deshaun tells PEOPLE. "The island wasn't functional. Now it's modern, light and works better for our family."
In the living room, Deshaun tore up the carpet and installed hardwood floors — a dream his mom always had for their home. He also said his mom always wanted a fireplace, but Watson wasn't sure how to install one without having to change the external structure and build a chimney. So he and the Infinite Home team purchased an electric fireplace on Houzz.com, which ended up being one of Watson's favorite features in the home.
BEFORE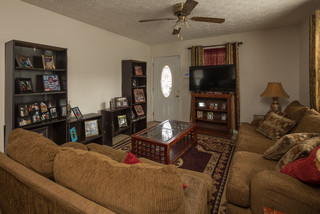 AFTER
Because he lives in Houston, Deshaun couldn't be there for all of the renovations. So he enlisted the help of his Auntie Sonia, who made sure the team incorporated all of Deann's family photos that she had placed around the living room into their new design. In the completed space, they decided to hang the photos in a gallery-style display above the sectional to brings a personal touch to the room.
"What makes a home to me is the energy," Deshaun says. "I'm a big energy person, so somewhere that I can relax, feel free and not have to worry about anything."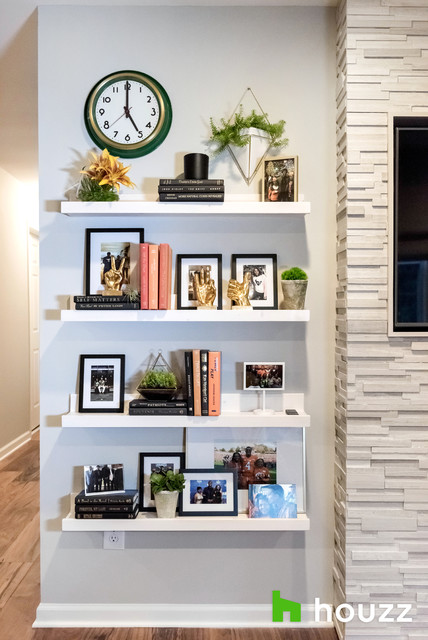 RELATED: Former HGTV Dream Home Hits the Market for $1.9 Million — See Inside the Custom-Designed Abode
When Deann first sees her new home, she is in shock, and can't stop smiling and saying "I love it," and for Deshaun, seeing that smile on his mom's face is all he could ever ask for.
"[This house] is the centerpiece of our family," he tells PEOPLE. "Just to see how happy she was to be able to provide this opportunity for my siblings and I was the best part. It means everything to me. My mom has been my rock since day one, without her I would never be where I am today."
Source: Read Full Article