I'm always intrigued by all the wonderful candies and confections that make their way to grocery store shelves during the holiday season. Every time I buy a bag of peppermint candies, I can't help but wonder how they are made, which is why this season I became determined to make them as an edible gift.
These little peppermints do require fast speed to stretch and cut, but if you don't get it right the first time, your hardened brick of candy won't go to waste. Leftover candy cane can be crushed and used in ice cream, cookies, or candies.
Peppermint Candies
Notes
Always wear heat-resistant rubber welding gloves (sold at hardware stores) to protect your hands from burns when pulling hot candy.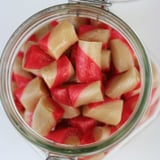 Ingredients
Directions
Information

Source: Read Full Article