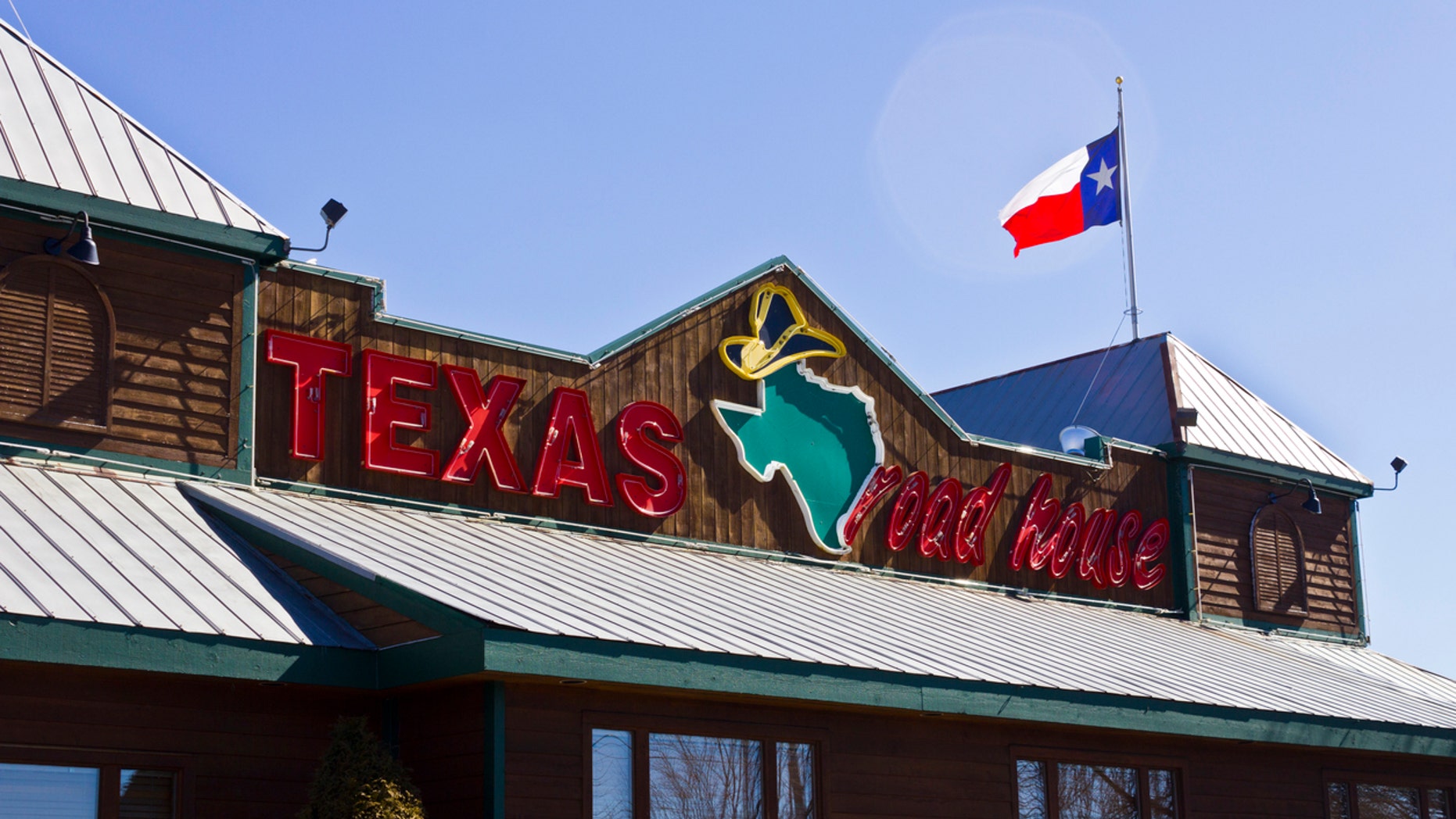 Texas Roadhouse has apologized for an incident last week involving a breastfeeding mother in Kentucky.
(iStock)
A Texas Roadhouse restaurant in Louisville, Ky., has apologized to a mother who was asked by a manager to cover up while she was breastfeeding her seven-week-old daughter.
Sadie Durbin began nursing her infant daughter while she was dining at the American chain restaurant with her family, she wrote in a now-viral Facebook post, when a manager came over and told her to cover up.
"David Mitchell, a manager at the Texas Roadhouse on Shelbyville Road, brought me a napkin and tried lying it over my 7 week old nursing infant's face as he explained that he had another patron complain and that he really needed me to cover up," Durbin wrote.
POLICE OFFICER PRAISED FOR BREASTFEEDING MALNOURISHED BABY WHILE ON DUTY AT HOSPITAL
"I politely explained to him it is against the law for him to ask me to cover up and that I was well within my rights to feed my baby," she continued.
Kentucky state law protects a woman's right to "breastfeed her baby or express milk in any location, public or private" without interference.
Durbin claims that the manager then "threw the napkin down" in front of her and "angrily walked away with a huff" after she refused to cover her nursing child.
"[The manager] however never came back until I asked my server to know who the 'other' complaining patrons were. He finally came back to our table, threw his hands up and said angrily 'I'm not at liberty to tell you that. Listen lady, I've done nothing wrong,'" she claims in the post.
Since the incident took place last week, the restaurant has reached out to Durbin and apologized, issuing a statement that says it "supports the rights of all mothers to breastfeed their children in public, including in our restaurants…Unfortunately, our manager's handling of this situation was misguided and wrong," WDRB reported.
BREASTFEEDING MOM CLAIMS EASYJET FLIGHT ATTENDANT TOLD HER TO STOP BEFORE TAKEOFF
Texas Roadhouse also met with the members of La Leche League of Louisville – a pro-breastfeeding organization – and hosted a nurse-in at the restaurant. In a statement on Facebook, Jeff White, managing partner of the Roadhouse, said they will "use this incident to educate our employees to the rights of nursing mothers as part of our commitment to providing a welcoming and family-friendly dining experience for everyone."
A spokesperson for the restaurant told WDRB that the manager has taken some paid time off, but will not be fired over the situation.
Though the restaurant apologized and vowed to do better, not everyone agreed with Durbin's Facebook post, which has received over 26K reactions and 28K shares. In the viral post, thousands left comments both agreeing with and chastising the mother for her actions.
FOLLOW US ON FACEBOOK FOR MORE FOX LIFESTYLE NEWS
"Dear I have never met you in my life, but I say hold your head high and continue to be a FABULOUS breastfeeding momma. You have no reason to feel embarrassed so forget the negative Nancy who complained. ROCK ON MOMMA," one wrote, praising the mom.
"Cover your eyes up, dont tell the mom to cover her breast to feed her child. People will get cussed out approaching me with this bulls—," another said.
"I believe in the right to breast feed, I did four. But I also believe in integrity and privacy. Just cover up. That's not taking your rights away," one wrote, disagreeing with Durbin.
"Yes! I am a believer and breast-feeding but have the decency to at least cover your breast up when you are feeding your child I wouldn't want to just throwing it out for the public for everyone to see have a little decency!" another said.
Source: Read Full Article