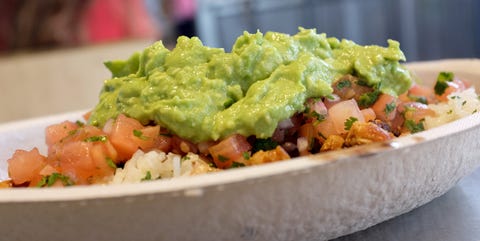 Whether you're on a road trip or just craving a burger like no other, sometimes you just need to eat fast food. Yes, even nutritionists turn to McDonald's now and then. (What, you thought they literally meal-prepped all their food? Nah.) These are the healthy fast food restaurants nutritionists turn to in a pinch—or you know, when they're just craving some fries.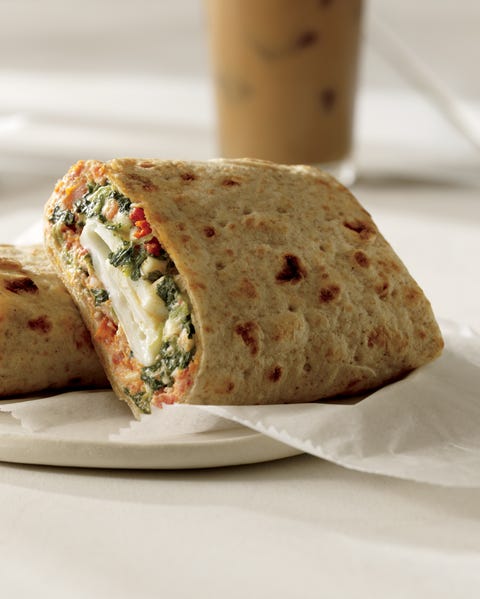 Starbucks
Starbucks
Thanks to a substantial selection of ready-to-go meals, Starbucks is a great option when you're pressed for time. "For breakfast, I go for Starbucks, which has a good selection of breakfast items in addition to my go-to order of an Americano with steamed non-fat milk," says Jessica Ivey, R.D.N.
What to eat: Whether you're going for sweet or savory, Starbucks has you covered in both the taste and health departments. "My favorites include the Spinach, Feta and Cage-Free Egg White Breakfast Wrap, which is packed with 15 grams of protein to keep me full and satisfied, or the Hearty Blueberry Oatmeal, which provides five grams of filling fiber," says Ivey.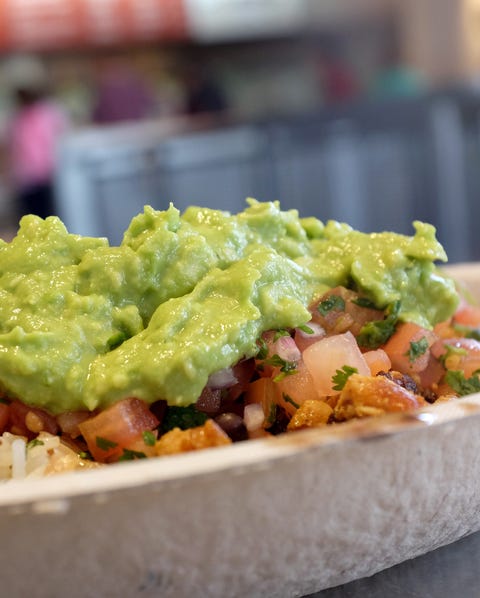 Getty ImagesJoe Raedle
Chipotle
For Jessica Perez, R.D., any fast food chain that features a build-your-own model is a good option. She appreciates that the Chipotle website features a nutrition calculator tool that lets you build your meal around your desired nutrients.
What to eat: Perez's combination of romaine lettuce, chicken, black beans, fajita vegetables, and a dash of tomatillo green chili salsa is packed with protein and nutrients. While the fajita veggies and salsa do a solid job of flavoring the salad on their own, you can also ask for the vinaigrette on the side to control how much you use.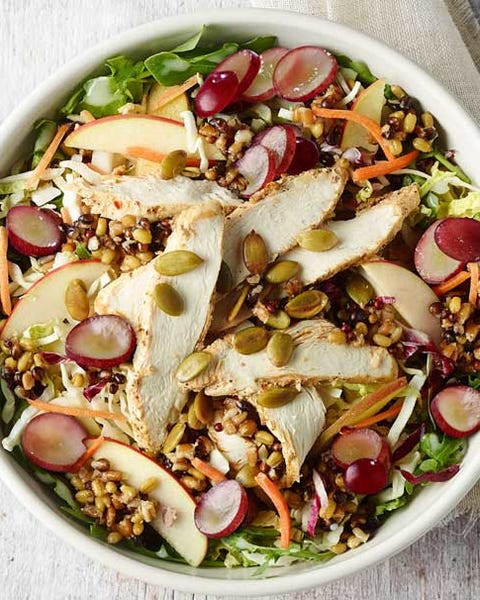 Panera
Panera
This popular chain is perfect when you're in a bind, thanks to their many veggie-packed options. Ivey notes, "I love that they offer half-size portions of their salads and sandwiches for portion control."
What to eat: Ivey loves the Ancient Grain and Arugula Salad with Chicken since it provides four food groups in a single salad: vegetables, fruits, lean protein, and grains. Not too shabby.
"I also enjoy the Lentil Quinoa Broth Bowl, which provides plant-based protein and fiber to fill me up. If I'm craving a sandwich, I go for the Mediterranean Veggie with Hummus for a crisp, refreshing option," she says.
To wash it all down, Ivey sips on their Plum Ginger Hibiscus tea.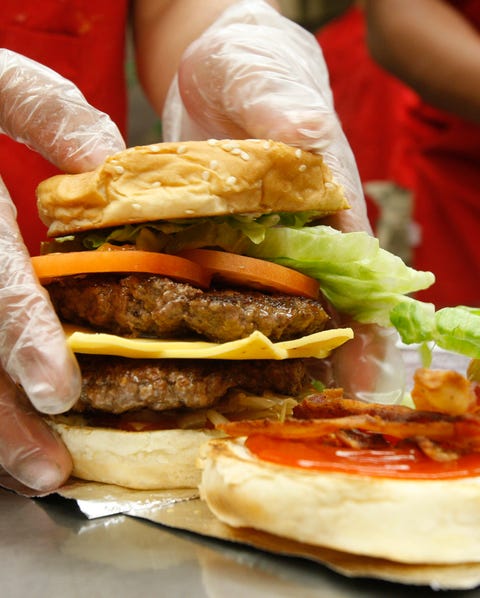 Getty ImagesGary Friedman
Five Guys
Rosanne Rush, R.D.N., author of DASH Diet For Dummies, is always watching her sodium intake, so it's comforting to know that Five Guys items tend to contain less salt than other chains, she says.
What to eat: "I order the Little Hamburger topped with as many veggies as possible," says Rush. "This will run you about 540 calories and 380 milligrams of sodium plus toppings. But lettuce, tomato, grilled onions, and green peppers only add about 45 calories and 60 milligram of sodium. Overall, not bad for a fast food burger."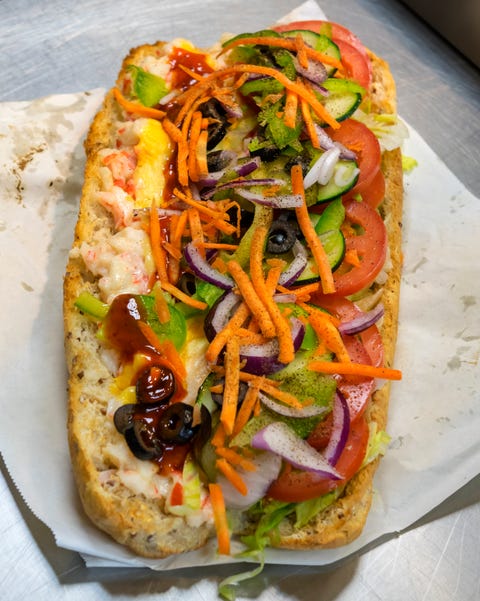 Getty ImagesJeff Greenberg
Subway
Sometimes you just need a huge-ass sandwich, right? "The Fresh Fit menu makes it easy [to eat healthy], providing two servings of veggies and 24 grams of whole grains per serving," says Rush.
What to eat: There are plenty of opportunities to make your order as healthy as you can. Rush orders a rotisserie-style chicken sandwich on nine-grain honey oat bread, topped with banana peppers, lettuce, cucumbers, olives, and spinach.
Follow Rush's lead by going easy on the sauce, loading up on the veggies and lean protein, and opting for fiber-packed whole-grain bread.
While Rush notes some subs on the menu contain 700 to 850 milligrams of sodium (nearly half of your daily intake!), the Veggie Delight is also a solid bet at 280 milligrams, which is great for vegetarian or vegan diners—or anyone looking to up their veggie intake.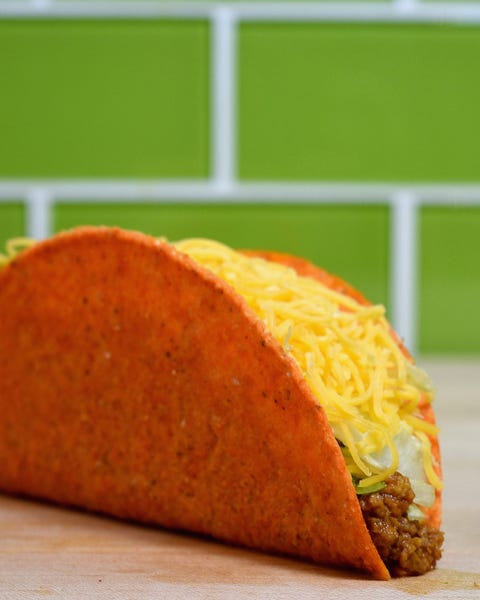 Getty ImagesJoshua Blanchard
Taco Bell
Okay, this one surprised me, too. "They have a lot of vegetarian choices on their menu that offer up extra fiber and vitamins. You can also add a side of healthy black beans to any order," Rush says.
What to eat: In addition to the many veggie-packed options available, Rush says her favorite is actually the Beef Fresco Crunchy Taco. "It may surprise you that the crunchy tacos have less calories and less sodium than soft tacos," says Rush.
The Chipotle Chicken griller is also a great bet.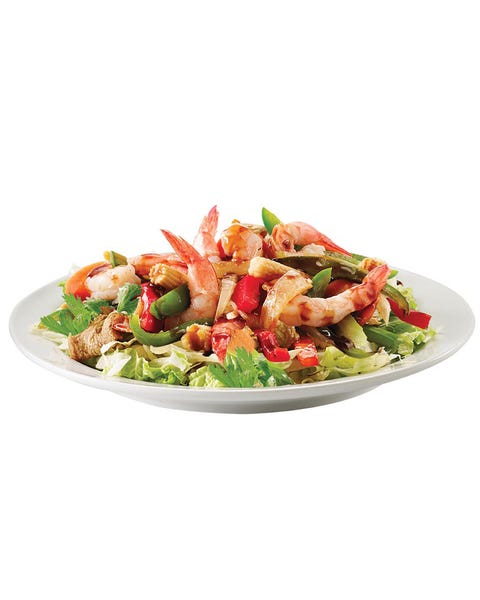 Thai Express
Thai Express
"It's made-to-order so you see what they put in your food. It's all in front of you," says Perez. She notes you can also go online to plan your meal: "On their website they show you how to make lighter choices, like getting your fried rice with less egg, or asking for more vegetables, less noodles, and less salt."
What to eat: While undoubtedly delicious, the Pad Thai can set you back upward of 1,000 calories, Perez notes, but you don't have to forego noodles entirely. "I go for the Thai soup with chicken, which comes in at 500 calories," she says. It's full of rice noodles, bean sprouts, onion, carrot, green onion, coriander, and red onion, and you can ask for a mini portion to eat even lighter.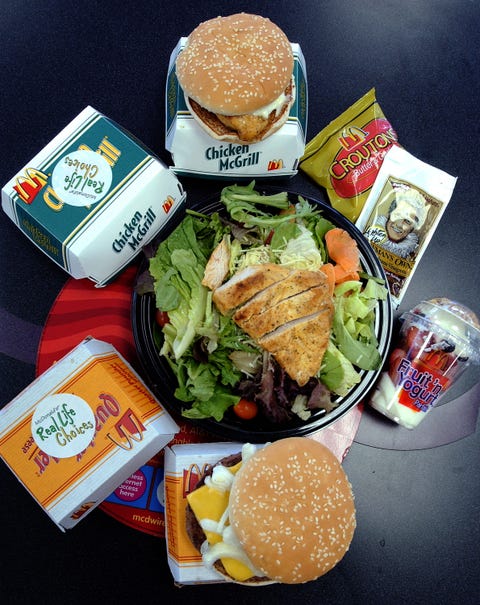 Getty ImagesStephen Chernin
McDonald's
Thank god, because McD's fries are so good. "If you're going to a fast food chain like this one, it's actually easy to reign it in and have smaller portions," says Perez. Plus, there's something to be said about giving into junk food cravings in moderation, instead of settling for an unsatisfying alternative.
What to eat: Perez recommends getting a Happy Meal, so you can hit your cravings while keeping portions in check. There's also the option of apple slices as a fiber-filled side or dessert. Swap your fountain soda for water and you're good to go.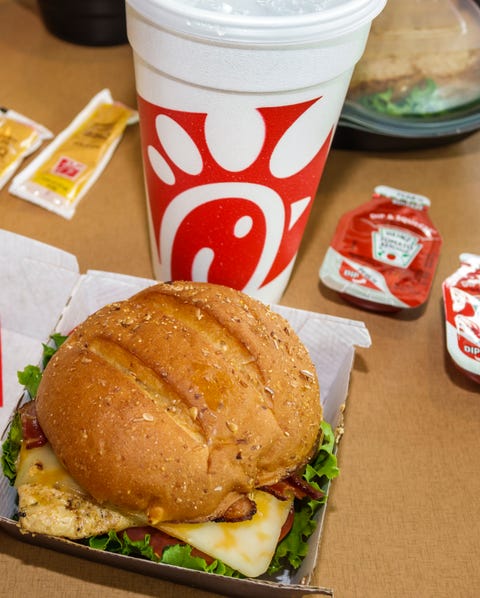 Getty ImagesJeff Greenberg
Chick-fil-A
Depending on what you order, Chick-fil-A is totally R.D.-approved. "Being a Southerner, my all-time favorite fast food restaurant is Chick-fil-A. I love that they offer healthier choices, including salads," says Ivey.
What to eat: "One of my go-to options is the grilled chicken sandwich, which is served on a multigrain bun with lettuce and tomato and a fruit cup for the side," says Ivey. The Grilled Market Salad is another one of her favorites since it satisfies every flavor craving. Topped with grilled chicken, chopped apples, fresh berries, blue cheese, and a light balsamic vinaigrette, it's basically a farmer's market in a bowl.
And if you want something a little more indulgent: "I'll choose the eight-count chicken nuggets, which has just 260 calories and 2.5 grams of saturated fat," says Ivey, "and replace the fries with a side salad."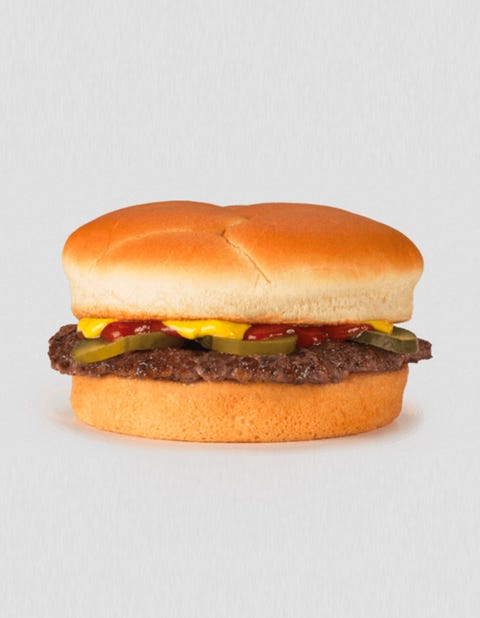 AW
A&W
A&W isn't all root beer floats and three-story Grandpa burgers. "It offers great alternatives for vegetarians who are craving fast food. And for 'meatitarians,' you can customize your burgers with extra veggies," says Perez.
What to eat: If you haven't heard of The Beyond Burger from Beyond Meat by now, you've been living under…a hamburger bun. Thankfully, A&W made it a mainstay on their menu. "The Beyond Meat burger tastes the closest to a beef burger in a fast food setting that I've ever had," says Perez. "I dress it with mustard, lettuce, and pickles. I have the bun. It's part of the experience."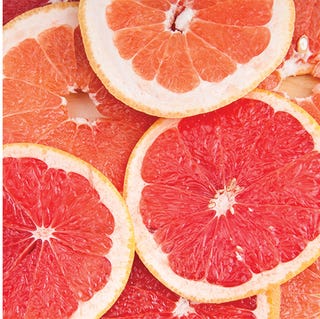 Source: Read Full Article