We asked the BuzzFeed Community to share the absolute BEST pizza in their state. Here are the spots that received the most love from the locals.
1.
Alabama: Post Office Pies in Birmingham and Avondale
https://instagram.com/p/BcnEP_6njMj/
"They have amazing pizza and a cool venue that used to be an actual post office with the original exterior existing."
—marleyc44a581076
"It's affordable and absolutely delicious! A great spot to go to if you're passing through or just need a bite to eat in the area!"
—claref4645a591a
2.
Alaska: Moose's Tooth Pub & Pizzeria in Anchorage
https://instagram.com/p/B0ZAk5AJfww/
"As an Alaskan, I would fail miserably if I didn't plug Moose's Tooth! Their pizzas are delicious, original, and not too expensive. All of the handcrafted beers are a bonus!"
—r4a554975a
"They recently made all of their crust vegan, have original creative recipes, a ton of specials, and in 2015 TripAdvisor ranked it the third best pizzeria in the US!"
—sarahj4dfdedc6c
3.
Arizona: Pizzeria Bianco in Phoenix
https://instagram.com/p/BFdT3V_GhOj/
"It's hands-down the best pizza in the state! It's been rated the number one pizzeria in AZ by Bon Appetit, Vogue, Rachael Ray."
—domduncan
Honorable Mentions: Cibo in Phoenix and Fratelli in Flagstaff.
4.
Arkansas: Damgoode Pies at multiple locations
https://instagram.com/p/BoWltDWB5jY/
"They offer a range of sauces, but their pink sauce is the best. Personally, I love the Stuffy, which is a double-crust deep dish with toppings on the inside and sauce on top."
—funkadeliccapybara
Honorable Mentions: Larry's Pizza and U.S. Pizza Company.
5.
California: The Cheeseboard Collective in Berkeley
https://instagram.com/p/B07EDC4Fg_C/
"One flavor a day, always fresh, always vegetarian. Lines down the block, especially when it's a corn day. Always get the green sauce to dip your pizza in. Always."
—christinegb
Honorable Mentions: Pizza My Heart and Village Pizzeria.
6.
Colorado: Brown Dog Pizza in Telluride
https://instagram.com/p/BzTdvKCDVf8/
"It's so so good, just every component. They've won awards for their specialty pizza recipes and the whole vibe of the place is super fun and energetic."
—perryb44023483e
Honorable Mention: Beau Jo's Pizza at multiple locations.
7.
Connecticut: Frank Pepe's at multiple locations.
https://instagram.com/p/B00zxchJY1m/
"Frank Pepe's is a CT staple—the White Clam pizza especially!"
—norawg
Honorable Mention: Modern Apizza in New Haven.
8.
Delaware: Grotto Pizza at multiple locations
https://instagram.com/p/Bklt5iLFylP/
"Delaware has to be Grottos Pizza. There's a reason they call it the 'legendary taste'! The swirls of sauce and cheese make it so unique and so tasty!"
—roscoe0624
9.
Florida: Anthony's Coal Fired Pizza at multiple locations
https://instagram.com/p/Bz_-JFxH9UF/
"It's a chain that got its start here, but other states up north just love taking credit for our one franchise. Nope. A Florida classic, sorry guys."
—kminfl
10.
Georgia: Antico Pizza Napoletana in Atlanta
https://instagram.com/p/Bx3SFFbl5en/
"It's some of the best pizza you'll ever have."
—darbyj42379996e
11.
Hawaii: Kona Brewing Company in Honolulu
https://instagram.com/p/B0_3tynhRsC/
"Amazing local flavor brews, creative pizzas, and admirable sustainability goals! They also use hops in the pizza dough!"
—danielled48918433b
12.
Idaho: The Pie Hole in Boise
https://instagram.com/p/B0T1iSGHsFy/
—laceyg413aac175
13.
Illinois: Lou Malnati's in Chicago
https://instagram.com/p/B04qYS4FxC3/
"Their deep dish is to die for. Anytime someone visits from elsewhere, we always order Lou Malnati's. There's no place that makes better pizza."
—ravenclaw_athena12
Honorable Mentions: Pequod's Pizza and Uno Pizzeria in Chicago.
14.
Indiana: Mother Bear's Pizza in Bloomington
https://instagram.com/p/BstUQEEB7bW/
"Fantastic thin crust that does its own thing and doesn't try and emulate pizza from anywhere else. The Illinois Central and the Divine Swine are just to die for."
—chigirl
15.
Iowa: Happy Joe's Pizza at multiple locations
https://instagram.com/p/BhG27H3nQ50/
"There's all kinds of specialty pizzas (like their famous taco pizza), and it has the best atmosphere. Also, the Superman ice cream (if you can find it) is to DIE FOR."
—madelynf487f41e0c
16.
Kansas: Pizza Shuttle in Lawrence
https://instagram.com/p/BrL5mqfB6SM/
—tazrianr
17.
Kentucky: Miguel's Pizza in Slade
https://instagram.com/p/B0_l-_sFRsN/
"The best place to go after rock climbing or hiking, and great with an Ale-8-One."
—crt627
18.
Louisiana: Johnny's Pizza House at multiple locations
https://instagram.com/p/Byvg7s1hBzU/
"Even after 52 years, it's still the go-to pizza place for natives. Their most famous pizza is the 'Sweep the Kitchen,' which is a supreme pizza, but during crawfish season, they sell the 'Sweep the Swamp,' which has crawfish, shrimp, and andouille sausage. There are now a total of 44 franchise locations in Louisiana and surrounding states, but it still feels like a small, local treasure."
—shellezbellez
19.
Maine: Otto in Portland
https://instagram.com/p/B04QNE0FIkL/
"Their bacon, mashed potato, scallion pizza is to die for!"
—shannonb40a7ae261
20.
Maryland: Ledo Pizza at multiple locations
https://instagram.com/p/By1GokOFFVr/
"Its crust is different than any other pizza I've had, and I really like that it's cut into squares."
—hollynicolel
"Great, sweet, homemade sauce. And they never cut corners! It's a must-have in Maryland!"
—ajohnson1717
Honorable Mention: Pizzeria Paradiso in Hyattsville.
21.
Massachusetts: Regina Pizzeria in Boston
https://instagram.com/p/Bx7WWnggLR0/
"Pizzeria Regina in the North End of Boston is the best pizza I've had in Massachusetts. The line is long, but the wait is worth it."
—pearlw42449b3cb
Honorable Mention: Santarpio's in Boston.
22.
Michigan: Buddy's Pizza at multiple locations
https://instagram.com/p/B0YbuDNFMAr/
"Perfect Detroit-style pizza. And their brick cheese is amazing. Nothing compares!"
—c4c845b956
Honorable Mention: Amici's in Berkley.
23.
Minnesota: Sammy's Pizza at multiple locations
https://instagram.com/p/Bx5GC4eH9qb/
"A classic, thin crust masterpiece."
—chelsean9
Honorable Mentions: Young Joni and Punch Pizza in Minneapolis.
24.
Mississippi: Stromboli's in Starkville
https://instagram.com/p/Bwk65-4BJv5/
—katieo423fbee2e
25.
Missouri: Imo's Pizza in St. Louis
https://instagram.com/p/BzYF_90gOPw/
"What makes it different is that the crust is cracker thin and they have their own cheese in this area called Provel. Imo's claims to have invented it."
—agreen1490
Honorable Mention: Shakespeare's Pizza in Columbia.
26.
Montana: Howard's Pizza at multiple locations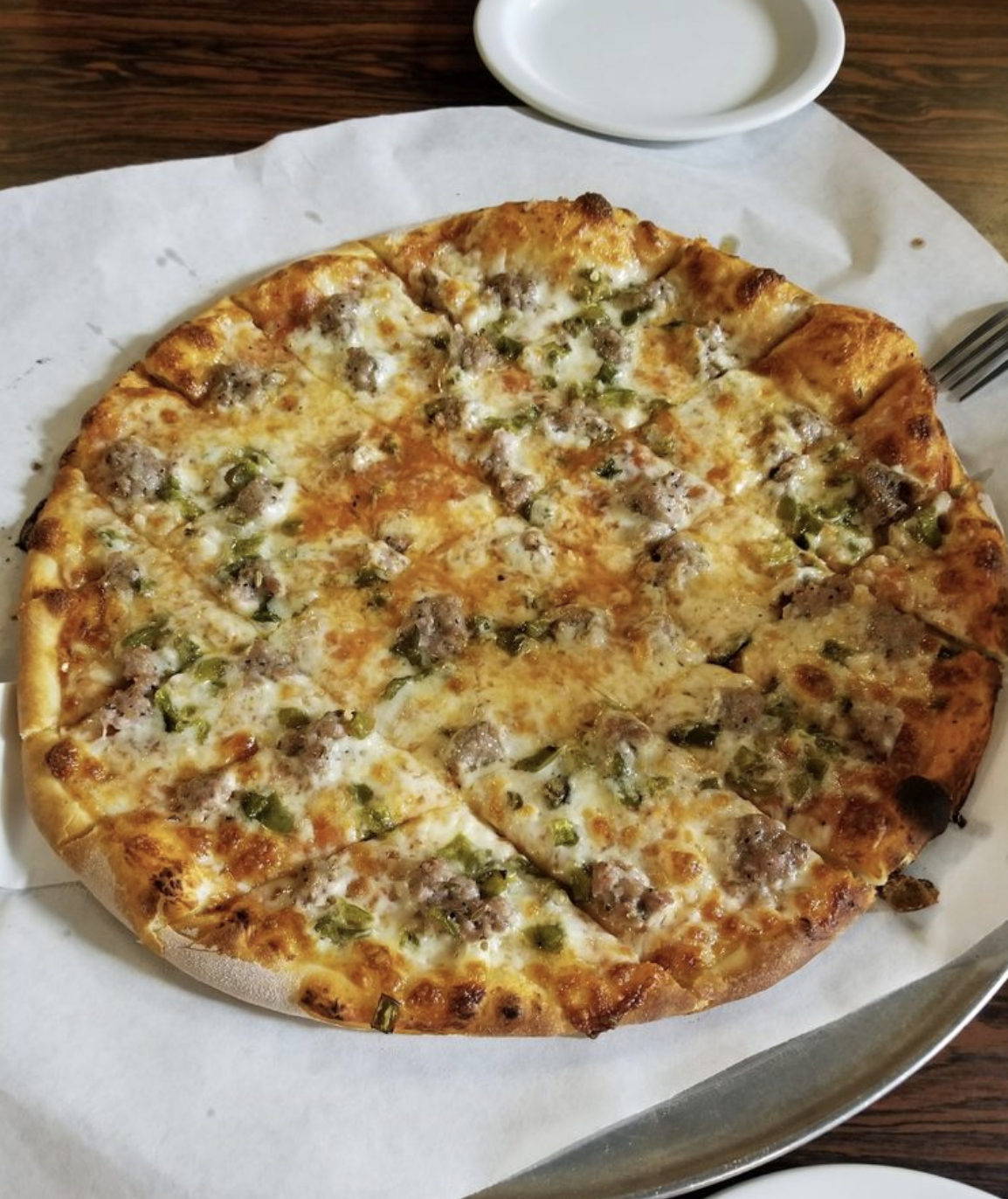 "Chewy cheese, and I love that they use canned mushrooms instead of fresh because they stay moist and plump. Best pizza in town."
—haveyouseenmyrubberducky
27.
Nebraska: Valentino's Pizza at multiple locations
https://instagram.com/p/BnHnJoXnGyC/
"If you're going for easy, delivery pizza, you gotta go with Valentino's while you're in Nebraska."
—tiffc3
28.
Nevada: Naked City Pizza in Las Vegas
https://instagram.com/p/BpsXj3Hn9nk/
"Every local knows it!"
—madisonh11
Honorable Mention: Metro Pizza in Las Vegas.
29.
New Hampshire: 900 Degrees in Manchester
https://instagram.com/p/Bs3fYvBlTc0/
"Absolutely bomb!"
—abyf
30.
New Jersey: Papa's Tomato Pies in Robbinsville
https://instagram.com/p/7kVmQbFMkJ/
"It's the the 'longest continuously owned and operated pizza restaurant in the U.S.' Amazing pizza and a killer Mustard Pie. Don't ask, just embrace the delicious weirdness."
—geraldpinner
31.
New Mexico: Cafe Rio Pizza in Ruidoso.
https://instagram.com/p/Bx-DeUmhYuW/
"People drive for hours to eat there even with hour-long waits to get a table."
—nikitas4646ca2ed
Honorable Mention: Dion's Pizza at multiple locations.
32.
New York: Artichoke Bassille's Pizza in New York City
https://instagram.com/p/BzDu7YbHhTh/
"It has the same setup as a typical NYC pizza place, but there is something special about that place. If you ask any NYC'ers if they've heard of Artichoke, they'll all say yes, and for good reason!"
—sofiag44ee98e07
Honorable Mentions: Dani's House of Pizza in Queens and Little Vincent's in Huntington.
33.
North Carolina: Empire Pizza in Jacksonville
https://instagram.com/p/BUQRl4ZB0Zp/
"A slice from a large pizza is about as long as a normal chain's ENTIRE large pizza. The crust is amazing and they also have really good wings."
—cleanwaterowo
34.
North Dakota: Rhombus Guys in Fargo and Grand Forks
https://instagram.com/p/BzGegg-BTpf/
"Amazing standbys like the all-meat T-Rex or the vegetarian Backpacker, plus amazing pizzas of the month."
—elisabethl4c0a461fa
35.
Ohio: Hounddog's Pizza in Columbus
https://instagram.com/p/Bx9xfUNAPwV/
"Nothing will ever compare. All other pizza is now bland and boring to me after years of eating there weekly. It's very well-known in the city and by OSU alums all over. A delicious institution."
—halliecolegrovem
Honorable Mentions: Marion's and Dewey's in Dayton.
36.
Oklahoma: Hideaway Pizza in Tulsa
https://instagram.com/p/Bzv1bdFhV25/
"Their sauce is amazing and they have a great variety of fresh ingredients. Best enjoyed on Campus Corner in Norman with a side of fried Mushrooms. Every OU student has a colorful array of plastic Hideaway Pizza cups in their cupboard."
—kelliee408395f38
37.
Oregon: Apizza Scholls in Portland
https://instagram.com/p/BdnPcdpAGXw/
"Accept no substitute."
—kademcgillis
Honorable Mentions: Coburg Pizza and Track Town Pizza in Eugene.
38.
Pennsylvania: Minneo's in Pittsburgh
https://instagram.com/p/B0jB50DhdIY/
"ICONIC. Doughy crust with just the right amount of grease, fresh mozzarella, and a generous layer of slow-cooked tomato sauce are what you'll get here."
—stephs4aeeebfe8
39.
Rhode Island: Al Forno in Providence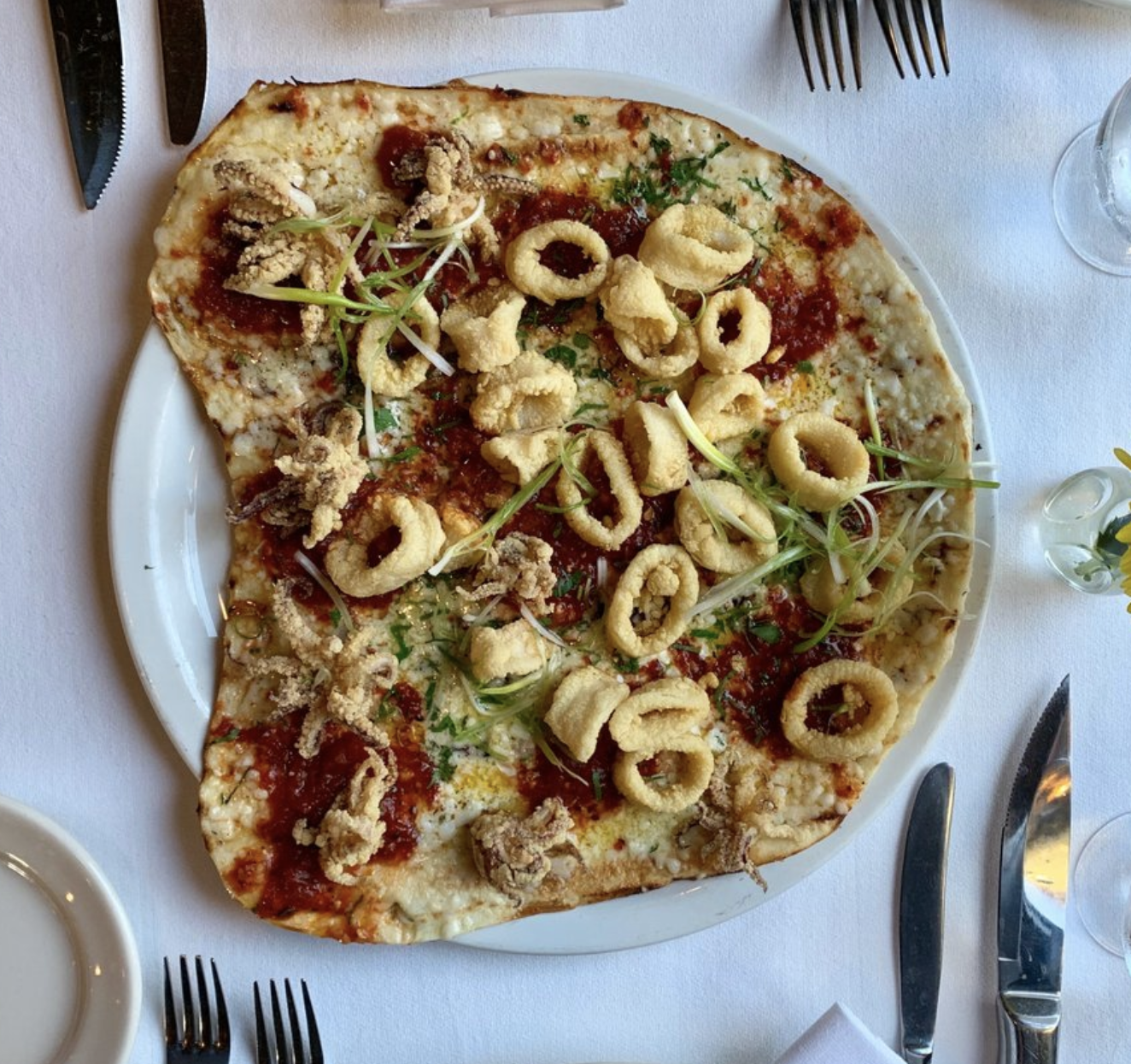 "Al Forno has the absolute best grilled pizza (which it sort of invented) in the whole state, maybe even country."
—christhammond
40.
South Carolina: EVO Pizzeria in Charleston
https://instagram.com/p/B1Ej1v3hDiR/
"Fresh, local ingredients and in-house dough made every morning. Need I say more?"
—arieln45acbb9ca
Honorable Mention: Pizza Kovachi in Lexington.
41.
South Dakota: Lintz Bros. Pizza in Hermosa
https://instagram.com/p/7_xMJyNezq/
"Totally worth the drive and they offer a casual atmosphere with great, non-traditional pizza toppings. Definitely my favorite!"
—Terra Solseth, Facebook
42.
Tennessee: Five Points Pizza in Nashville
https://instagram.com/p/B0oFWHmBwYg/
—sallyg471ff73ca
43.
Texas: Home Slice in Austin
https://instagram.com/p/B06fvgSg_Px/
"The White Clam pizza is amazing!"
—bethanyk4e9955003
Honorable Mention: Star Pizza in Houston.
44.
Utah: The Pie Pizzeria at multiple locations
https://instagram.com/p/B1RtDZypDtI/
"Everyone's go-to. It's loaded with cheese and it's some of the best pizza I've ever had."
—amandas4168983ce
45.
Vermont: Parker Pie Co. in West Glover
https://instagram.com/p/Bjd8eIBBsMj/
"Their Green Mountain Special is unlike any other pizza: baby spinach, red onion, bacon, apple, fresh garlic, cheddar, and drizzled with maple syrup. The maple syrup might sound weird, but it's classic Vermont and makes the pizza SO good!"
—savannahr4f16a16d0
Honorable Mention: Mimmo's Pizza at multiple locations.
46.
Virginia: Bottoms Up Pizza in Richmond
https://instagram.com/p/BxaRzGSHpn4/
"Thick sourdough crust, heavy on the toppings, and lots of personality. I've never heard of anyone having a bad slice and there's interesting options like the Oysters Rockefeller pizza! If you want to experiment, single slice will fill most people up."
—mamasnape
Honorable Mention: Benny Vitali's in Fredricksburg.
47.
Washington: Pagliacci Pizza in Seattle
https://instagram.com/p/B1Rj1nqD82y/
"They have about 30 different pizzas plus two new seasonal flavors every four weeks, so everything is very unique and original. On top of that, it's New York style pizza with perfect crust every time. There's no better pizza in Seattle!"
—esyberg0761
Honorable Mentions: Pizzeria Pulcinella in Seattle and Alfy's Pizza at multiple locations.
48.
West Virginia: DiCarlo's Pizza at multiple locations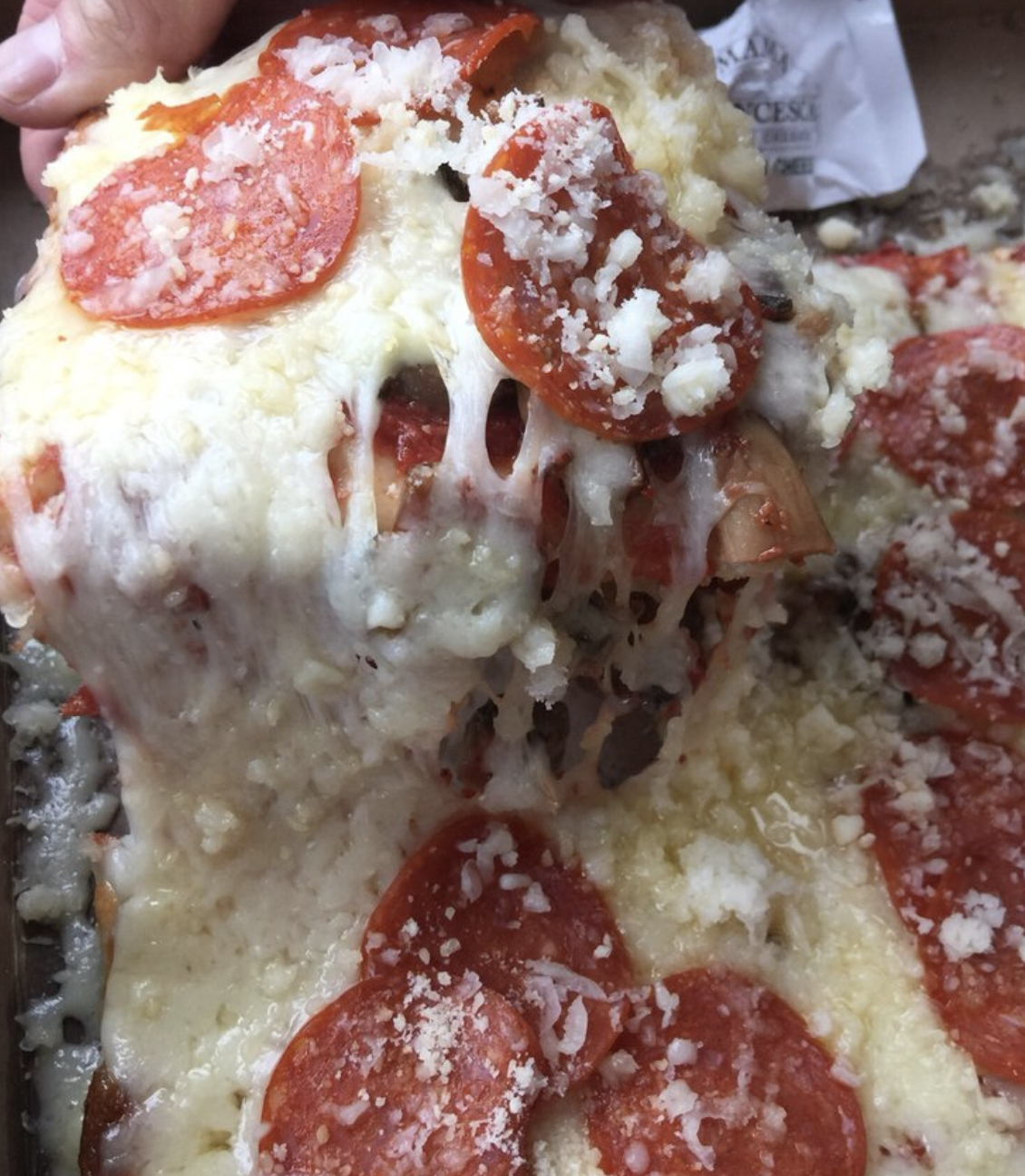 "Square pizza, slightly melted cheese, amazing white pizza."
—alyssaw4e380b187
49.
Wisconsin: Ian's Pizza at multiple locations
https://instagram.com/p/B0TkJPtnNeB/
—emilyrusk
Honorable Mentions: Thirsty Pagan at Lake Superior and Pizza Man at multiple locations.
50.
Wyoming: Pizza Carrello in Gillette
https://instagram.com/p/BUBBhgsD1pe/
—alidaly
Want to be featured in similar BuzzFeed posts? Follow the BuzzFeed Community on Facebook and Twitter!
Source: Read Full Article