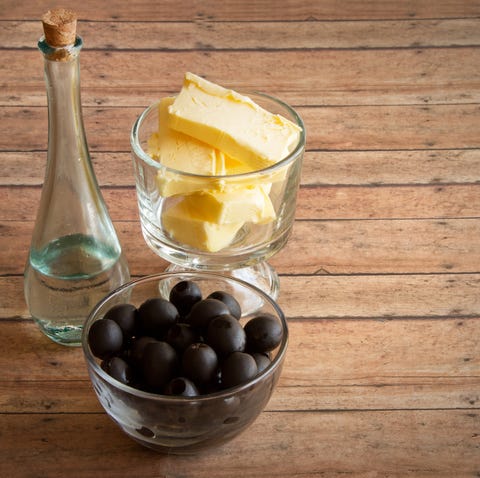 There are a few keto diet basics even non-keto dieters know.
One: You have to cut way back on your carb intake (less than 50 grams a day, to be exact). And two: You have to eat loads and loads of fat.
Sounds easy enough, right? (At least if you're a butter and cheese lover.) It's actually little more complicated than that. "Just about all butters and oils are acceptable on the keto diet, because oils and butter by definition do not have any carbohydrates in them," says Scott Keatley, R.D., of Keatley Medical Nutrition Therapy.
But, the type of fat you're getting is still important: Saturated fats, for example (like butter and coconut oil) can be totally fine in moderation—but they can also raise your LDL cholesterol levels (that's the kind you don't want raised), in addition to your good HDL cholesterol levels.
Trans fats, however (those found in fried things like doughnuts and french fries) are never a good idea—they actually raise your LDL cholesterol levels (the bad kind), while lowering your important HDL levels.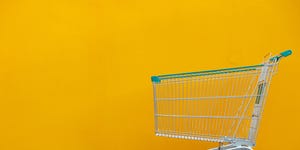 Your best bets? Stick to mostly poly- or unsaturated fats (with the occasional saturated fat mixed in), to keep your cholesterol levels in check and still lose weight. These are the six best fats to eat on the keto diet—ranked from best to, uh, not quite the best but still pretty damn good for keto dieters.
1. Fish and fish oil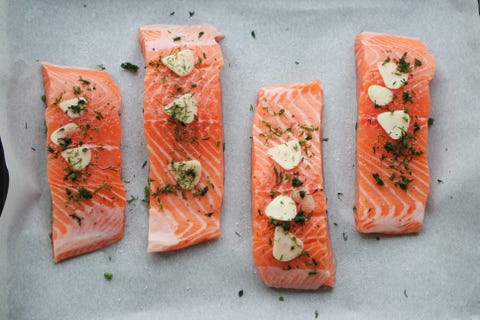 Getty ImagesLina Bruins / EyeEm
Keatley says this top-notch oil makes the grade because it is a long-chain polyunsaturated fat. Put simply, fish oil contains omega-6 and -3 fatty acids, "which the body cannot create from other fats," he says. Foods with omega-3s are known for providing essential, healthy fat for your body and brain.
One thing to keep in mind: You're not going to want to cook with fish oil—instead, take it in supplement form or even better, actually cook up some whole fish (salmon's a great choice).
Per serving (1 tablespoon): 123 calories, 14 g fat (2.9 g sat), 0 mg sodium, 0 g carbohydrates, 0 g sugar, 0 g fiber, 0 g protein
2. Avocados and avocado oil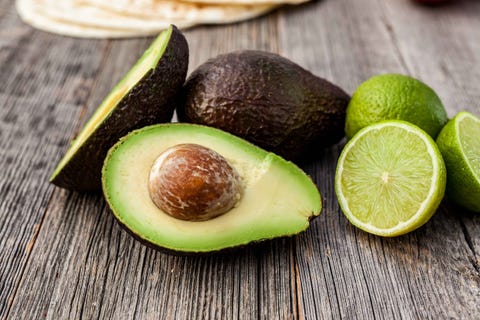 Getty ImagesNina Van Der Kleij / EyeEm
Like fish oil, avocado oil (or even avocados in general) is packed with heart-healthy fatty acids, which have been found to be healthier than other fats.
"The science has been fairly clear for some time that poly- and monounsaturated oils like those in avocado, olive, and canola oil are more beneficial than those higher in saturated fat when looking at cholesterol numbers, blood pressure and, in some research, BMI itself," Keatley says. Avocado oil also has a high smoke point, making it a great choice for high-heat cooking and frying.
Per serving (1 tablespoon): 124 calories, 14 g fat (1.6 g sat), 0 mg sodium, 0 g carbohydrates, 0 g sugar, 0 g fiber, 0 g protein
3. Olive oil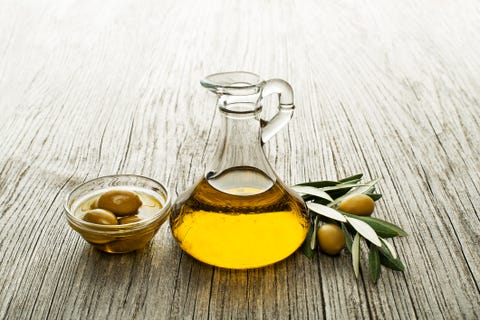 Getty Imagesdulezidar
Chances are good you've had olive oil or extra virgin olive oil (EVOO) in your pantry since your pre-keto days. Use regular olive oil to cook or sauté—EVOO, on the other hand, is best used in salad dressings or drizzled over just-roasted veggies, says Keatley. Another benefit: Pairing olive oil with veggies helps your body to more easily absorb certain vitamins, like A, D, E, and K, he says.
Per serving (1 tablespoon): 119 calories, 14 g fat (1.9 g sat), 0 mg sodium, 0 g carbohydrates, 0 g sugar, 0 g fiber, 0 g protein
4. Canola oil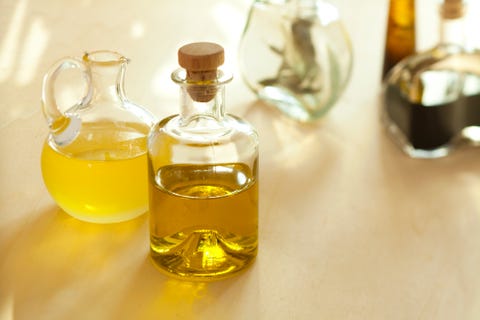 Getty ImagesTSchon
Canola oil is a pretty standard kitchen staple and there's a reason you should have it on hand when following the keto diet. Not only does its light flavor makes it a solid choice for pan-frying or sautéing, but it also contains a moderate dose of omega-3s, says Keatley, so that's a win-win
Per serving (1 tablespoon): 124 calories, 14 g fat (1 g sat), 0 mg sodium, 0 g carbohydrates, 0 g sugar, 0 g fiber, 0 g protein
5. Butter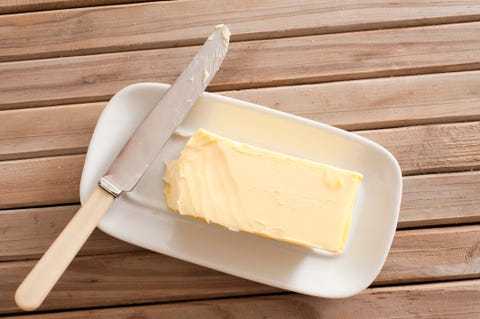 Getty ImagesStephen Gibson / EyeEm
Because would it be a keto diet if there wasn't a little bit of butter involved? Just make sure you choose a high-quality grass-fed butter, which is higher in omega-3 fatty acids, says Keatley. Butter is still a saturated fat, however, so it's important to use it a little less often than other, unsaturated fats.
Per serving (1 tablespoon): 102 calories, 12 g fat (7 g sat), 2 mg sodium, 0 g carbohydrates, 0 g sugar, 0 g fiber, 0.1 g protein
6. Coconut oil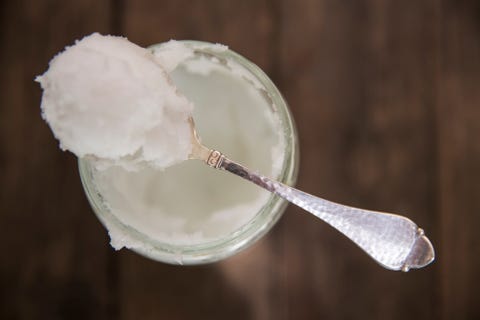 Getty ImagesRUSS ROHDE
In the last few years, coconut oil has become mega-trendy for everything from cooking to skin issues. In the kitchen, coconut oil provides a solid dose of lauric acid—an immune-boosting nutrient—and it's a great stand-in for butter when you're all out, says Keatley. But, it's still a saturated fat, so try not to eat it in absolutely everything.
Per serving (1 tablespoon): 117 calories, 14 g fat (12 g sat), 0 mg sodium, 0 g carbohydrates, 0 g sugar, 0 g fiber, 0 g protein
Source: Read Full Article