Let's face it—the weather is pretty damn cold. The upside is that it's officially soup season, which means digging into warm, comforting bowls of chilis and stews. Many recipes are loaded with rich and creamy ingredients typically avoided by dieters: think hearty meats, gooey cheese, and butter. But these decadent options are perfect for people following a high-fat, low-carbohydrate diet.
For those new to the popular ketogenic diet, the main premise is to burn fat instead of carbohydrates, a process known as ketosis. Most dieters eat plenty of fat, like butter, cheese and beef, but limit carbohydrates to 20-30 grams of per day. Keep yourself warm this winter with six keto soup recipes that are low in carbs but high in flavor.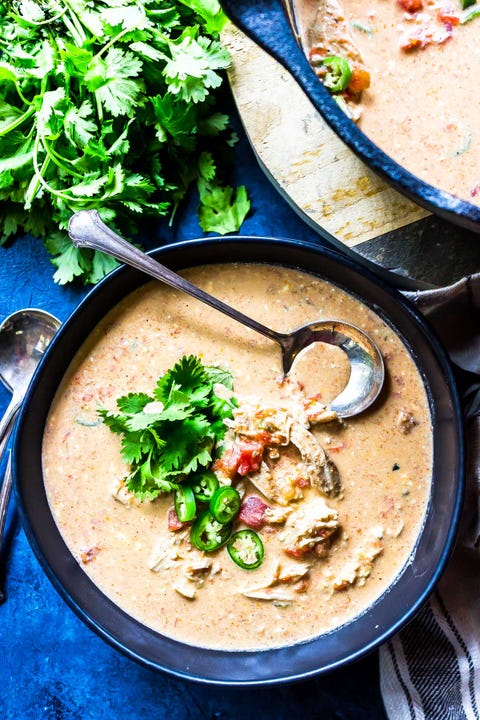 Cast Iron Keto
Temperatures are dropping fast, which means soup should be your new best friend. And when that soup is thick, rich, and high in protein and fat, it'll really stick to your bones on a chilly night. This soup by Cast Iron Keto has only 6.7 grams of net carbs and tons of filling fats from the heavy cream and cream cheese. Add sliced jalapeño on top for a little kick.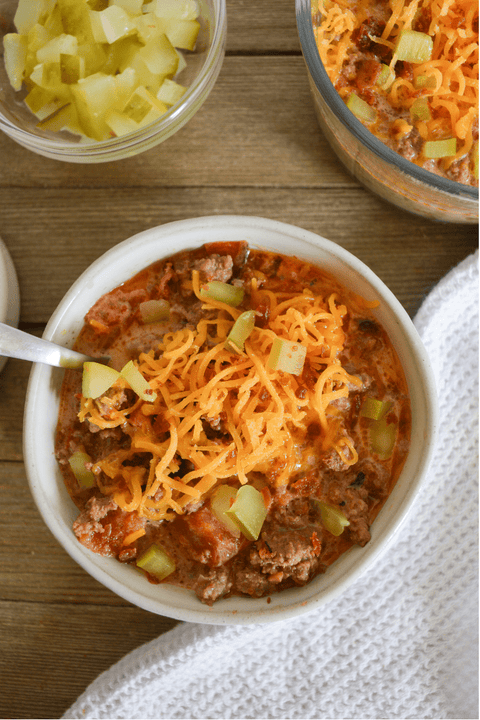 Hey Keto Mama
This meaty, cheesy, and super indulgent soup is sure to be a hit with everyone in the family–even if they don't follow keto. Coming in at only 4.6 grams of net carbs and 358 calories, this soup by Hey Keto Mama is a great meal that's filling without being too heavy. The best part? It's ready in only 20 minutes.
All Day I Dream About Food
Cauliflower is a great base for low-carb meals and is popping up everywhere—especially on keto diet blogs. This cauliflower soup by All Day I Dream About Food is super simple to whip up in the Instant Pot and tastes decadent thanks to cheese, bacon, and sour cream. Plus, it only has 5.5 grams of net carbs and delivers nearly 3 grams of fiber thanks to the cauliflower.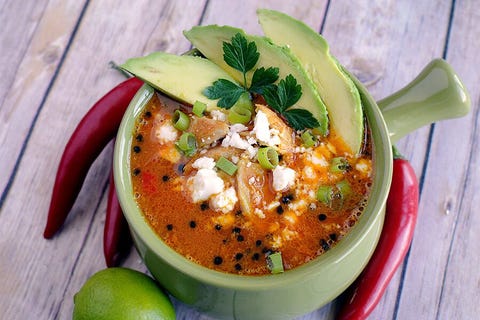 Ruled.me
Bring on the heat with this keto chili from Ruled.me. It's perfect for the keto diet as it provides healthy fats from the avocado and plenty of flavor from the queso fresco. At only 6.4 grams of net carbs per serving, you can eat this freely without getting knocked out of ketosis. As a bonus, it's low in calories–only 370 a serving– and offers anti-inflammatory benefits from the tomato paste, turmeric, and cumin.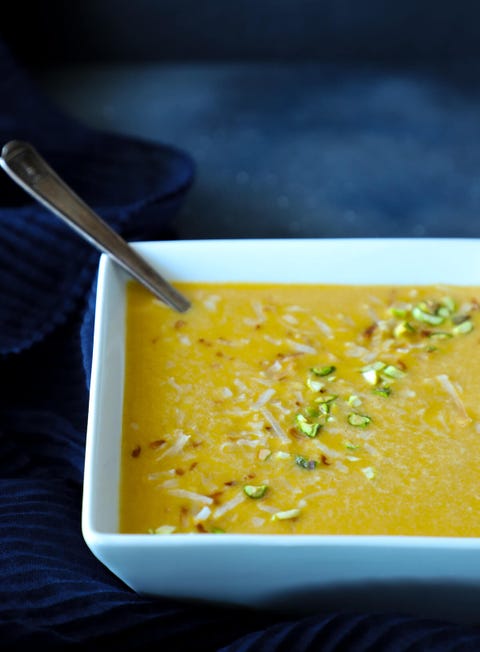 I Breathe I'm Hungry
This lighter soup by I Breathe I'm Hungry offers plenty of fat with coconut milk, chopped pistachios, and coconut flakes. Spices like curry powder and onion flakes make it flavorful. It will even please the non-keto dieters in your family as it's low in calories, only 117 per serving, and is dairy-free and Whole30 compliant, too. One serving has only 6 grams of net carbs.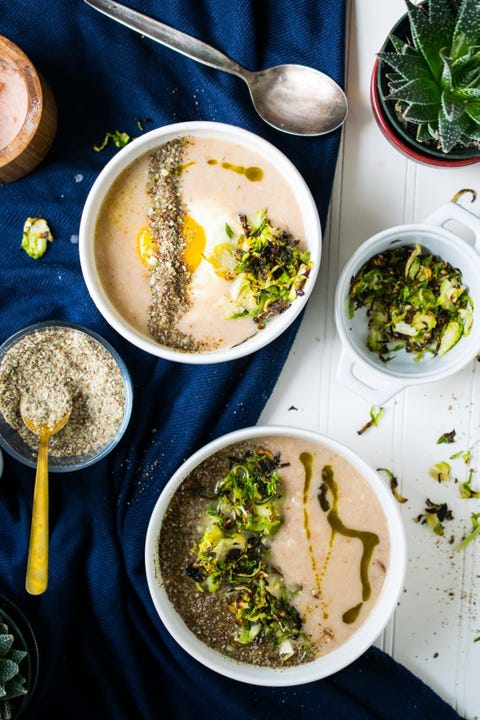 The Castaway Kitchen
This keto-compliant soup by The Castaway Kitchen is an easy weekday meal. Just cook it in a pressure cooker for 50 minutes or a slow cooker for 4-6 hours, for a dinner that doesn't require a lot of prep time. A serving has only 3 grams of net carbs and 23 grams of fat. And you can freeze leftovers in an airtight container for future meals if you're not a big fan of leftovers.
Source: Read Full Article