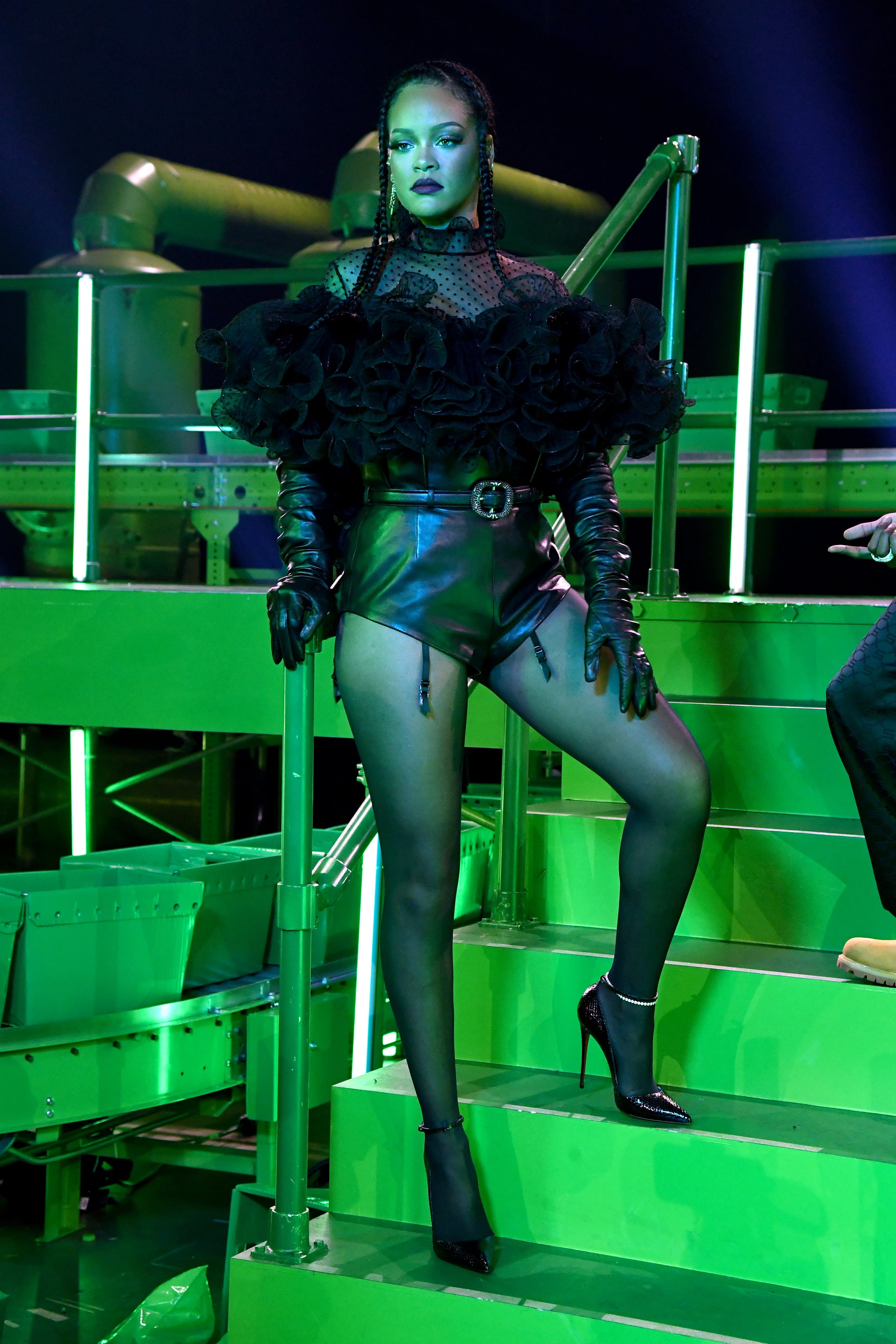 Well, everyone, Rihanna has done it again. On Oct. 2, the 32-year-old fashion designer unveiled her second Savage x Fenty show on Amazon Prime, and it's an hour of pure fun, finesse, and sensuality. Similar to last year's high-energy show, Rihanna showcased her sexy lingerie line, spotlighting models of different shapes, sizes, and identities amid a musical backdrop featuring artists such as Rosalía, Ella Mai, Bad Bunny, Travis Scott, and Miguel.
The production is yet another example of Rihanna's acknowledgment and fulfillment of inclusivity within the Savage x Fenty brand. It's something that I've always appreciated as a Black woman, but given the current social and political climate, the staging is especially resonant. The joy I felt watching women who look like me stride and dance throughout the show was inspiring. Just as heartening was seeing other women who have been devalued in the fashion industry strut in their radiant sexuality.
Black women often feel like they have to state their case for belonging practically anywhere, namely the fashion and beauty spaces. But Rihanna's Savage x Fenty brand has encouraged us to live in our inherent worth, and there's so much power in that. Racism and discrimination subsist on maintaining dominance over a group of people by convincing them and others that their natural existence is inferior. One way to combat that is by showing everyone how the basis of those marginalizations is essentially illusionary. Rihanna's Savage x Fenty production does just that, exalting individuals of various shades and contours who are different in their beings but the same in their merit, authority, and treatment simply because they are all people.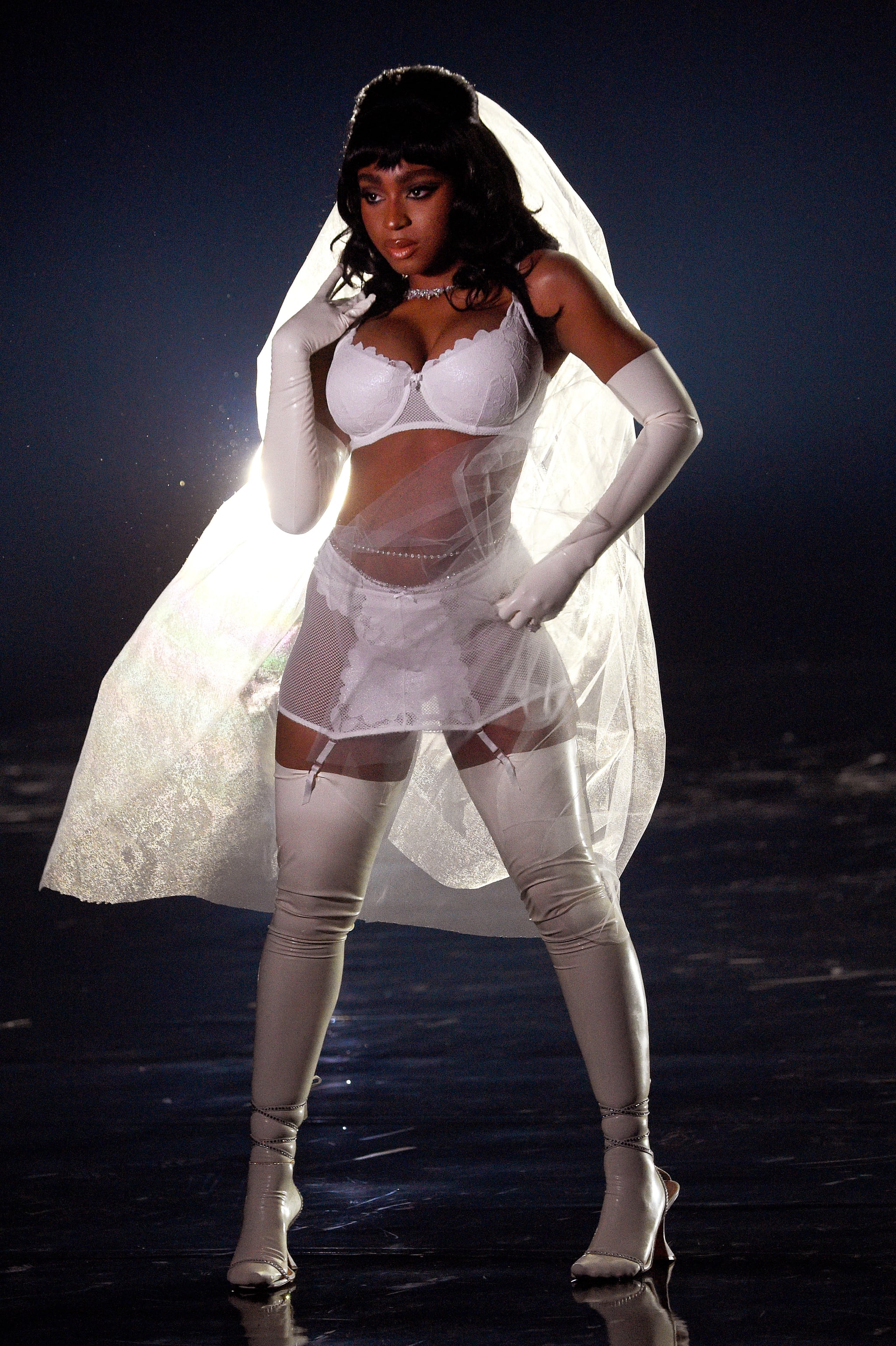 This conceptualization of unity in diversity is reflected in more ways than one. Not only are the models and performers a myriad of allure, but the set, stage design, and choreography are also deliberate in their presentation. Some discrete moments feature celebrities, dancers, and models like Lizzo stunting in a purple fishnet ensemble, Bella Hadid sashaying in matching lace separates, and Normani giving us sexy bride vibes with her matrimonial lingerie look. But the show also embraces coalescence with people moving, breathing, and being together. Many of the dance formations incorporate a seductive interconnection that presents the performers as a single entity. It's visually stunning and symbolically uplifting.
I take pride in seeing a Black woman create such a masterful spectacle with a meaningful message. There's a genuine intention behind the Savage x Fenty brand because it was born out of Rihanna's personal understanding of being a woman who doesn't adhere to convention. She identified with other women who didn't fit the mold of widely accepted beauty standards and gave them something to revel in.
For so long, the fashion and beauty industries have consciously and unconsciously told marginalized groups of women that they're not attractive or worthy of being catered to. In a lot of cases, brands and companies have actively worked against the acceptance of diverse voices and talent. Rihanna using her platform to reject that system and carve out her own space for inclusivity has forced those same businesses to try and keep up. But they can't win a race that they never trained for. Besides, Rihanna's Savage x Fenty is in a league of its own. It's an emphatic spurning of discriminatory consumerism that has simultaneously left competitors in the dust, women like me in awe, and shoppers in a sultry bra and underwear set that's affirmed their right to feel sexy in their own skin.
Source: Read Full Article