Stop the presses because something major and unexpected happened over the weekend: Mandy Moore got married. And while her tying the knot in a low-key, private ceremony is news enough to celebrate, the fashion involved made it all the more special. Mandy Moore got married in a pink Rodarte dress, completely turning the whole concept of a "white bride" on its head, and proving that the non-traditional route is just as fabulous as the conventional route.
Moore married Taylor Goldsmith, frontman of the indie rock band Dawes. Their love story is a modern one, where they met via Instagram when Moore posted a photo of Goldsmith's new album onto her feed. "Real excited about this one," she wrote back in May of 2015. "Have a feeling it's going to be the soundtrack of my summer."
Goldsmith saw the post and sent her a DM, and they soon exchanged emails, writing back and forth for awhile before deciding to go on a date. The rest blossomed into a lasting relationship that ended up with them secretly getting married on a November weekend.
"He makes me melt. I can imagine no better partner," Moore told Glamour in an interview. "He's going to be the most tremendous father. I view the past as a stepping-stone to get me where I am today. I would gladly weather all of that a million times over if it brought me to Taylor again."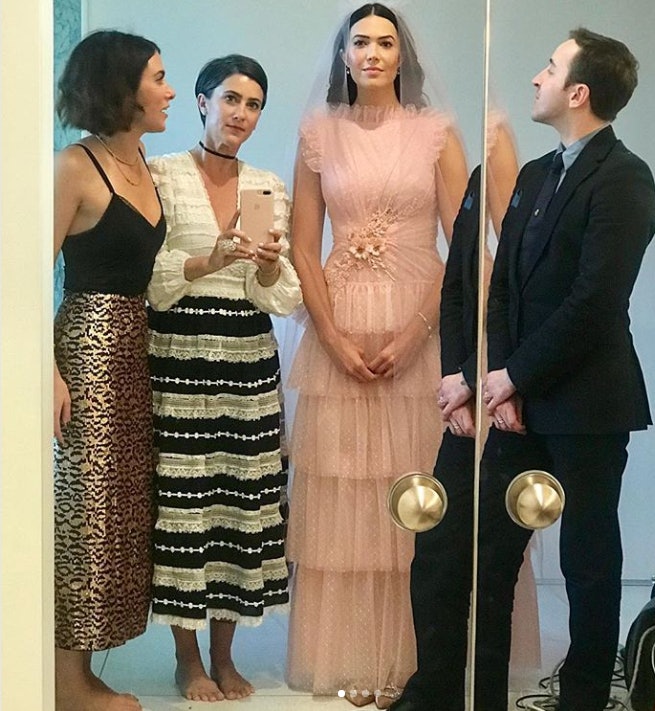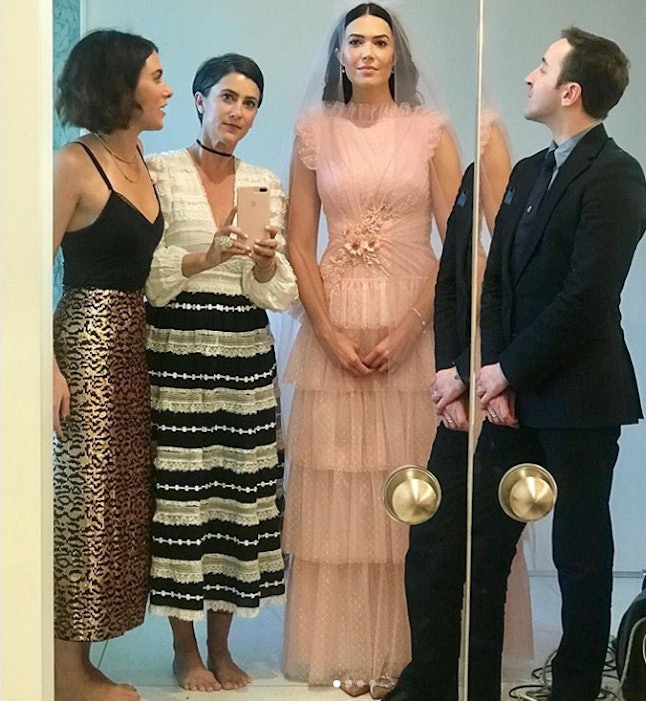 According to E! News, the backyard wedding consisted of around nearly 50 friends and family gathered at Moore's home in Los Angeles, keeping the ceremony private and sweet.
An insider told E! News exclusively that it was a homey, boho affair, where the wedding started shortly after sundown on Sunday evening, and the decor included "rugs on the floor surrounding the altar. The flower arrangements were beautiful with lots of large feathers."
Moore's pink Rodarte dress fit that aesthetic perfectly, where it was equal parts whimsical and charming. Consisting of a layered tulle skirt, a frothy tulle neckline, a group of flowers on the bodice, and blush pink coloring, the dress was anything but typical.
But the This Is Us actress knew quite early on that she wanted to skip convention on her big day, where she previously shared in interviews before her wedding that she probably wasn't going to go with a white dress. "I'm kind of confident that it's not going to be the stereotypical white wedding dress, because it just doesn't feel the most me," Moore told People.
She also knew she didn't want to have a big, over-the-top wedding, and that it wouldn't make sense for her dress to be too elaborate if she was going to go the low-key-ceremony route. "It's going to probably be a little bit more nontraditional. I think the whole day will sort of feel a little bit more nontraditional, so the dress will sort of follow suit. I kind of want to feel like the best version of myself," she shared with People.
In the end, her light pink pick was gorgeous, and it was a wonderful gown to celebrate her wedding in.
Source: Read Full Article