If you have big boobs, finding the perfect swimsuit can be harder than narrowing down the contestants on The Bachelor (why is Victoria F. still around, PETER?). You know the drill: Grab an armful of options, head into the fitting room, and then spend tons of time trying them on. The worst part? Jumping around and doing low-key gymnastics to make sure nothing will slip out and give the pool a show when you least expect it.
Then there's the issue of support. The average swimsuit isn't exactly known for it. Sure, an itsy bitsy teeny weeny yellow polka dot bikini sounds cute, but it'll do absolutely nothing to keep the girls in place, trust.
To save yourself some time (and let's be real, frustration) in the fitting room, check out these 19 best swimsuits for big busts instead. You might be pleasantly surprised at just how many different styles can not only work for you, but help you werk it on the beach. From bikinis with underwire and fully adjustable ties to one-piece bathing suits that allow you to customize your cleavage amount, you're guaranteed to (finally!) find the right fit:
1. Swimsuits For All Charlatan Bikini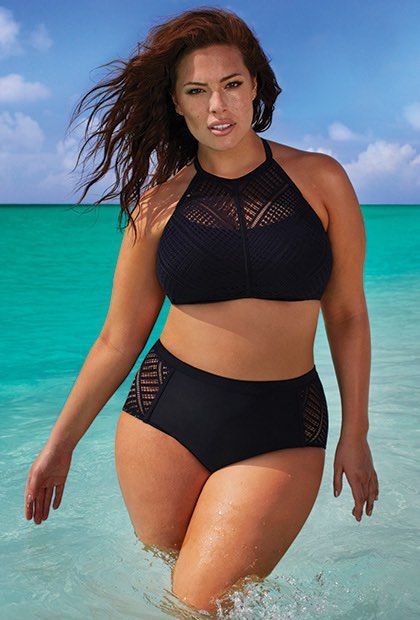 Charlatan Black Crochet High Neck Bikiniswimsuitsforall.com$47.00SHOP NOW
This crocheted swimsuit top with a high neckline and adjustable back straps will definitely keep your cleavage from spilling out—no matter how rough the waves are. (Plus, if it's good enough for model Ashley Graham…)
2. L Space Parker Bikini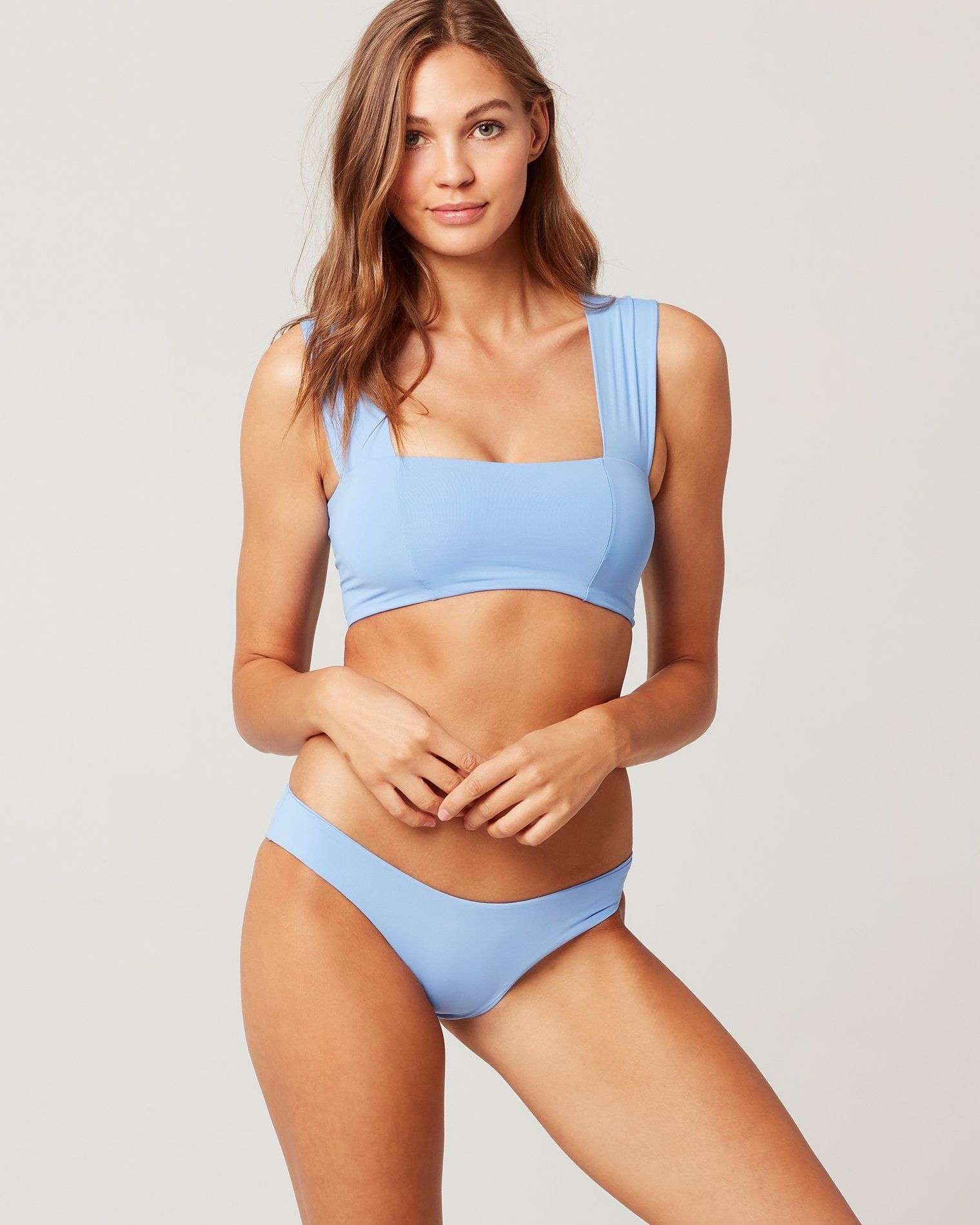 parker bikini topl spacelspace.com$21.00SHOP NOW
This reversible top features thick straps that either lay straight or crossed, giving you all the support you need and two bathing suits for the price of one. Whether you're laying out on the sand or splashing around in the water, your bust will stay snug and secure.
Complete your look with these bikini bottoms.
3. Miracle Suit Illusionists Azura One-Piece Swimsuit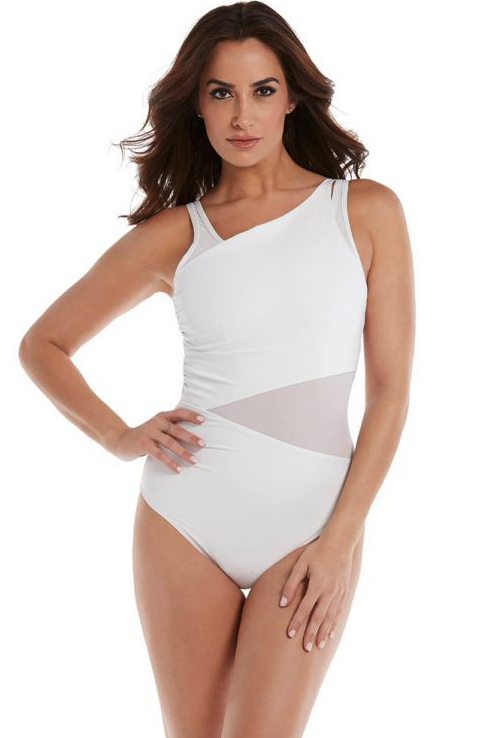 Miraclesuit Illusionists Azura Swimsuitmiraclesuitmiraclesuit.com$168.00SHOP NOW
Sporty meets sexy in this moderate mesh panel one piece. Not only is this swimsuit figure-flattering, but the mesh bra with hidden underwire keeps your bust supported.
4. Solid & Striped The Ginger Bikini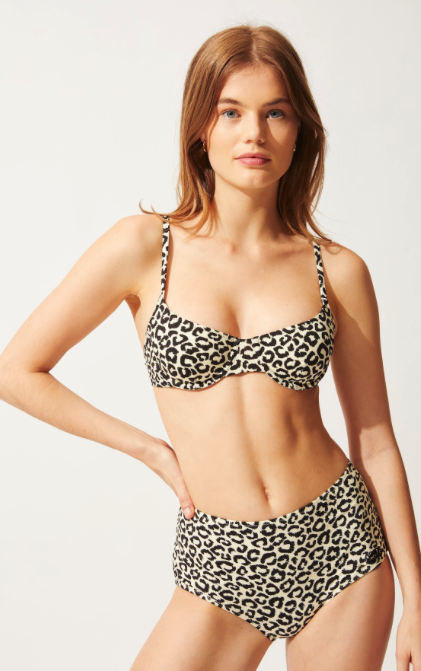 The Ginger TopSolid & Stripedsolidandstriped.com$88.00SHOP NOW
With underwire cups similar to those of your trusty bra, you better believe this swim top will give your gals all the support they could ever need.
Complete your bathing suit with these high-waisted bikini bottoms.
5. Mikoh Queensland Cross Shoulder Bikini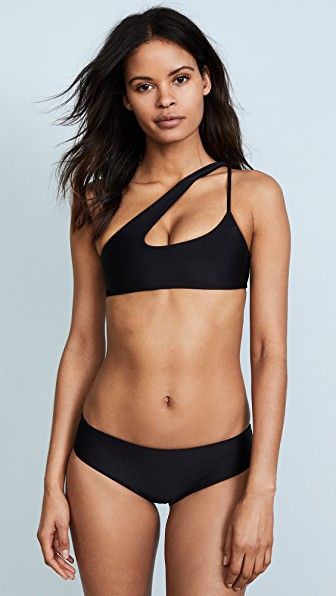 Queensland Cross Shoulder Bikini TopMIKOHshopbop.com$78.40SHOP NOW
Tired of basic two-strap bikinis? Same. This asymmetrical shoulder swimsuit has support from two straps but a look that is one-of-a-kind.
Complete your swimsuit with these bikini bottoms.
The perfect swimsuit? Check. Now, learn how to get beachy waves to go with it:
​
6. Mei L'Ange Striped One-Piece Swimsuit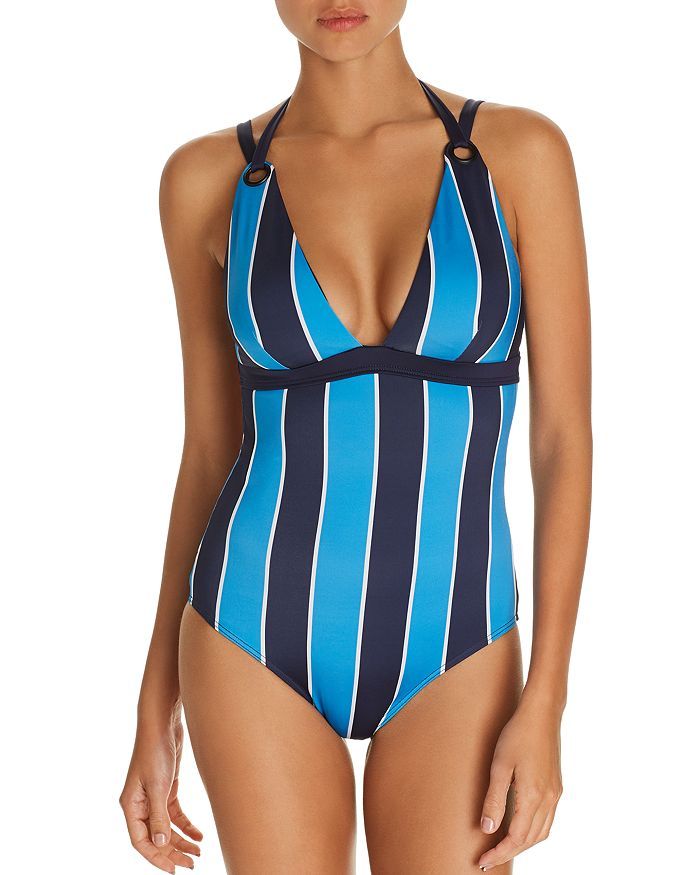 Mya Striped One-Piece SwimsuitMei L'angebloomingdales.com$145.00SHOP NOW
This vertical stripe v-neck bathing suit is so flattering since it will elongate your torso. It also has two pairs of adjustable straps—one that ties around your neck and another that clasps at your back for extra support. Win-win.
7. Solid & Striped The Zoe Tie-Front Underwire Bikini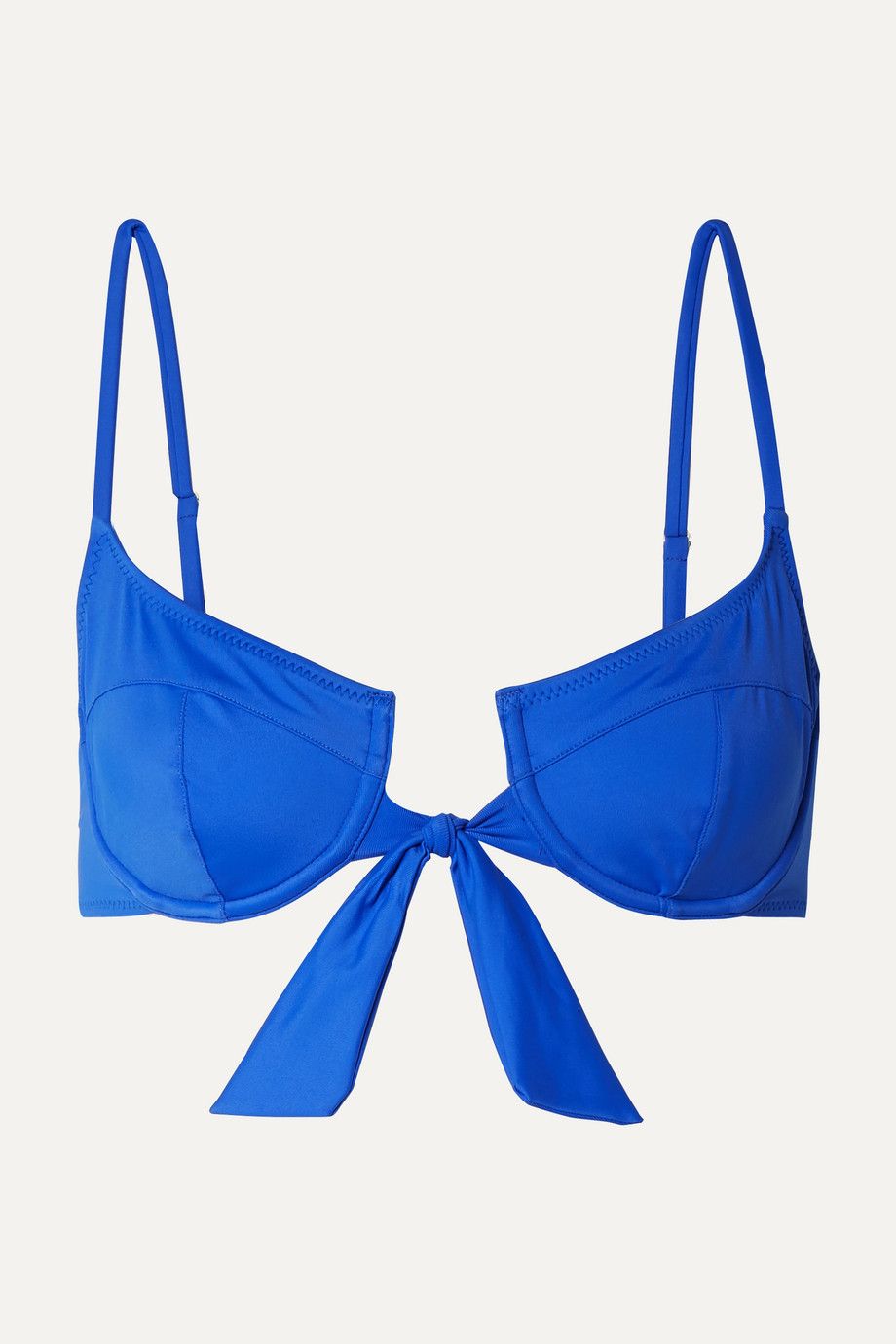 The Zoey Tie-Front Underwire BikiniSolid & Stripednet-a-porter.com$84.00SHOP NOW
This underwire swimsuit with a tie front gives you support and customization. You're able to loosen or tighten depending on how much coverage you need.
Complete your bikini with these bottoms.
8. Aerie Leopard Wrap Halter Bikini

Aerie Leopard Wrap Halter Bikini TopAerieae.com$27.96SHOP NOW
This chic wrap-style bikini provides tons of coverage, support, and—oh yeah—leopard print. It also features removable pads (as if ya need 'em) and adjustable straps, so fussing with your bust is one thing you won't be doing at the beach.
Complete your bathing suit with these high-waisted bikini bottoms.
9. Beach Riot Eva Bikini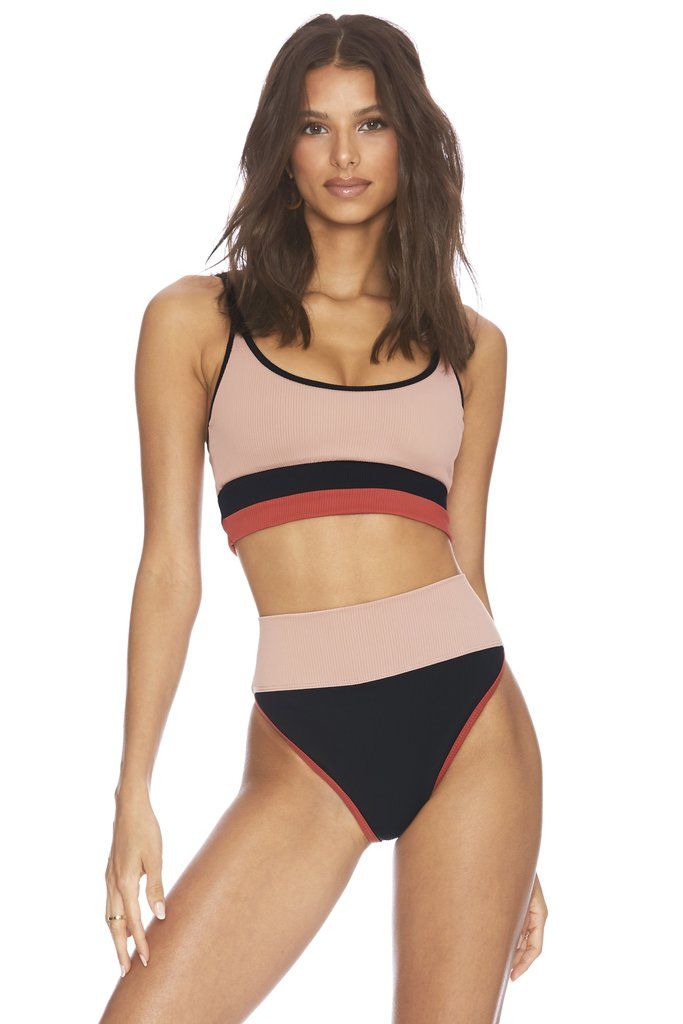 Eva Baby Pink + Love Red Bikinibeachriot.com$92.00SHOP NOW
Looking for a full coverage swimsuit option for your next beach day? This blush hued bikini features a scoop neck that provides the perfect amount of coverage for your girls. Plus, the durable fabric and adjustable straps will keep things, let's just say, private during all your fave water activities.
Complete your look with these bikini bottoms.
10. Juillet Izzy Black Eyelet Bikini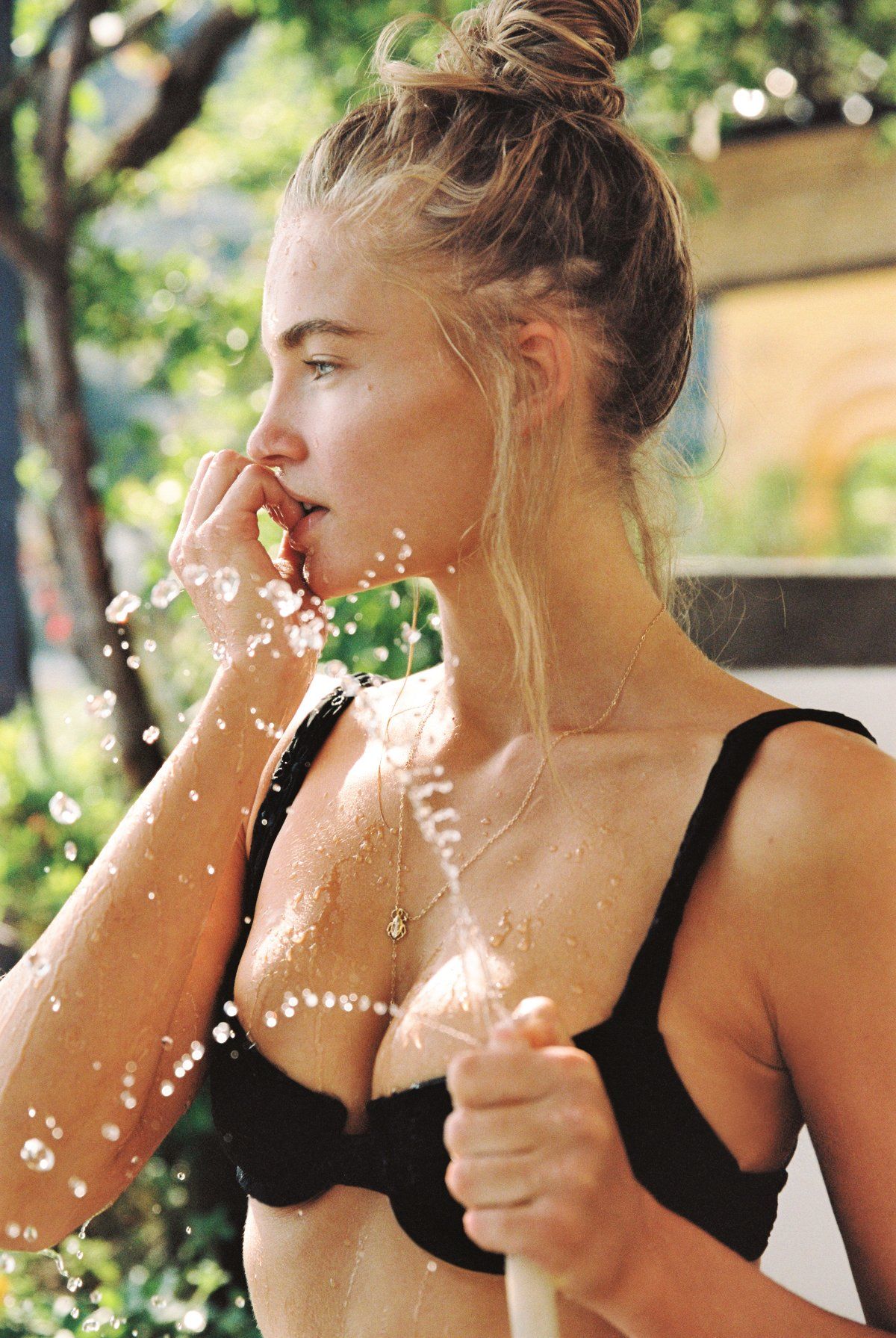 The Izzy Black Eyelet Bikinijuillet.com$108.00SHOP NOW
Go for an '80s vintage vibe with a cute eyelet bikini top. The underwire support, lined cups, and no padding make this top super flattering for larger busts. (As someone who owns this bikini top, I'll be the first to say it keeps allll the goods in place.)
Complete your bikini with these bottoms.
11. Figleaves Milan Plunge Ladder Swimsuit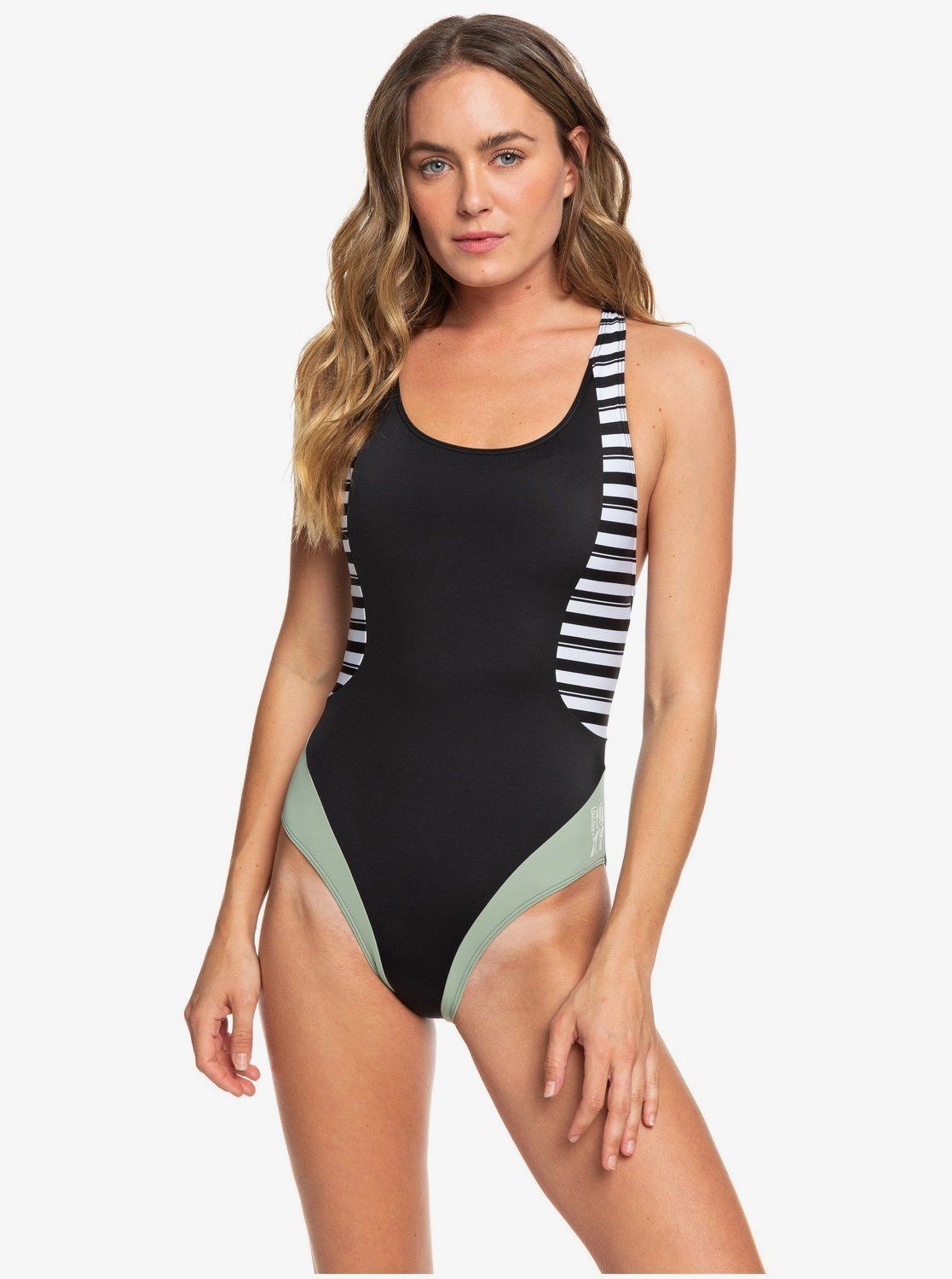 ROXY Fitness One-Piece Swimsuitroxyroxy.com$75.00SHOP NOW
This swimsuit keeps you protected with technical UV, chlorine and, sun-cream resistant design. The cross back also provides lots of support, while still looking sporty-chic. Bonus: It's made from recycled high-performance VITA Xtra Life™ Lycra®, so it's sustainable, too!
12. Montce Snake Rib Bikini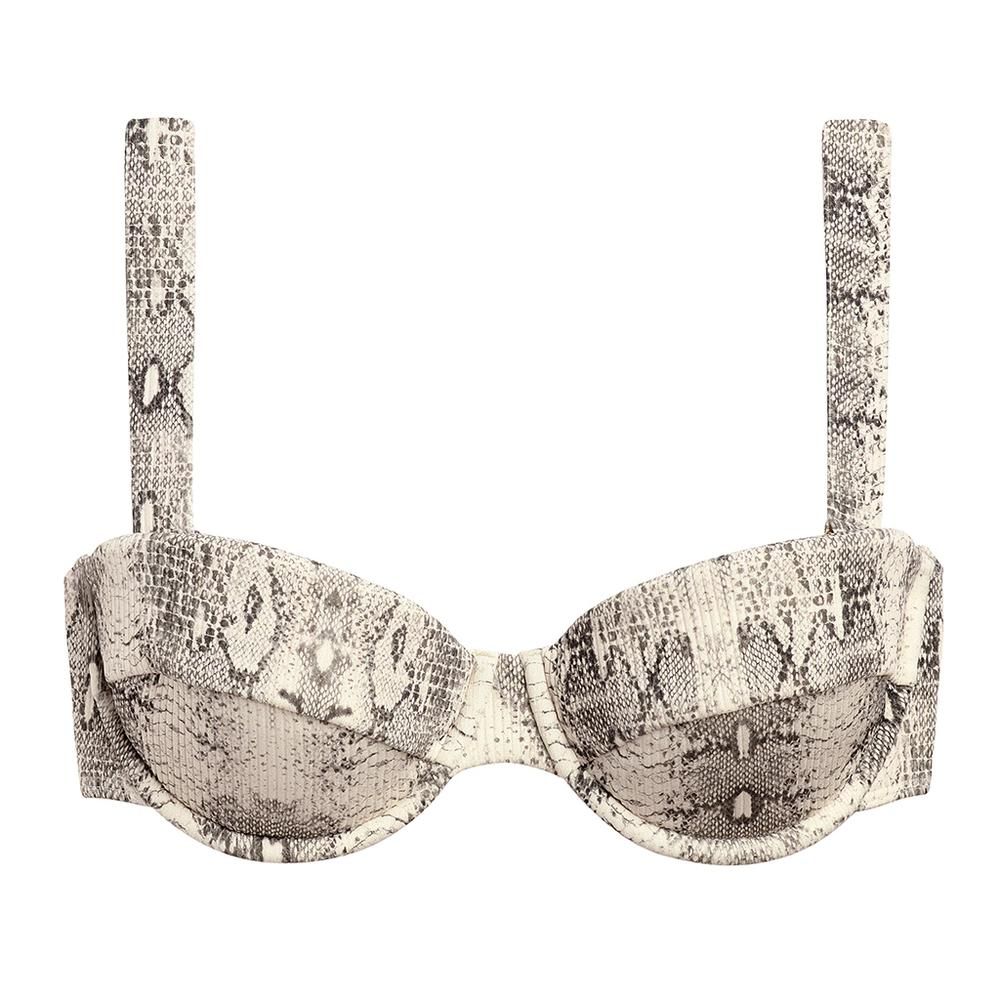 Snake Rib Bustier Bikini TopMontcemontce.com$148.00SHOP NOW
You can never go wrong with a built-in underwire top. After all, it's made like a bra, so it'll support you like one, too. Even better—the wide-band strap adds additional support (score!).
Complete your look with these bikini bottoms.
13. Frankies Bikinis Cruz Bikini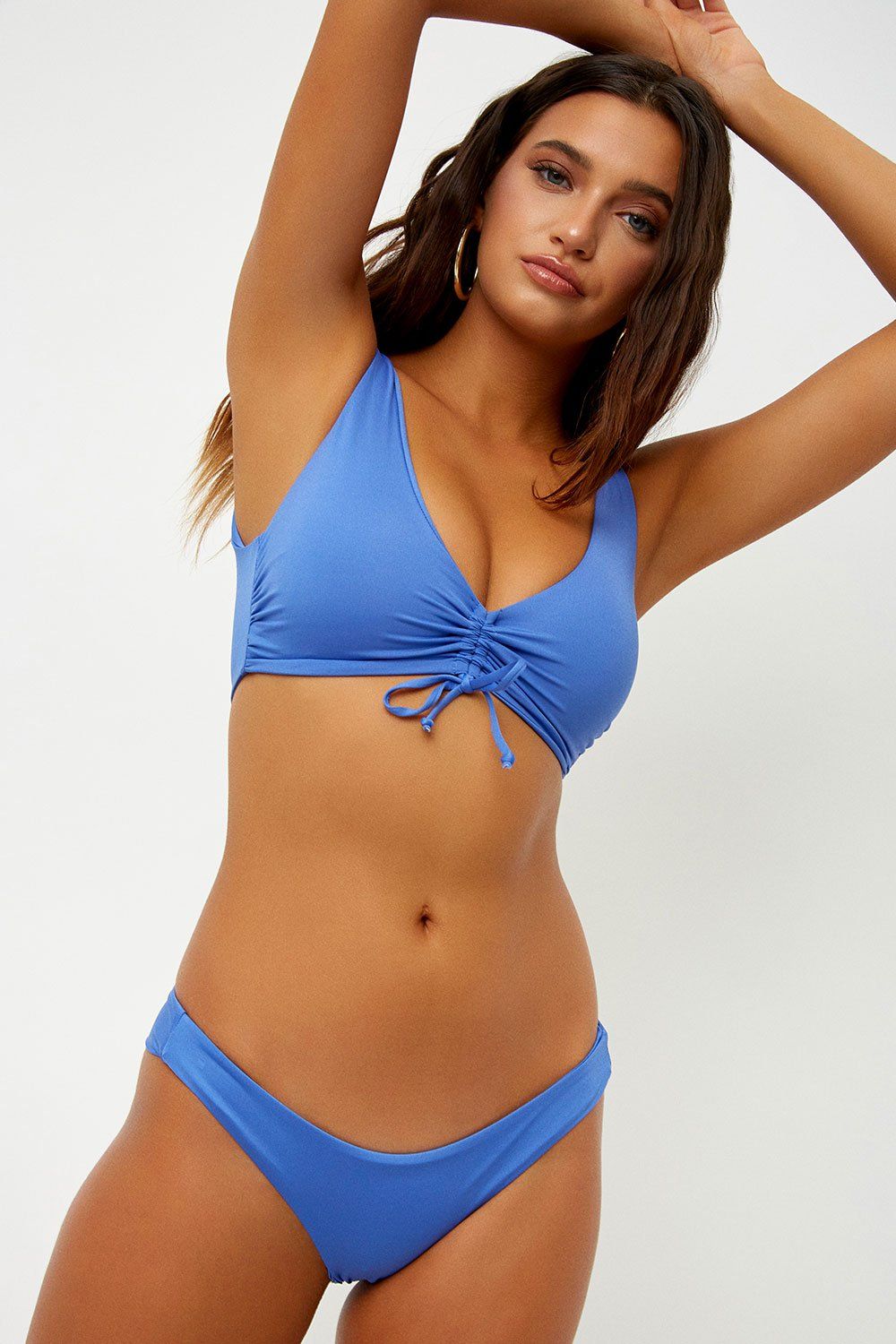 Cruz Bikinifrankiesbikinis.com$90.00SHOP NOW
If beach volleyball is your thing, then this bikini is your next thing. The style has an athletic look, and the coverage nails the perfect balance between supportive and sexy. Not into the beach? Wear with high waisted shorts for a daytime summer look.
Complete your bikini with these bottoms.
14. Gigi C Mathilda One-Piece Swimsuit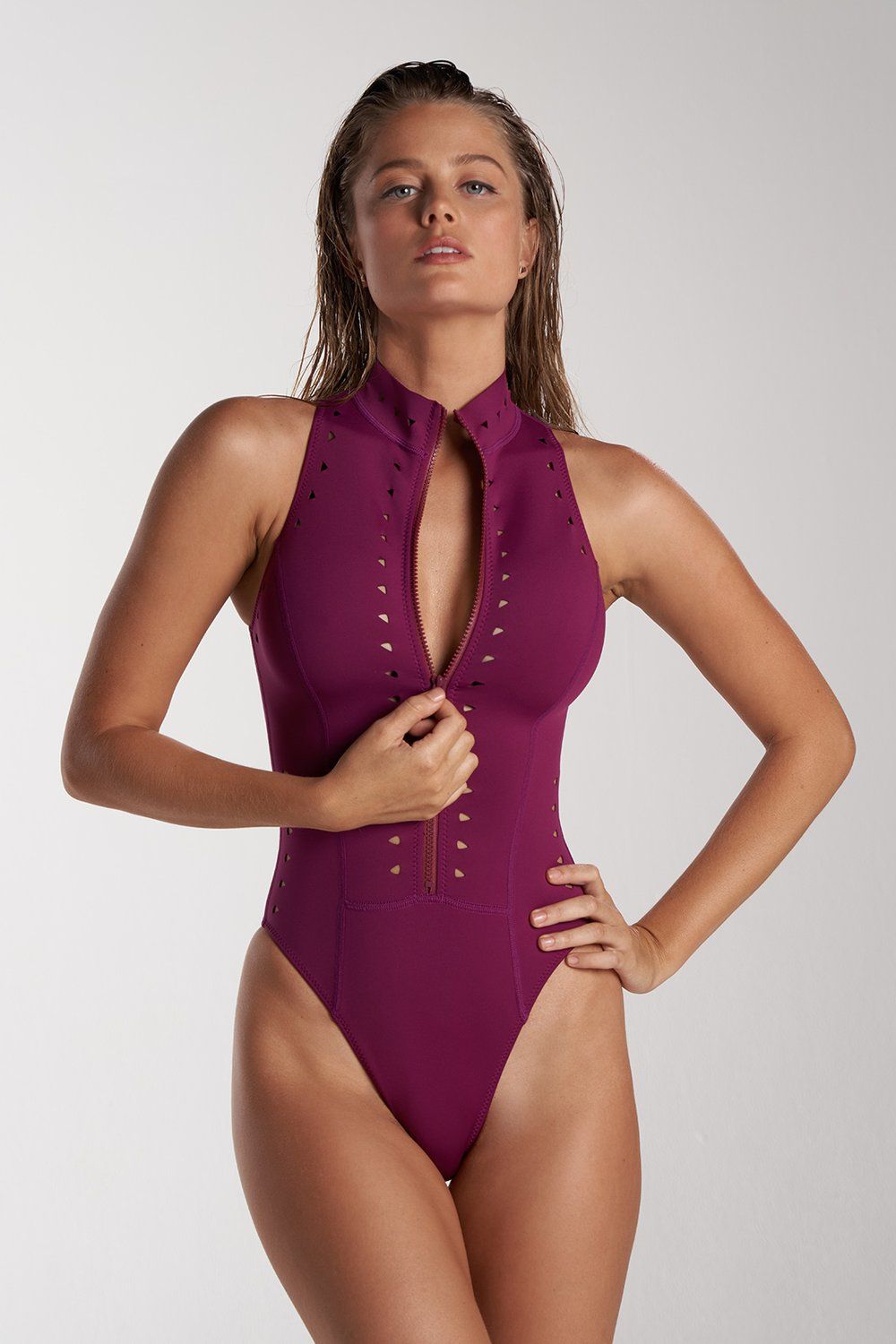 Mathilda One PieceGigi Cgigicbikinis.com$250.00SHOP NOW
This zip-up one-piece swimsuit will hug your body and keep everything perfectly in place. Plus, the zipper allows you to show exactly how much cleavage you want, without any worries.
15. Onia Dalia Printed Pique Bikini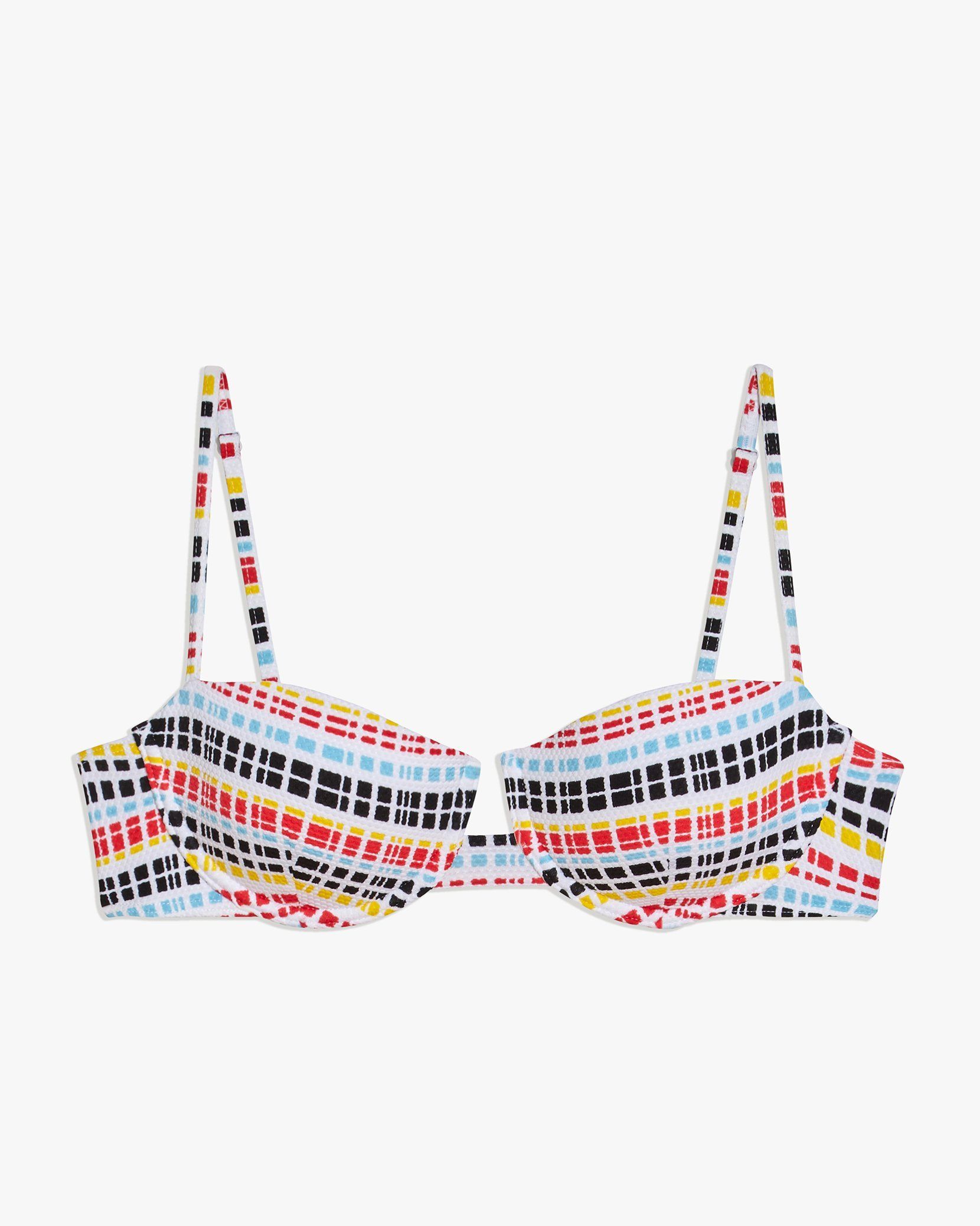 Dalia Printed Pique Toponiaonia.com$66.50SHOP NOW
This molded, underwire demi bikini has soft foam to give you added support and lift. Not to mention, how cute is that print?!
Complete your bathing suit with these bottoms.
16. Everything But Water X Bralette Bikini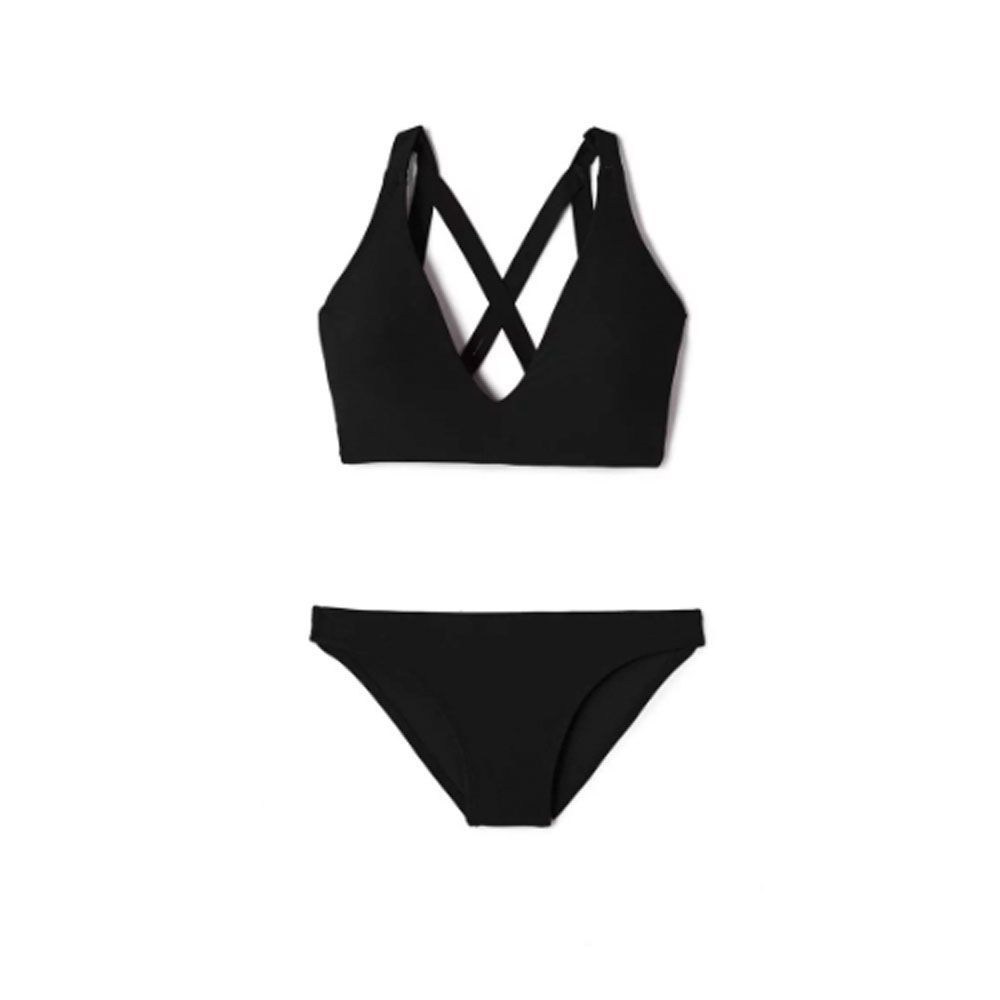 X-Back Bralette Bikinib swimeverythingbutwater.com$108.00SHOP NOW
This seamless scoop-neck top provides weightless bust support with its cross-back straps. Because this swimsuit has no hardware or underwire, you'll be crazy-comfortable. Complete your look with these high-waisted bikini bottoms.
17. TJ Swim Kaia Bikini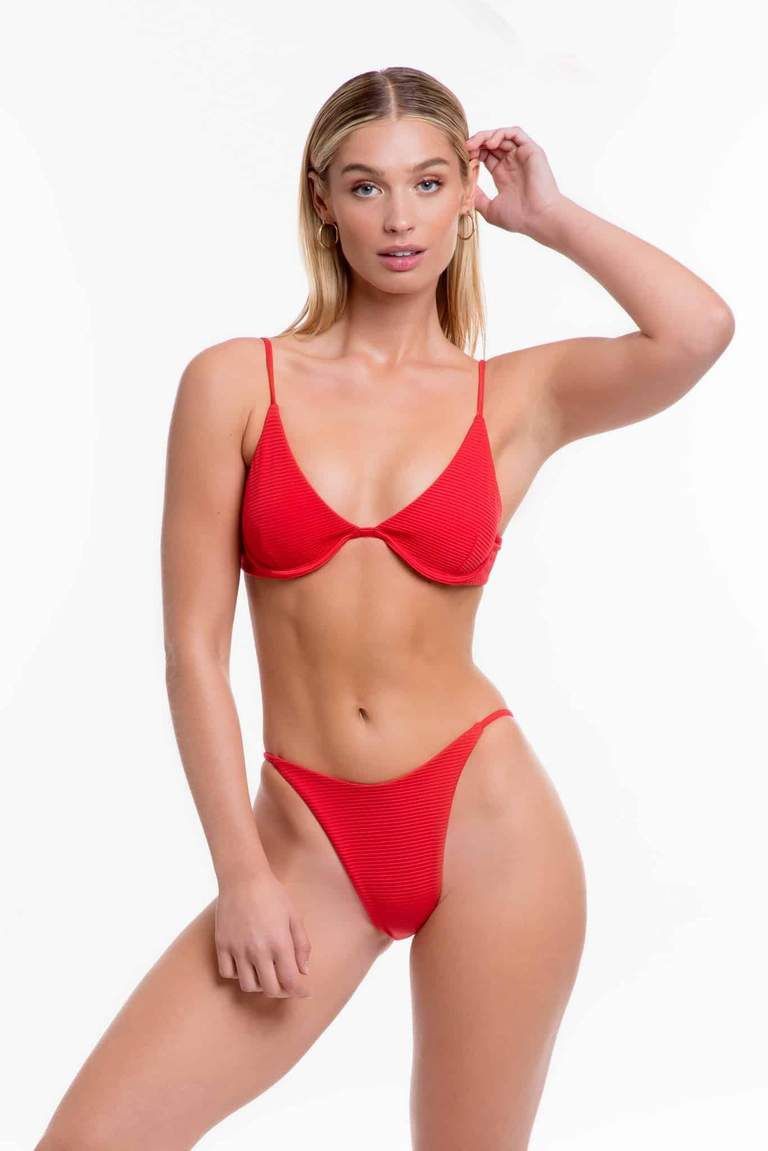 kaia topTJ Swimtjswim.com$69.00SHOP NOW
Any underwire cup will give you extra support, and this one is no different. It enhances your bust's natural shape and comes in a ribbed fabric.
Complete your swimsuit with these bikini bottoms.
18. Victoria's Secret V-Plunge Cross-Back Swimsuit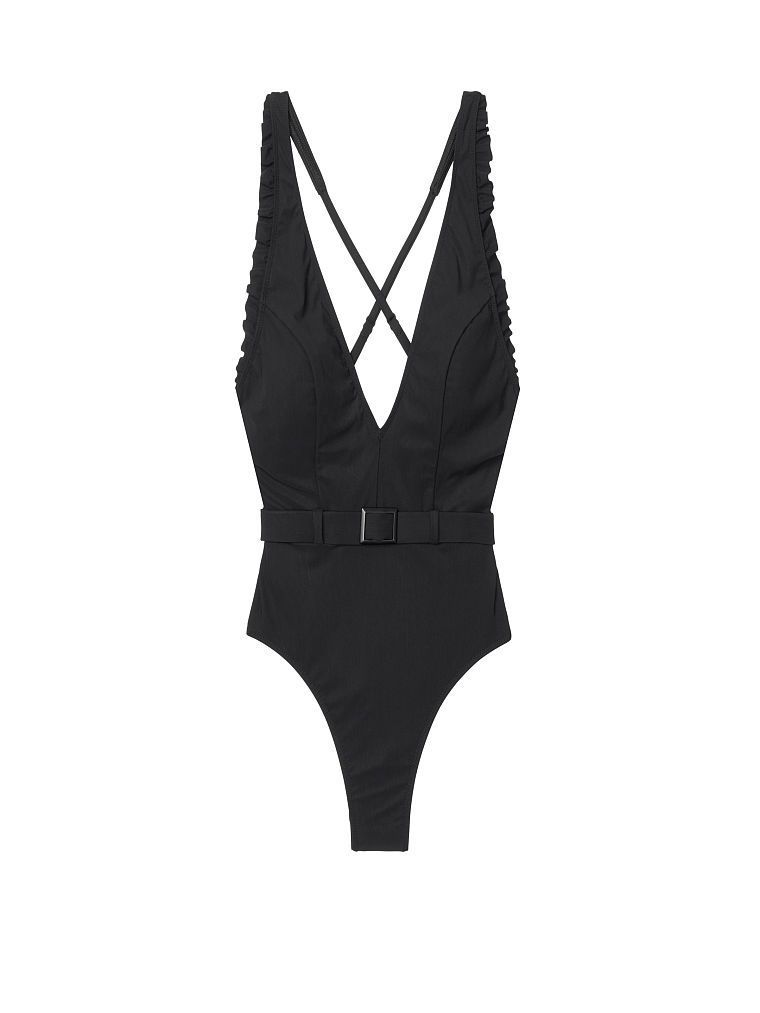 V-plunge Cross-back One-pieceBEAUTYvictoriassecret.com$120.00SHOP NOW
This plunging deep-V swimsuit is a bit more daring, but it can still handle a larger bust size. Not only do the cross-back straps give added support for your girls, but the belt accentuates your waistline.
19. Jade Swim Nova Bikini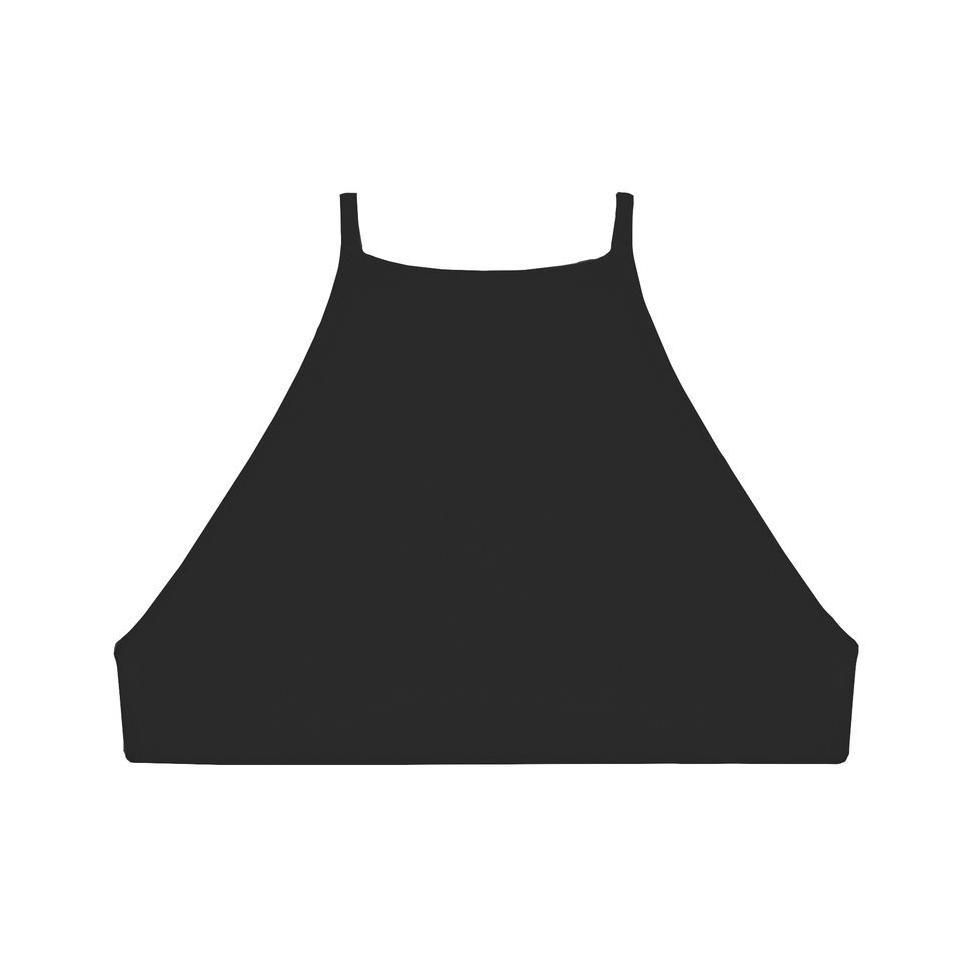 Nova TopJade Swimjadeswim.com$120.00SHOP NOW
When in doubt, opt for a swimsuit with a halter-like neckline. This top has the look, so it'll provide tons of coverage in the front, while still offering the comfort of a regular back. Who really likes the feel of a knotted tie behind their neck? Short answer: No one.
Complete your look with these bikini bottoms.
Source: Read Full Article