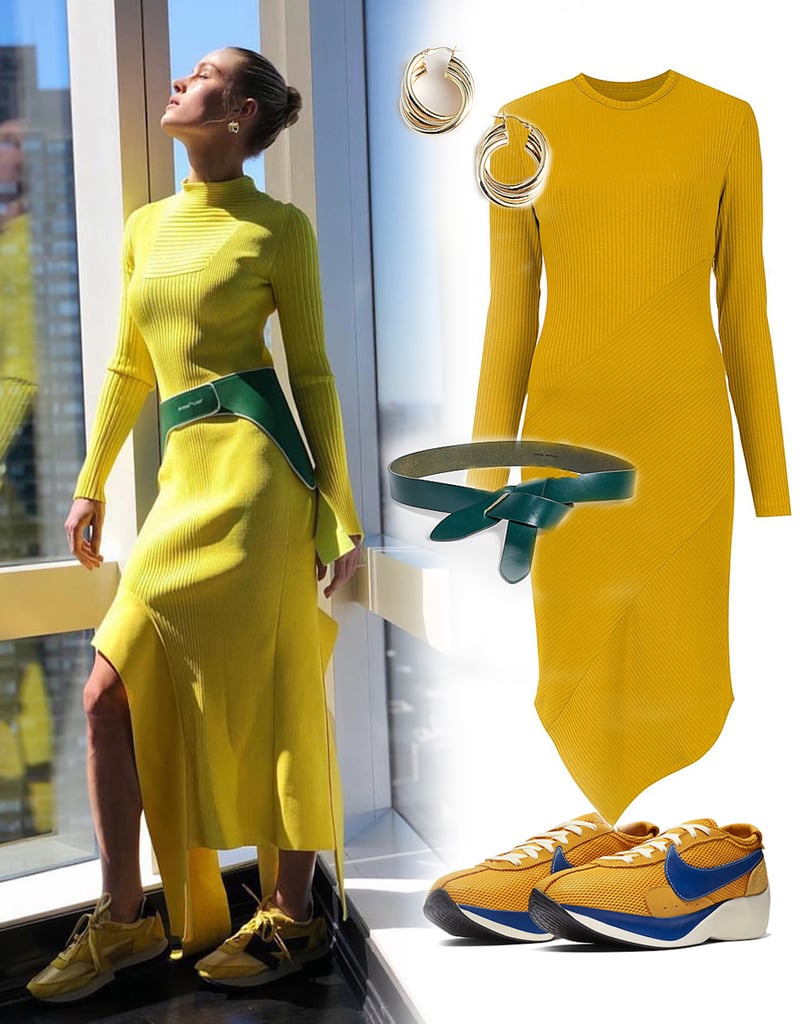 I Want to Be Wearing That: Brie Larson's Ribbed Yellow Dress and Sneakers

OK, I know it's been cool to wear a dress and sneakers since like 2014, but have you seen anyone make the combination look quite as phenomenal as Brie Larson? The Avengers Endgame star, who's been doing plenty of press for her film, was snapped by stylist Samantha McMillen at just the right moment. (They definitely used portrait mode, right?) While I'm not sure exactly where Brie was headed, I know I've asked my boyfriend to snap me in portrait mode in front of pretty backgrounds about a gazillion times, and never was the outcome as glorious as this.
My conclusion is that it has everything to do with the outfit. Brie wore a look fresh off the Off-White Fall 2019 runway consisting of a ribbed asymmetrical yellow dress with a harness style belt and matching sneakers you can expect to go viral the second they hit the internet. She accessorized with gold earrings and put her hair in a top knot.
Does street style get any better than this? Please, someone tell me. Not only is her ensemble comfortable enough to sleep in, it's eye-catching and fashion forward enough to be on the front page of a magazine. So sign me up, sister. In my opinion, even the red carpet gowns Brie gets to wear, pockets or no pockets, do not amount to this.
Shop clockwise from top left: & Other Stories Trio Twisted Hoop Earrings ($25), Tufi Duek Ribbed Midi Dress ($243), Nike Moon Racer QS Sneaker ($150), Isabel Marant
Lecce Belt ($160)
Source: Read Full Article