Just because it's cold outside doesn't mean your wardrobe needs to be dreary too. This holiday season, inject some energy into your closet and life with fresh bursts of color — and help others do the same! Through cheerful, warm hues and playful, fun gifts, you can feel confident that you're truly giving the gift of happiness, to everyone from your significant other to your niece. Ahead, find our festive, bright picks for you and your loved ones — smiles all around guaranteed!
Wrap up your friends and family in a cozy hat-and-scarf set. These extra-fun rainbow items are sure to liven up any outdoor look. Gift your interior-design-obsessed friend a statement-worthy coffee table book that's not only beautiful but also serves a purpose. Sunglasses are also a safe bet when gift-giving, as you can never have too many pairs — especially if they're vivacious red! For a one-of-a-kind stocking stuffer, pick up a sweet trinket like this gold fortune cookie box. It's both charming and functional.
Crazy Stripe Scarf

$40

from
gap.com

Buy Now




Crazy Stripe Gloves

$30

from
gap.com

Buy Now




Book Set

$225

from
modaoperandi.com

Buy Now




SSENSE Red Sunglasses

$139

from
ssense.com

Buy Now




Fortune Cookie Keepsake Box

$16

from
onekingslane.com

Buy Now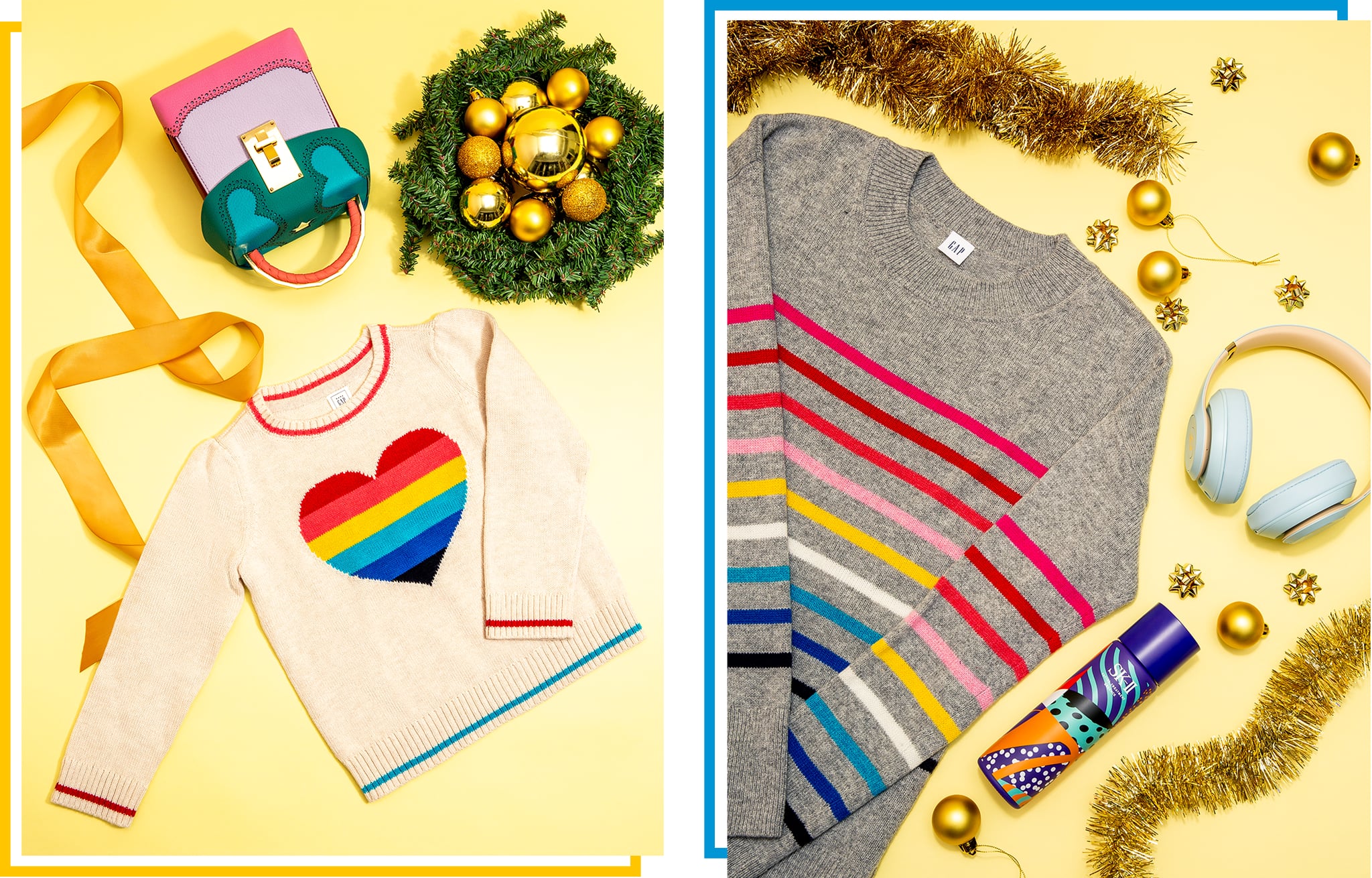 Stock up on rainbow brights for the whole family with cheery sweaters and sweats that are both delightful and stylish. These coordinating pieces may even inspire you to take a family photo or two! The best part? They're warm, bold, and machine-washable. If you're shopping for a music-lover, kick your gifting game up a notch with sleek, colorful headphones that are just as fashionable as the person receiving them. Too busy to wrap? Opt for a high-quality beauty product with gorgeous packaging that's too pretty to cover up, or get creative by stashing it inside a pretty clutch or purse.
Rainbow Heart Sweater

$35

from
gap.com

Buy Now




Heart Sweater One-Piece

$40

from
gap.com

Buy Now




Crazy Stripe Sweater Tunic

$60

from
gap.com

Buy Now




Crazy Stripe Crewneck Sweater

$70

from
gap.com

Buy Now




Side Stripe Sweater Leggings

$60

from
gap.com

Buy Now




Beats by Dr. Dre

$350

from
bestbuy.com

Buy Now




SK-II Karan Facial Treatment

$229

from
neimanmarcus.com

Buy Now




Exclusive Great Alice Box Bag

$945

from
shopbop.com

Buy Now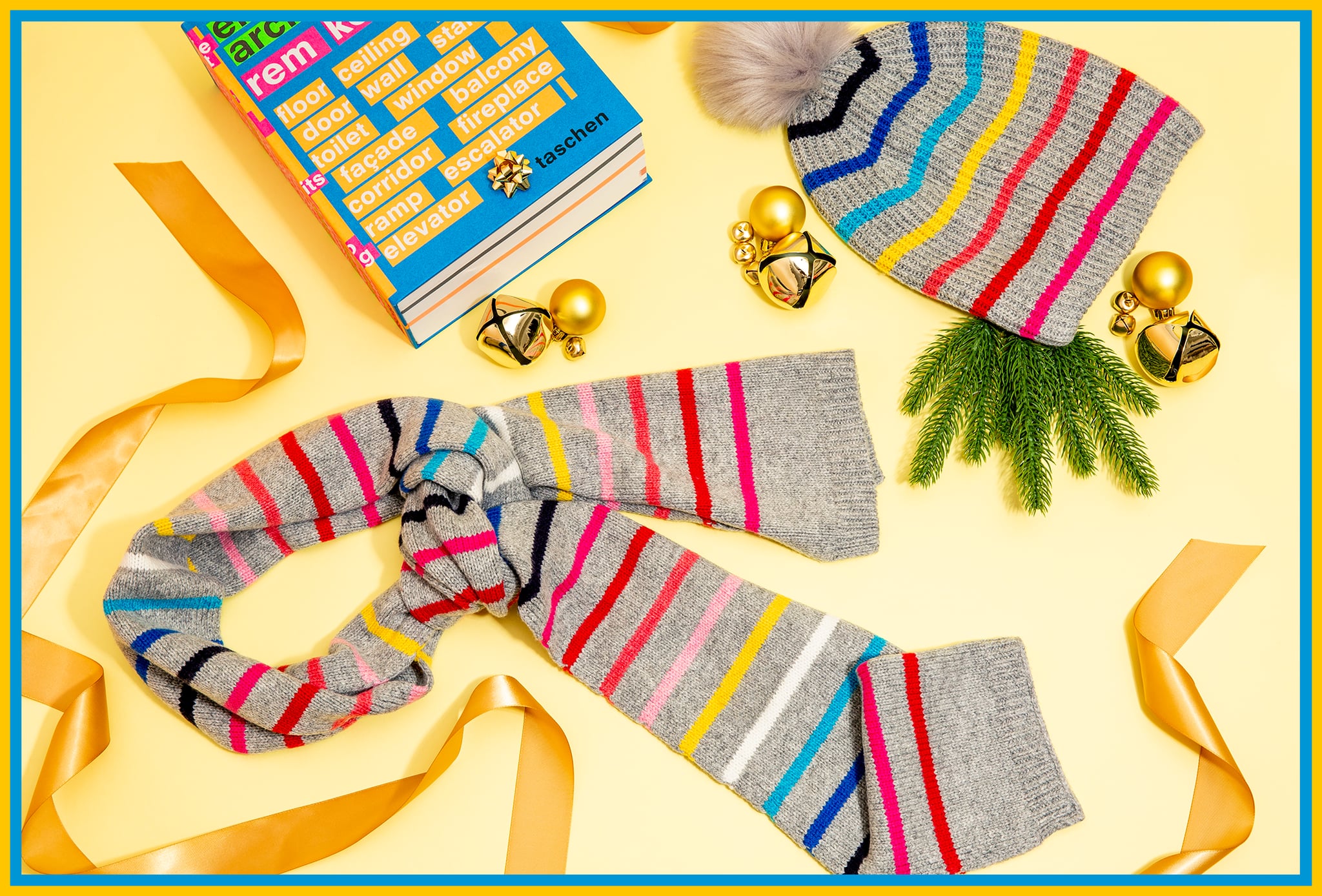 If you're worried about sizing, you can't go wrong with cold-weather accessories. This rainbow-striped scarf-and-hat combo is a great way to incorporate bold color into any outfit. Featuring bright blue, yellow, and pink hues, these items will definitely be a favorite even on the cloudiest of Winter days. Speaking of gray Winter days, brighten up your loved one's home (literally) with a pretty, sweet-smelling candle perfect for setting a happy, cozy mood.
Crazy Stripe Scarf

$40

from
gap.com

Buy Now




Crazy Stripe Pom-Pom Beanie

$30

from
gap.com

Buy Now




Crazy Stripe Beanie

$30

from
gap.com

Buy Now




Crazy Stripe Pull-On Pants

$15

from
gap.com

Buy Now




Crazy Stripe Scarf

$40

from
gap.com

Buy Now




Capri Blue Mercury Candle

$88

from
anthropologie.com

Buy Now




Elements of Architecture

$125

from
taschen.com

Buy Now



MORE FROM GAP
Source: Read Full Article