With Black Friday on the horizon, it's time for serious shoppers to start planning what deals they're going to snag. It also depends on what you're shopping for. If you're looking to spice up your wardrobe, you might want to check out Fashion Nova 2018 Black Friday sales. If you haven't heard of Fashion Nova before, the online fashion retailer is quickly becoming one of the biggest brands with the hottest trends. In fact, they've even jumped on the hottest dress of the year, Meghan Markle's reception gown, making a stunning replica of it.
It seems like Black Friday comes earlier and earlier each year, and now, before you even dig into your turkey dinner and pumpkin pie, you can shop 25 percent off select styles online, via Fashion Nova's early Black Friday deals. If you're looking for a few new outfits for the holiday parties you're attending this year, you'll definitely want to check out their dresses and chic tops. With a variety of different styles and colors, you'll find something perfect for your night out with the girls or date night with bae.
You can also get a head start on your New Year's Eve look by snagging a sparkly outfit that's on sale right now. From cozy hoodies, to distressed denim, to mesh dresses, to leather skirts, and so much more, you're sure to find something that fits your personal style and plans. It's safe to say, with the brand's early Black Friday deals, you'll want to take advantage of that "add to cart" feature as soon as possible… and keep your eyes peeled for what sales are to come on Black Friday.
Score A Pair Of Jeans For Under $15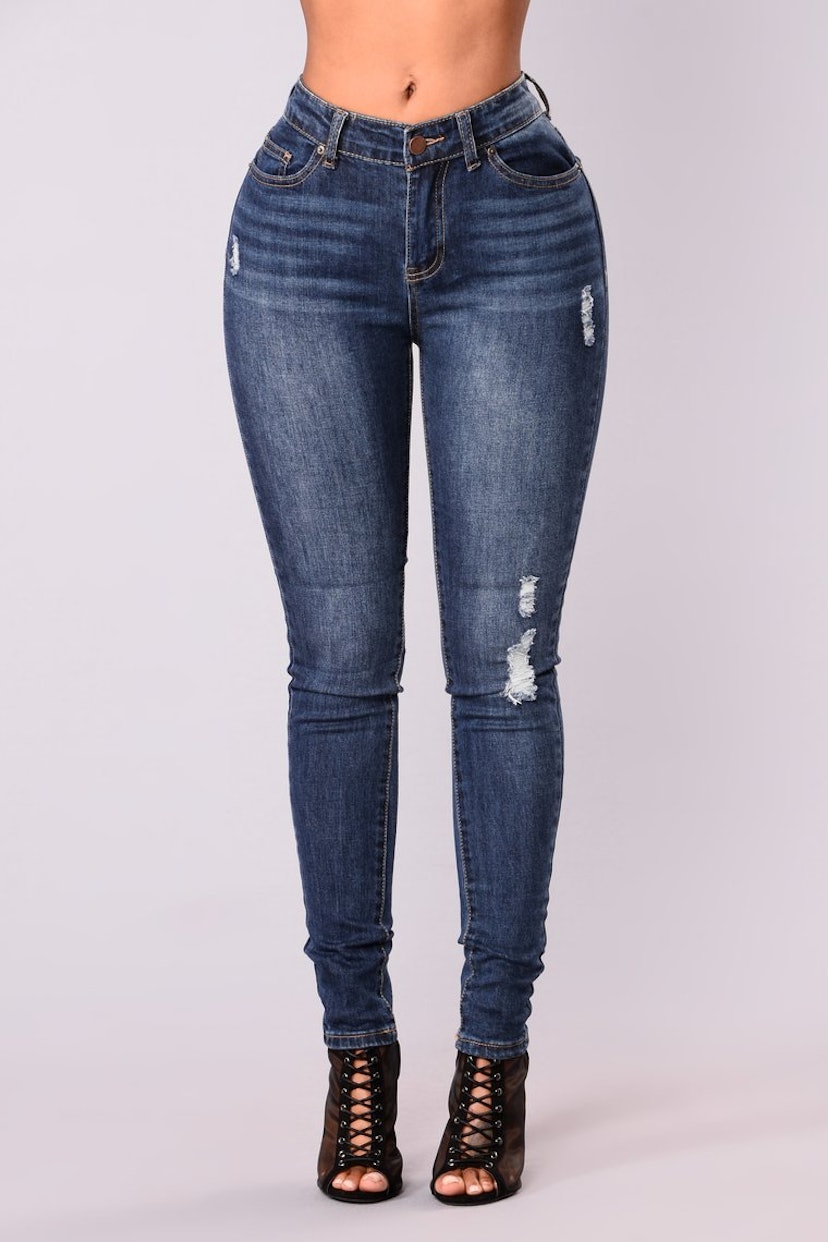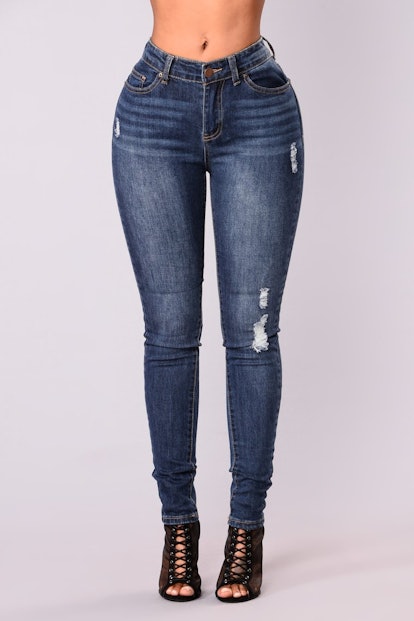 Go Girl Skinny Jeans – Dark
$19.99
$14.99
Fashion Nova
A go-to pair of jeans is essential — this pair makes you feel incredible, coordinates with just about any sweater in your closet, and looks absolutely fab in your selfies. You can never have too many jeans, so grab yourself a pair from Fashion Nova to add to your closet.
In my opinion, every girl should have a fave pair of jeans in her closet, so when Fashion Nova's jeans are under $15, it makes it so much easier to stock up. Especially if you're looking for a cute pair of ripped jeans to wear with all of your cozy sweaters and flannels, you'll be able to find something in every color, from distressed dark denim, to white mid rise, to high rise black jeans.
Chill Out With This Super Comfy Set That's Under $20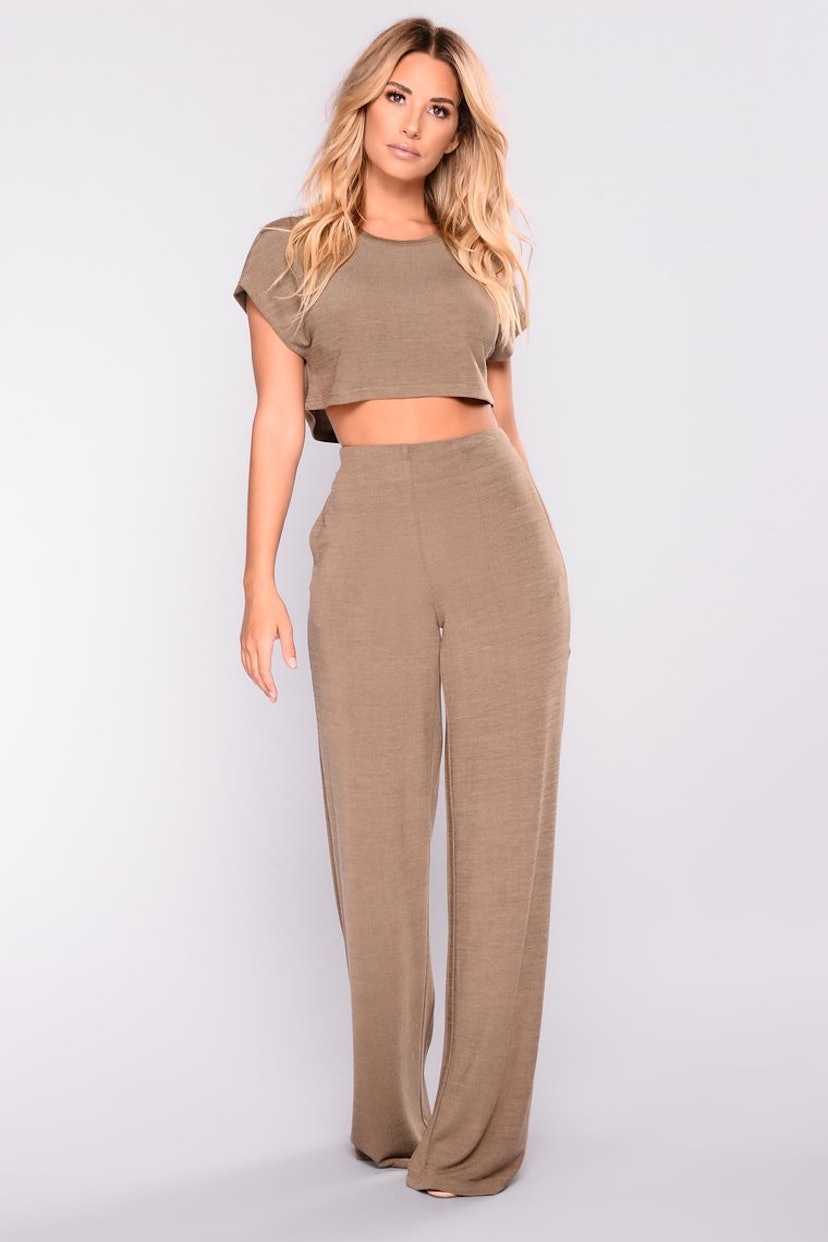 Netflix And Chill Set – Olive
$24.99
$18.74
Fashion Nova
Along with the brand's stunning dresses for girls' night out, Fashion Nova also carries cute AF outfits for when you just want to chill at home, like this two piece "Netflix and Chill set." This is the perfect outfit for cooking with bae, or when you're too tired to do anything other than watch a few rom-coms on Netflix with your pup. This crop top and pants set comes in olive, khaki, heather grey, and pink.
Not only does Fashion Nova carry two piece sets to get comfy with all winter long, but there are a bunch of hoodies and sweaters you'll want to stock up on as well. If you're looking for something more on the festive side, you can even find lit Christmas sweaters that are perfect for your holiday card with your roommates.
Shine Bright And Keep Warm With A Sequin Beanie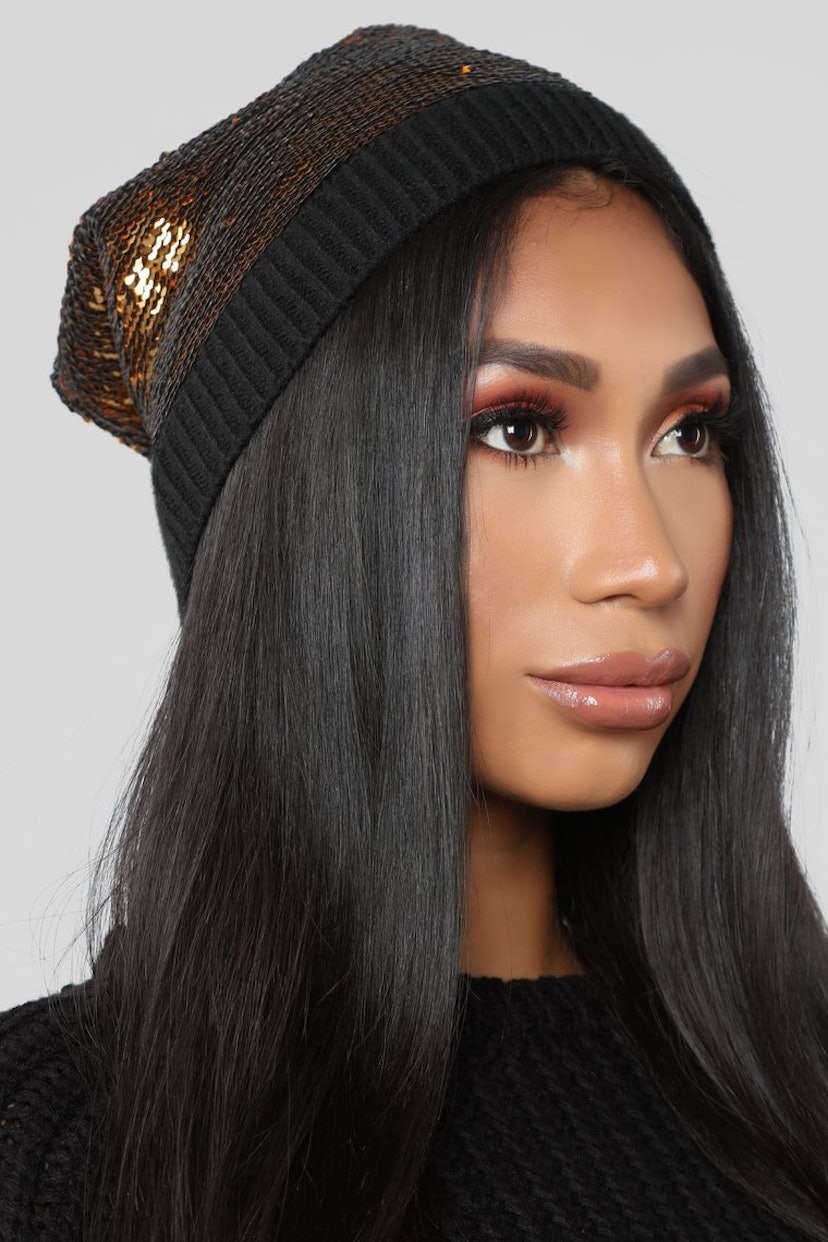 Follow The Sequins Beanie – Gold/Black
$19.99
$14.99
Fashion Nova
A little sparkle is just what you need this winter. When it's really cold outside, but you still want to look fab, don't fret. This sequin beanie from Fashion Nova is here to save the day in style. And if gold sequins aren't your thing, the hat also comes in pink sequins.
If you never seem to be prepared for the cold weather, you might want to add a few chic accessories to your wardrobe, like scarves, gloves, and beanies (like this one). This is also the perfect gift for the bestie who already has everything, because you can never have too many sequins.
Denim Is Always A Good Idea, Especially When It's Embellished With Rhinestones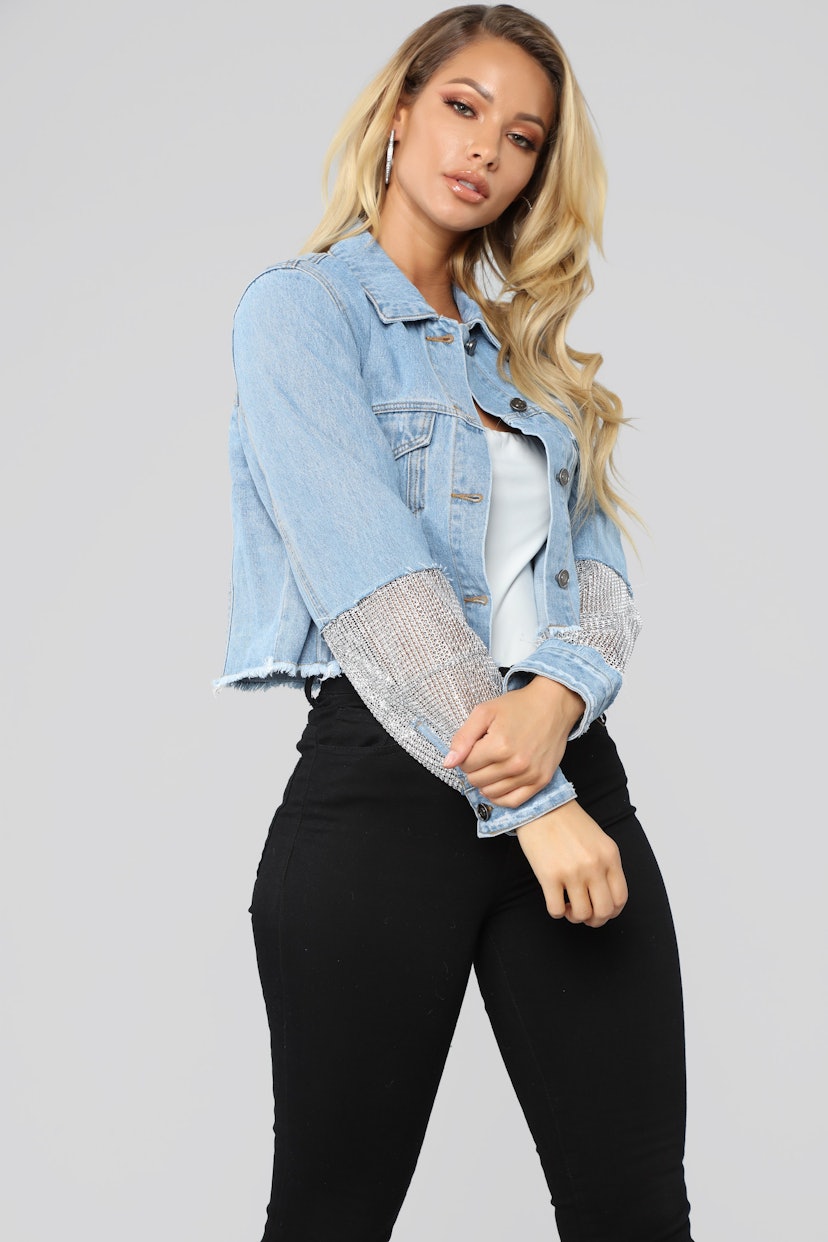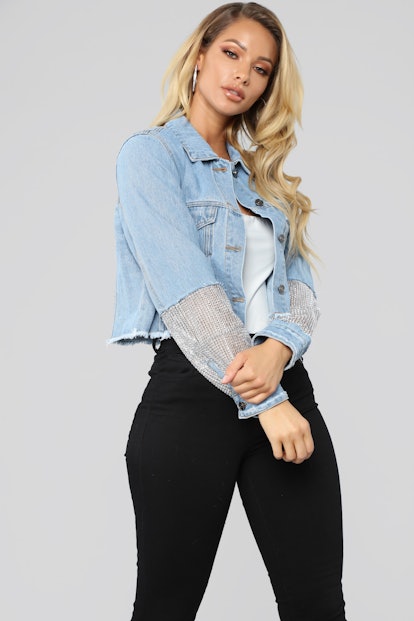 Boo'd UP Rhinestone Jacket – Medium Wash
$42.99
$32.24
Fashion Nova
A denim jacket is a staple year-round. It can be worn with a casual tank, leggings, and baseball cap, or rocked over a sundress. That's why this jean jacket from Fashion Nova (that's decorated with rhinestones) deserves a spot in your closet — so treat yo' self!
Black Friday is a great time to satisfy your outerwear needs, whether you want a jean jacket or green Moto one. Instead of breaking the bank, you'll have extra cash to shop for gifts, because there are a ton of styles to choose from on Fashion Nova that are under $40.
Get A Holiday Party Dress For Under $15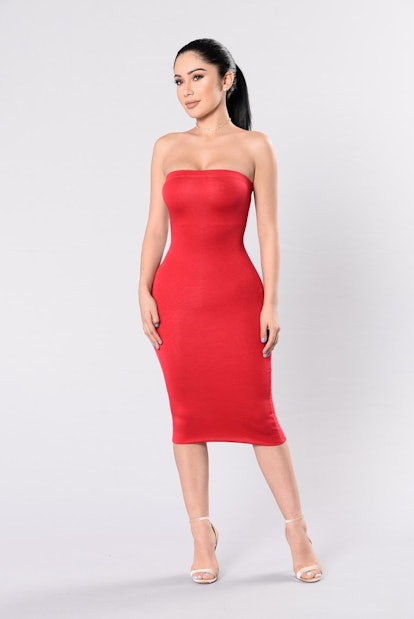 Anna Dress – Red
$19.99
$14.99
Fashion Nova
If you're expecting all the holiday party invites to roll in, you don't want to rock the same dress to every single one. You also don't want to go over budget by buying a ton of dresses you may only wear once. Lucky for you, Fashion Nova has cute party dresses for under $15, like this red one.
With up to 80 percent off of their sale dresses, Fashion Nova is where you should start your holiday shopping. Whether you want something velvety for date night, or something fun with polka dots for a gift exchange with your friends, you'll find the best ensemble for any holiday affair, without breaking the bank.
Source: Read Full Article