Gemma Peplow, arts and entertainment reporter
Fans of nature photography are being given the chance to pick a picture to be included in the full Wildlife Photographer Of The Year 2018 exhibition at the Natural History Museum.
While the overall winner and other commended pictures were announced in October, voting has now opened for the LUMIX People's Choice Award.
The annual prize marks exceptional entries to the competition – which received more than 45,000 submissions – as chosen by the public, with 25 images pre-selected by the museum to choose from.
Scroll through to see the 25 shortlisted images and find out how to vote.
Resting Mountain Gorilla, by David Lloyd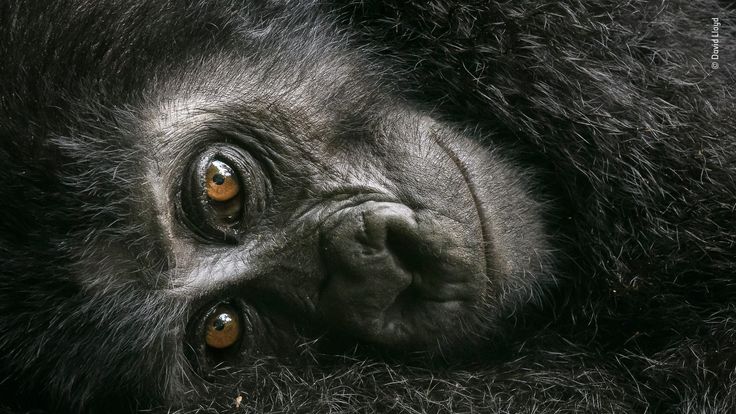 This beautiful portrait shows a baby gorilla clinging to its mother in South Bwindi, Uganda.
Family Portrait, by Connor Stefanison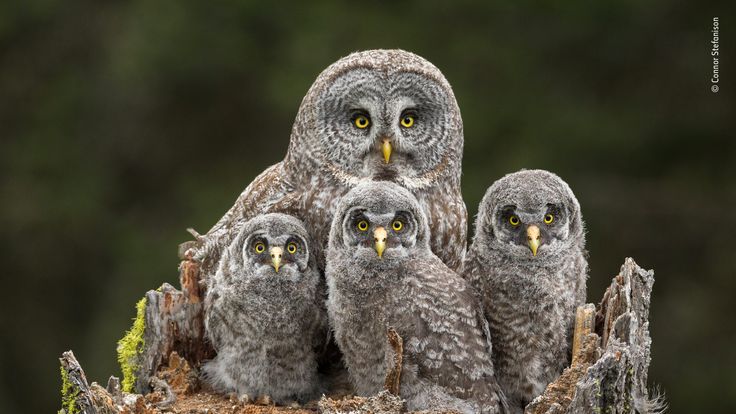 Say cheese! A great grey owl and her chicks pose perfectly in their nest in the broken top of a Douglas fir tree in Kamloops, Canada.
Shy, by Pedro Carrillo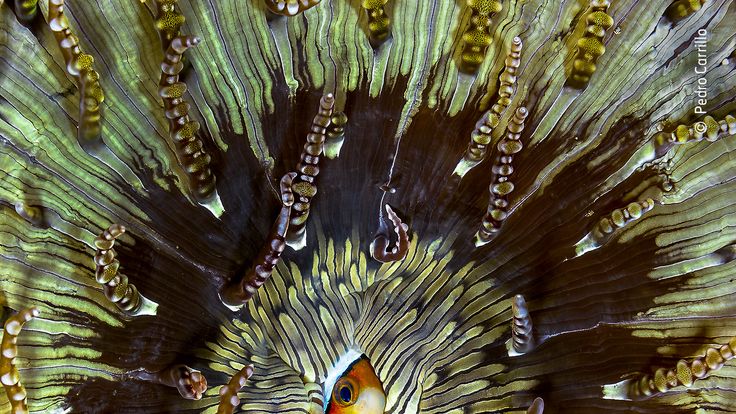 The striking pattern of a beaded sand anemone perfectly frames a young Clarkii clownfish in Lembeh strait, Sulawesi, Indonesia.
Red, Silver and Black, by Tin Man Lee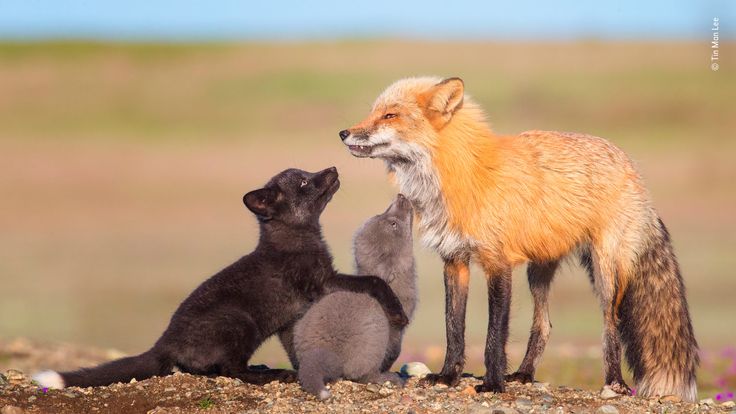 Three different foxes – red, black and silver – share a moment at a den in Washington State, US.
Sound Asleep, by Tony Wu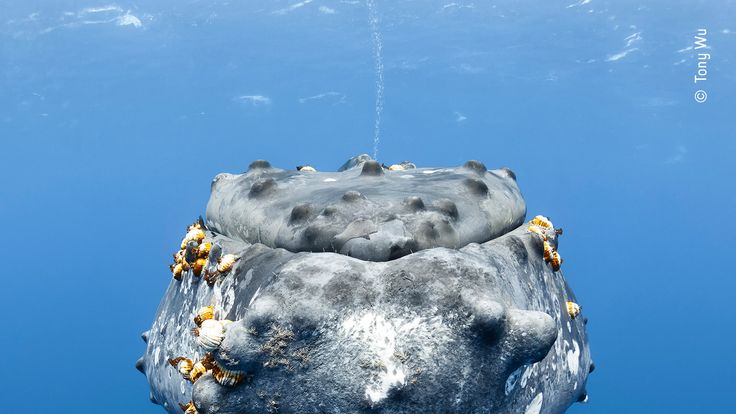 An adult humpback whale balances in mid-water, sound asleep, in Vava'u, Kingdom of Tonga.
Curious Encounter, by Cristobal Serrano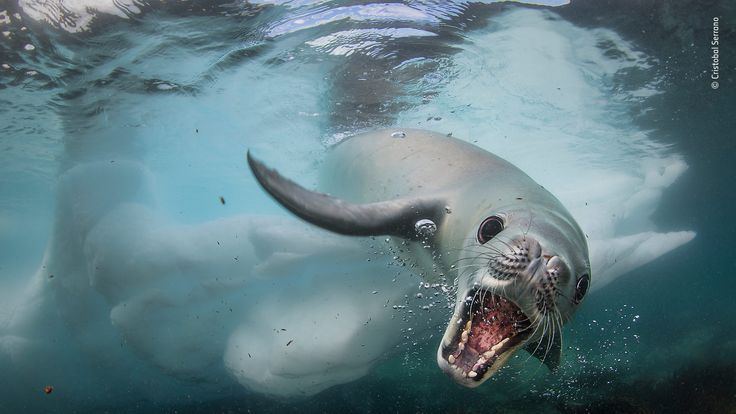 A crabeater seal smiles for the camera off Cuverville Island, Antarctic Peninsula.
All That Remains, by Phil Jones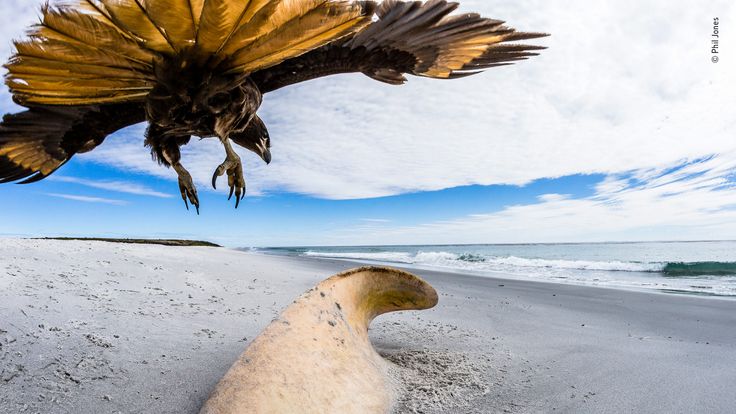 A striated caracara swoops after spotting just the tip of the carcass of a beached male orca on Sea Lion Island, Falkland Islands.
The Orphaned Beaver, by Suzi Eszterhas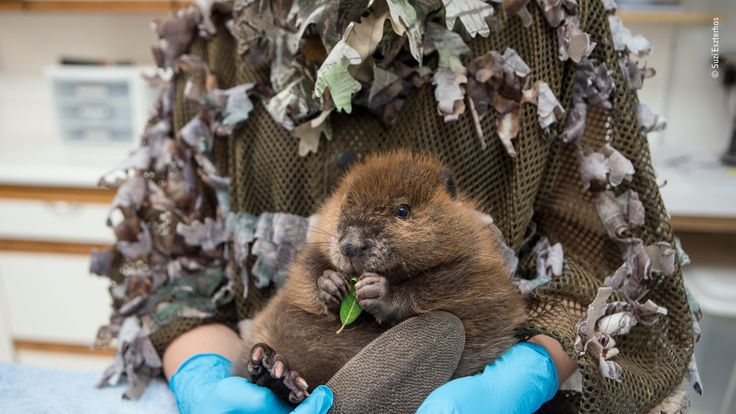 A one-month-old orphaned North American beaver kit is held by a caretaker at the Sarvey Wildlife Care Centre in Arlington, Washington. Don't worry, there was a happy ending – the baby was paired with a female beaver who took on the role of mother, and they were later released into the wild.
Three Kings, by Wim Van Den Heever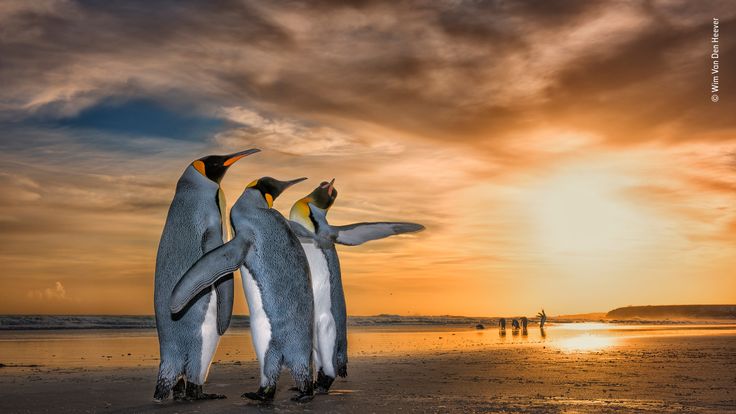 Flirting, penguin style. King penguins on a beach in the Falkland Islands go all out to impress – with the two males constantly moving around the female, using their flippers to fend the other off.
Gliding by Christian Vizl, Mexico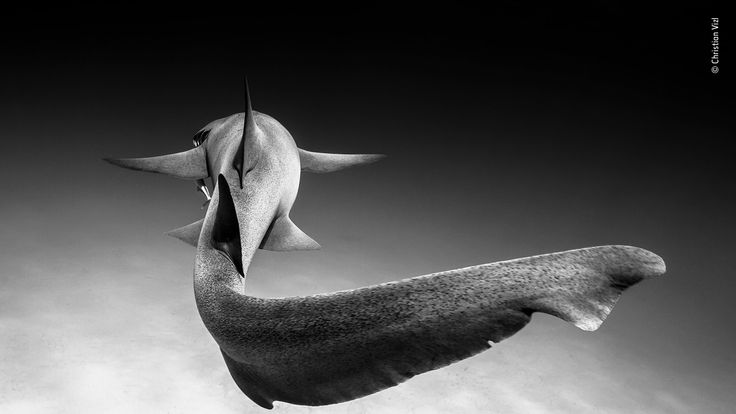 A nurse shark glides through the ocean off the coast of Bimini in the Bahamas.
Clam Close-up, by David Barrio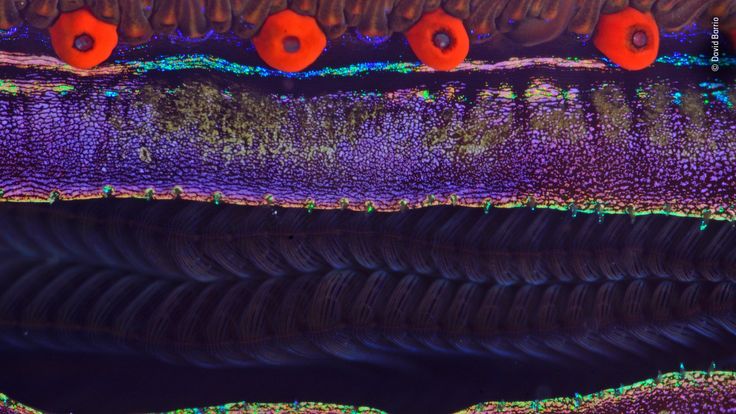 This colourful image is actually a macro shot of an iridescent clam, taken in the Southern Red Sea, Marsa Alam, Egypt.
Teenager, by Franco Banfi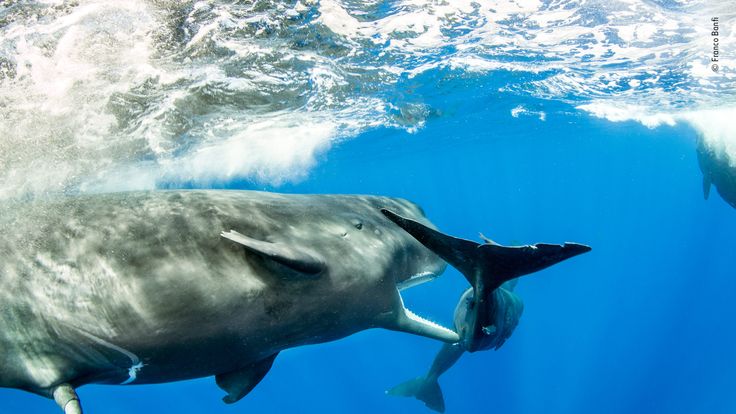 A young male sperm whale tries to copulate with a female. Unfortunately for him, her calf is in the way.
Ambush, by Federico Veronesi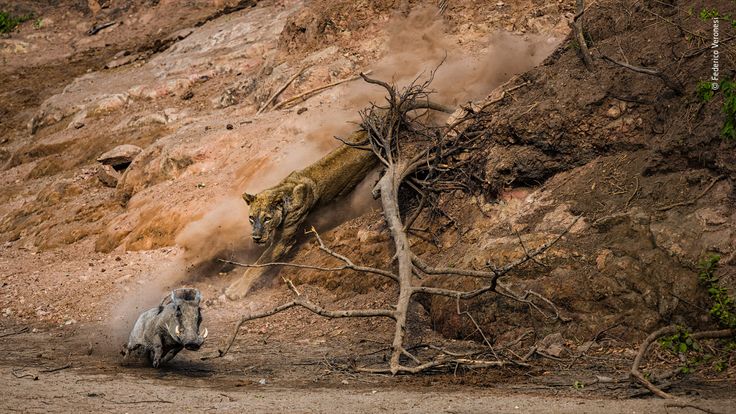 An old lioness descends from the top of the riverbank at the Chitake Springs, in Mana Pools National Park, Zimbabwe, going in for the kill after lying in wait to ambush animals visiting a nearby waterhole.
Bond of Brothers, by David Lloyd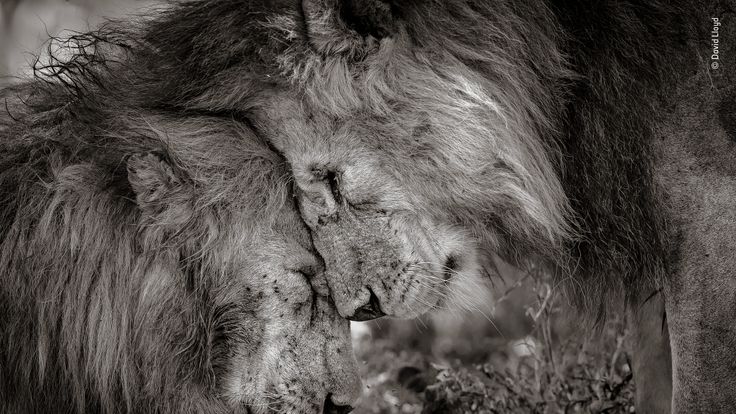 These two adult males, probably brothers, nuzzle faces in a rare moment captured on camera.
Under the Snow, by Audren Morel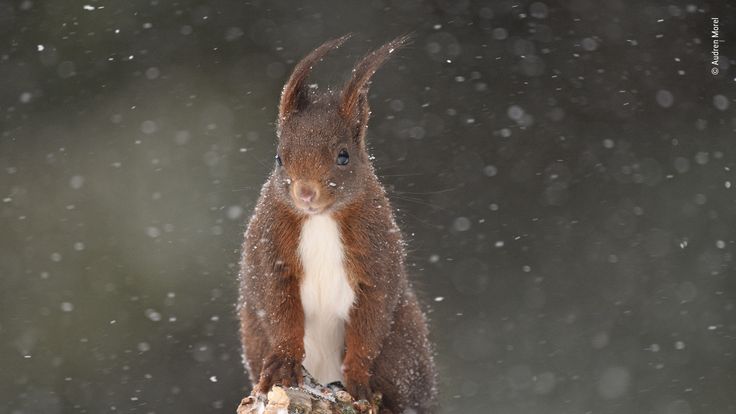 A tough squirrel endures a snowy blizzard in the small Jura village of Les Fourgs, France.
Fox Meets Fox, by Matthew Maran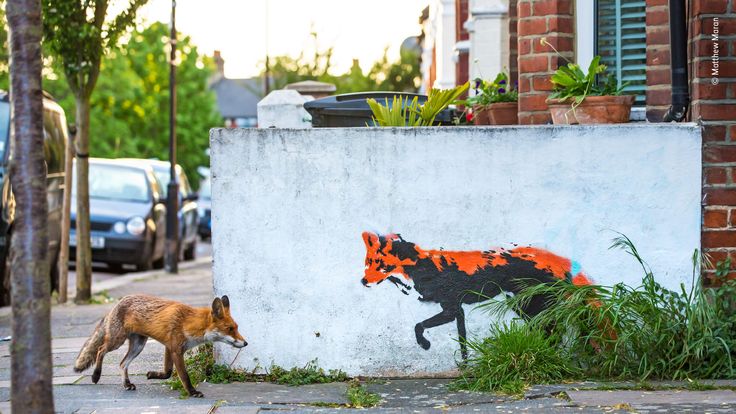 After countless hours and many failed attempts, persistence paid off for Matthew Maran, who had been photographing foxes close to his home in north London for more than a year in the hope of capturing this image.
Ice and Water, by Audun Lie Dahl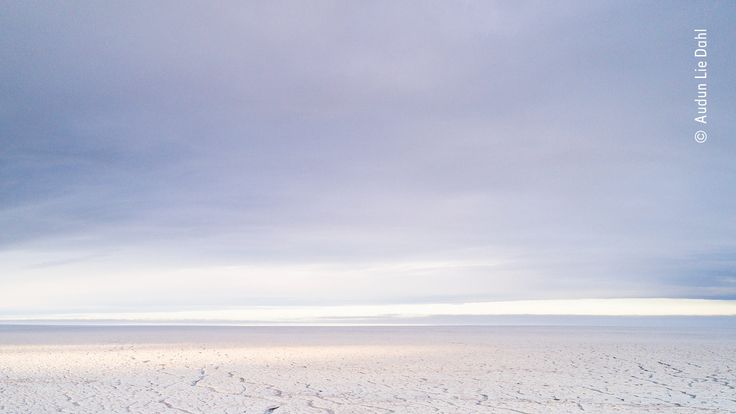 The Brasvellbreen glacier moves southwards from one of the ice caps covering the Svalbard Archipelago, Norway. View this picture in full on the Wildlife Photographer Of The Year website to see it in its full glory.
Painted Waterfall, by Eduardo Blanco Mendizabal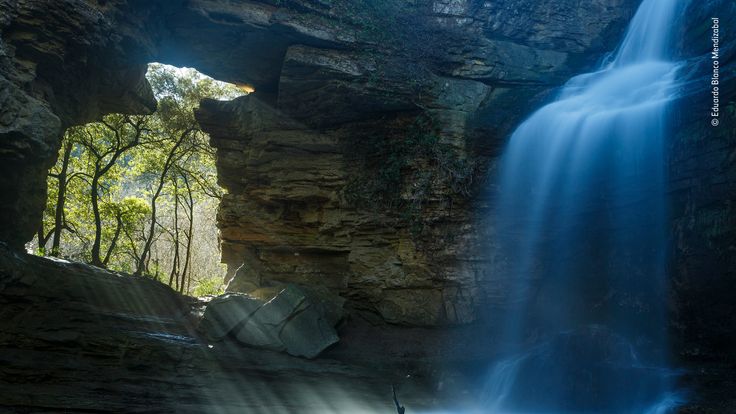 The sun beams through a hole in the rock at the foot of the La Foradada waterfall, in Catalonia, Spain, creating a pool of light, with the rays appearing to paint the spray of the waterfall.
Isolated, by Anna Henly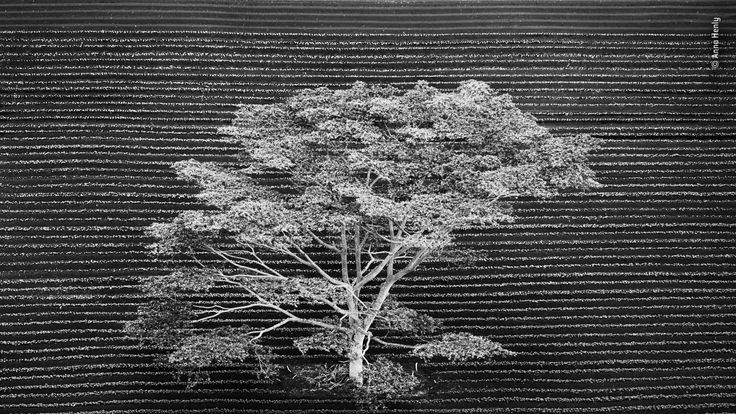 Taken from a helicopter, this isolated tree stands in a cultivated field on the edge of a tropical forest on Kauai, Hawaii.
One Toy, Three Dogs by Bence Mate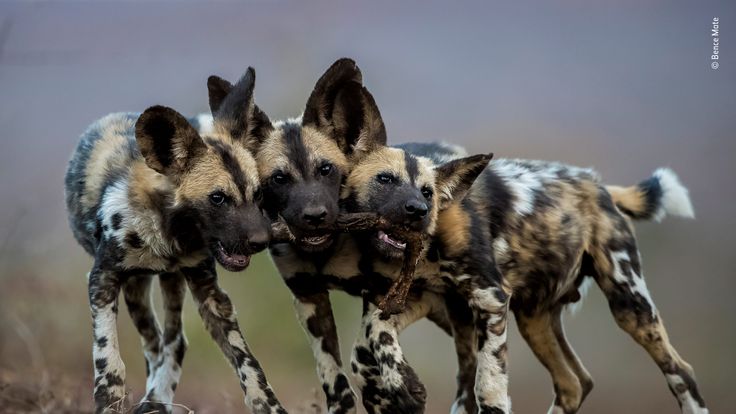 Three African wild dog pups play with the leg of an impala, trying to drag it in three different directions, in Mkuze, South Africa.
Otherworldly, by Franco Banfi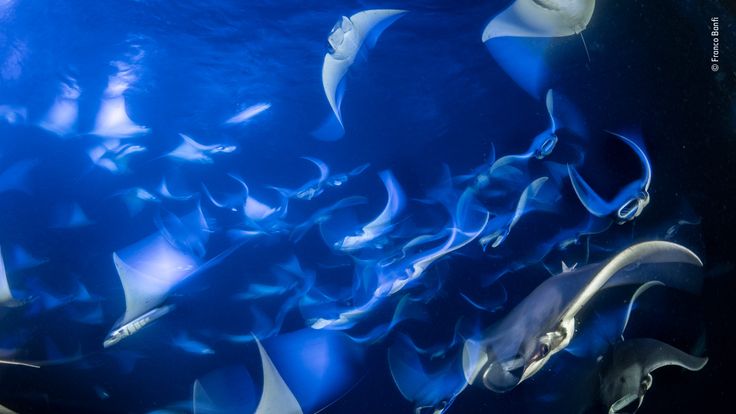 A school of Munk's devil ray feed on plankton at night off the coast of Isla Espíritu Santo in Baja California, Mexico.
The Bat's Wake, by Antonio Leiva Sanchez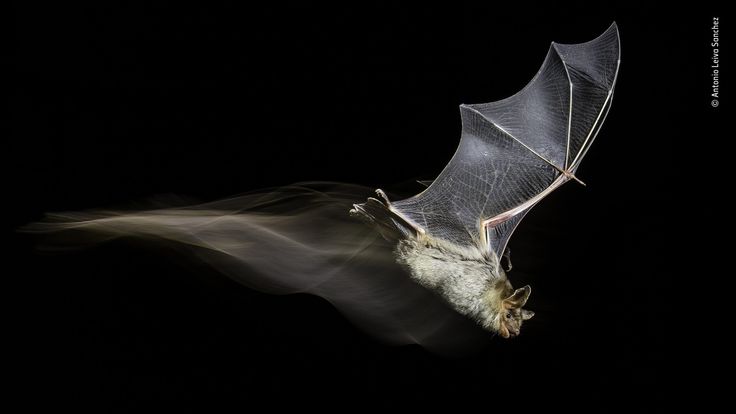 A greater mouse-eared bat is captured mid-flight in Sucs, Lleida, Spain.
Unique Bill, by Rob Blanken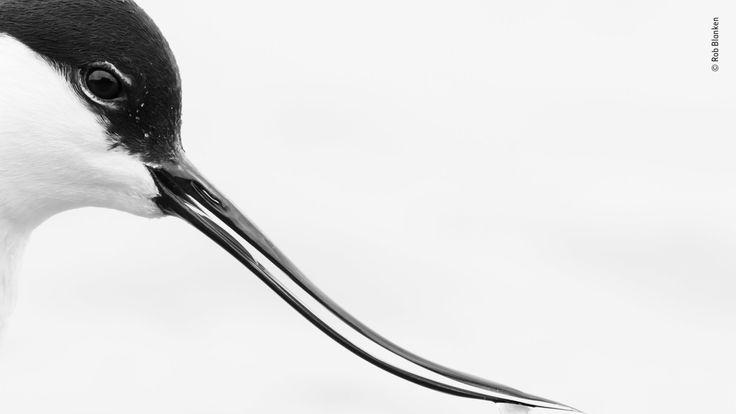 The unique and delicate bill of a pied avocet, taken from a hide in the northern province of Friesland in The Netherlands.
A Polar Bear's Struggle, by Justin Hofman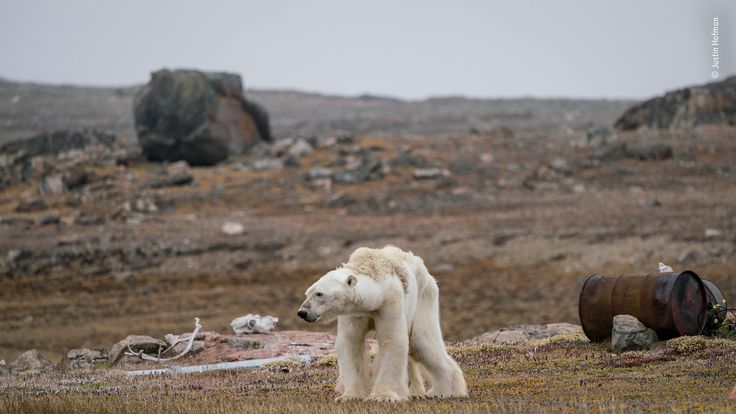 A starving polar bear at an abandoned hunter's camp, in the Canadian Arctic, slowly heaves itself up to standing. Photographer Justin Hofman says he felt in pain just watching the bear as it failed to find food.
The Extraction, by Konstantin Shatenev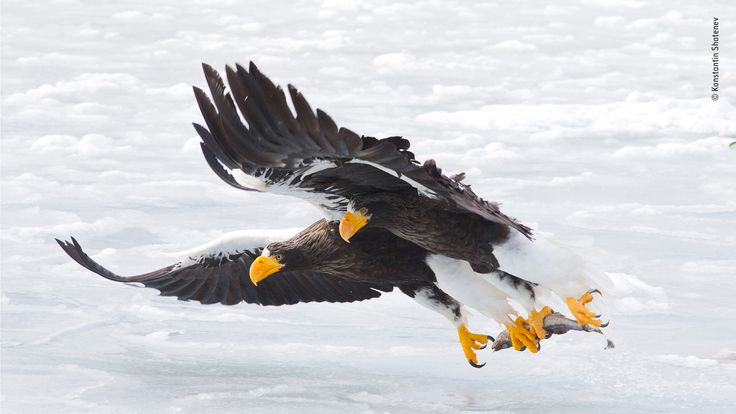 Every winter, hundreds of Steller's sea eagles migrate from Russia to the relatively ice-free northeastern coast of Hokkaido, Japan. This picture was taken from a boat as the eagles retrieved a dead fish thrown on to the ice.
Shortlisted images for the People's Choice award are on display at the exhibition until the voting ends on 5 February, and the winner will then be showcased until the exhibition closes at the end of June. The top five will also be displayed online.
You can vote for your favourite here.
Source: Read Full Article