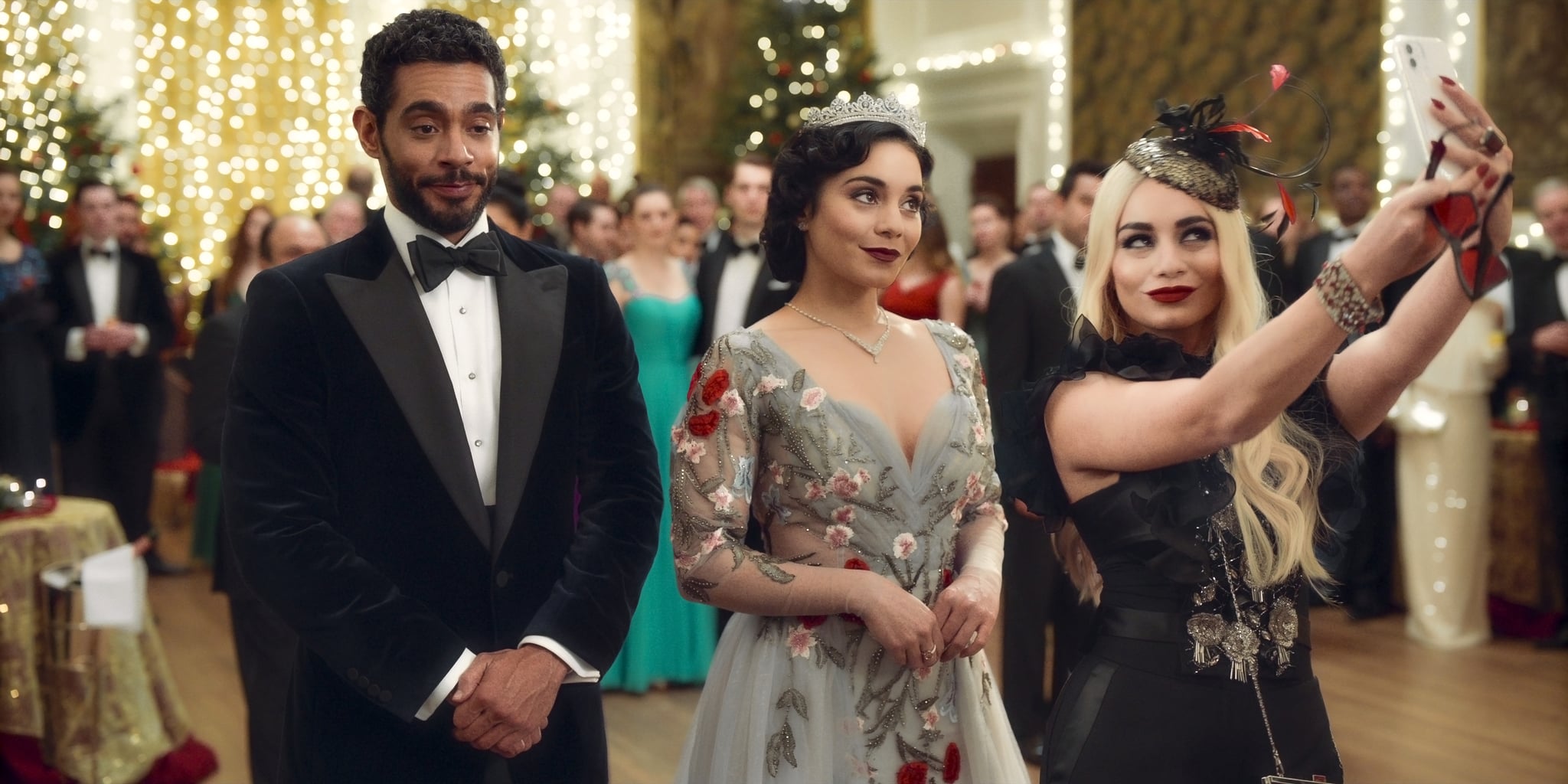 Vanessa Hudgens knows that it's been a turbulent year, so she's bestowing some Christmas cheer upon us. On Nov. 19, the 33-year-old actress made her royal onscreen return in Netflix's The Princess Switch: Switched Again. A sequel to 2018's A Princess Switch, the new film features Hudgens reprising her roles as Stacy De Novo and her doppelgänger, Duchess Margaret Delacourt. But the lookalike fun doesn't stop there: the actress pulls triple duty this time around, also starring as Margaret's spitting image cousin, Fiona. And if you think playing three characters sounds a little arduous, you're right.
"It's very confusing, but I'm always down for a challenge," Hudgens told POPSUGAR. "This film definitely pushed me because never have I ever played three characters." The ins and outs of portraying the royal trinity required proxies and a special off-limits camera. "I had two other actors come in and learn all the parts," Hudgens explained. "We would set up a wide shot, which is a camera that nobody can touch because, dare it move, it'll mess up the entire thing and coverage on one of the characters. We'd finish that, I would go into hair and makeup, change and then my other stand-ins would do the same, as well. And we would rotate until we got all of the bits of the scene that we needed. It's way longer to do a normal scene when you're playing three different people. It was a lot of work, but also a really fun time."
While Hudgens enjoyed stepping into Stacy's shoes and Fiona's attitude, her favorite scene to shoot was Margaret's coronation. "We were in this beautiful chapel in Glasgow, and it had so much history," she said. "I remember standing in the center of this church and looking around and looking down at what I'm wearing and taking in this situation and had that real-life fairy tale moment. I was like, 'This is better than a wedding.' It was really special."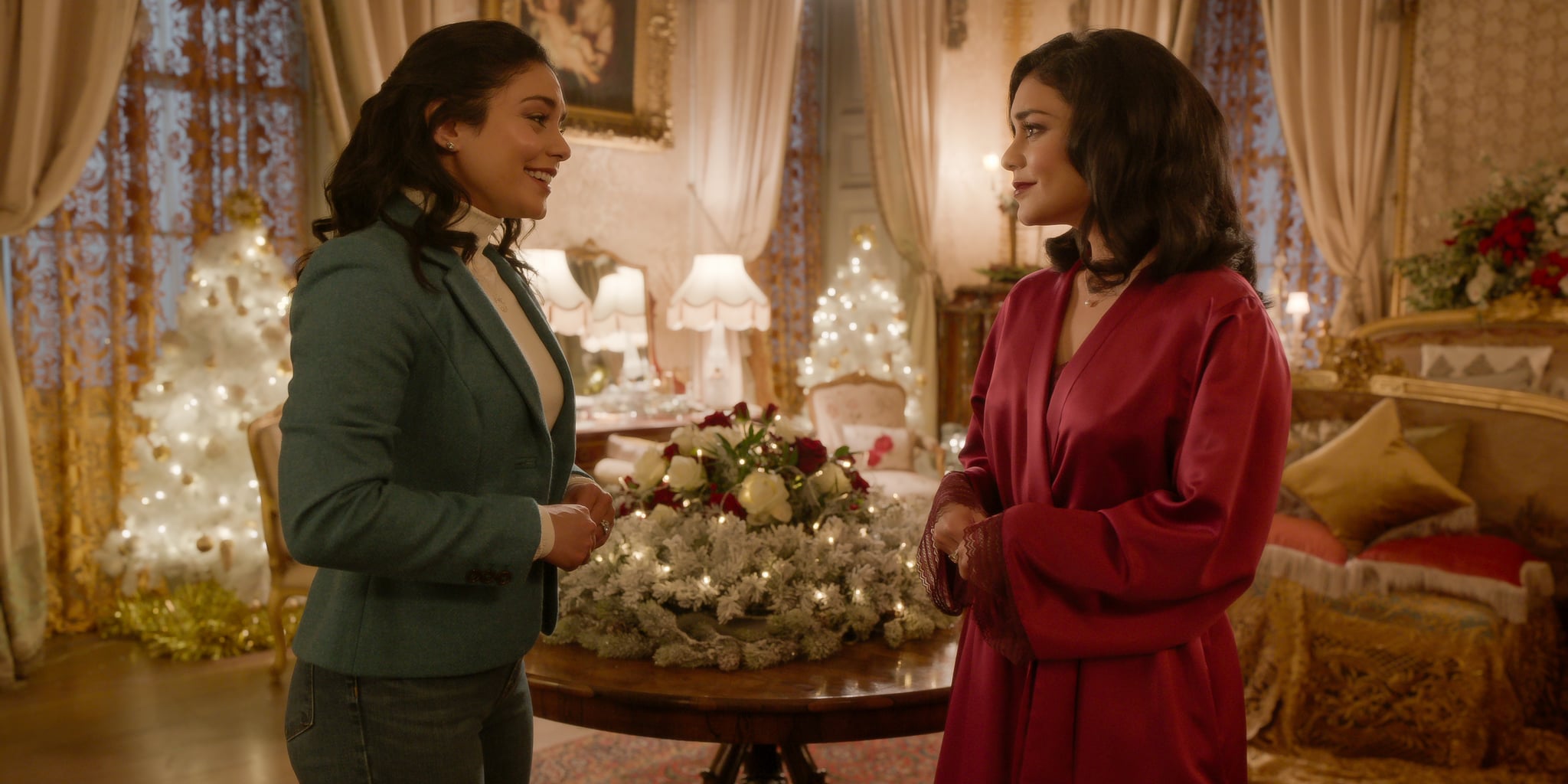 During the coronation, Hudgens modeled a stunning white gown with gold embroidery, matching gloves, and a dazzling necklace — her favorite outfit from the entire movie. "They built that from scratch," she recalled. "We had multiple fittings to get that right. It was in so many different pieces. Heaviest dress I think I've ever worn, but just so magical." She referred to the "Fiona fits" as some of her most-liked ensembles.
The Princess Switch: Switched Again also presented an off-screen opportunity for Hudgens to serve as a producer. The task allowed her to flex the creative muscles she otherwise wouldn't have as an actress. "What I value the most is when I have ideas on the script or wardrobe or whatever, it's actually listened to and is put into place," she said. "When you're an actor, you don't always get to have that creativity and that freedom. It was really nice. And especially because I worked with this team before, it's such a collaboration, and we got to make something that I'm really proud of."
More than anything, Hudgens is excited to give everyone a feel-good film about love, forgiveness, and family. "2020 has been rough for all of us, and we could all use a little escape," she said. "What better way to escape than to be at home, on your sofa, cuddled up with someone you love, watching something that allows you to let go of all of your worries and feel the Christmas spirit? It's the most magical thing."
Thankfully, Princess Switch fans can already look forward to a third film, which Netflix announced in October. Although Hudgens couldn't disclose too much information, she confirmed that she will not be playing four characters. "There will be still three of me, which is more than enough in my opinion," she said with a laugh. "We've been working on the script, continuing to elevate the franchise because it's always scary doing sequels. But it's going to be fun. There's going to be great fits. I'm really excited."
Source: Read Full Article