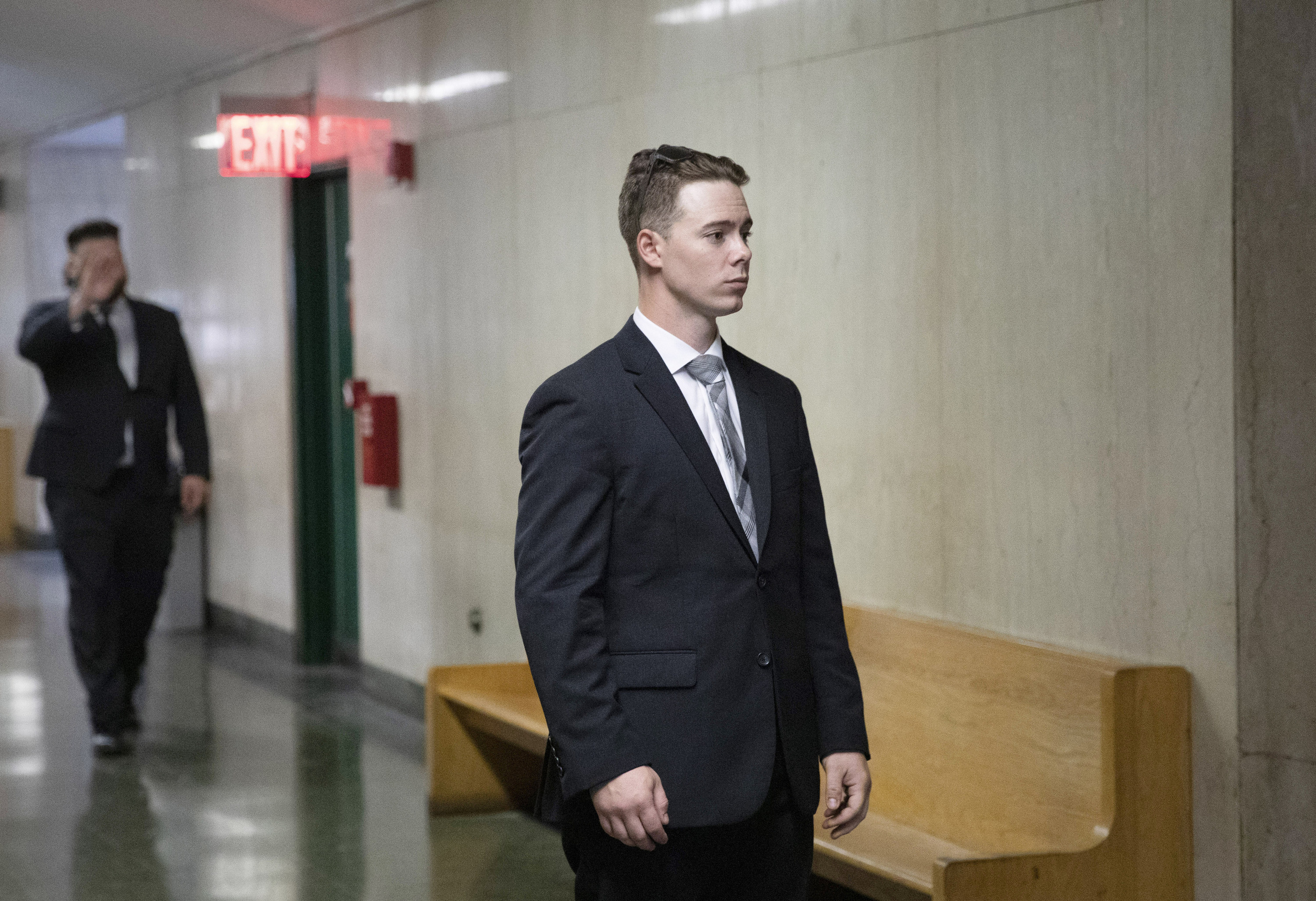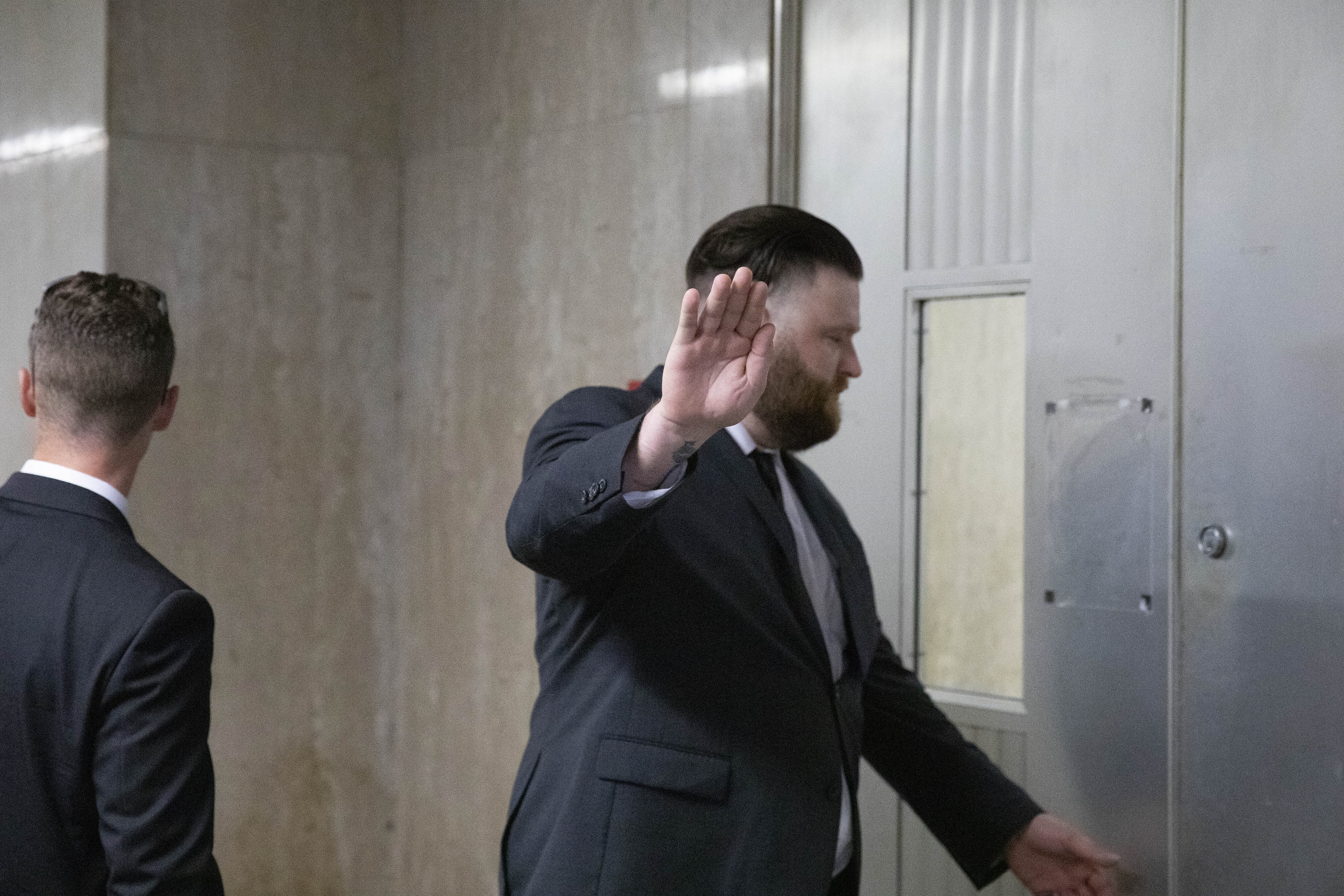 Maxwell Hare (left) and John Kinsman.
Two members of the far-right Proud Boys group were sentenced to four years in prison on Tuesday for their roles in a violent brawl outside an event at the Metropolitan Republican Club in New York City last year.
Maxwell Hare, 27, and John Kinsman, 39, were found guilty in August of attempted gang assault, attempted assault, and riot for the brutal beatdown on Oct. 12, 2018.
The Proud Boys describe themselves as "Western chauvinists" and have aligned themselves closely with self-declared neo-Nazis. They are designated as a hate group by the Southern Poverty Law Center, while the FBI considers them "an extremist group with ties to white nationalism."
During the October assault, which took place after a speech by group founder Gavin McInnes, 10 members of the Proud Boys violently attacked four left-wing protesters after one of the protesters threw a bottle at the group.
When police showed up to the scene, the Proud Boys walked away without any of them being immediately arrested, sparking anger at the lack of swift police action.
A total of 10 Proud Boys were later arrested and charged in the incident.
On Tuesday, Hare and Kinsman were sentenced to four years in prison and five years of post-release supervision.
During the sentencing hearing, Judge Mark Dwyer said the sentence was intended to discourage similar assaults motivated by political hatred in the future.
"I know enough about history to know what happened in Europe in the '30s," the judge said, according to the New York Times.
In court, both Hare and Kinsman reportedly apologized for their roles in the assault.
"I made a mistake that night," Hare said.
Kinsman, whom a prosecutor reportedly called "the single most vicious of all the attackers," said, "I regret the entire incident."
After Hare and Kinsman were convicted in August, Manhattan District Attorney Cy Vance thanked the jury, police, investigators, and many others who sought justice in the case.
"As violent extremism rises in America, a Manhattan jury has declared in one voice that New Yorkers will not tolerate mob violence in our own backyard," Vance said. "These defendants transformed a quiet, residential street into the site of a battle-royale, kicking and beating four individuals in a brutal act of political violence."
More on this
Here's How That Proud Boys Fight With "Anti-Fascist" Protesters Went Down

Tasneem Nashrulla · Oct. 19, 2018

The FBI Considers Proud Boys To Be An Extremist Group With Ties To White Nationalism

Tasneem Nashrulla · Nov. 19, 2018

Members Of A Far-Right Men's Group Violently Beat Up Protesters And Weren't Arrested. New York Police Won't Say Why.

Julia Reinstein · Oct. 13, 2018
Julia Reinstein is a reporter for BuzzFeed News and is based in New York.

Contact Julia Reinstein at [email protected]

Got a confidential tip? Submit it here.
Source: Read Full Article