The US actress and campaigner, who filed for divorce from fellow Hollywood star Brad Pitt in 2016, joked about skeletons in her closet as she said she did not know whether she would fit such a role.
Jolie, 43, could follow the likes of Ronald Reagan and Donald Trump – former presenter of The Apprentice – if she did choose to move from the showbiz arena into politics.
Others to have made the switch include Arnold Schwarzenegger and former Sex and the City actress Cynthia Nixon.
Jolie was pressed on the idea when she was interviewed on the BBC, as she guest edited Radio 4's Today programme on Friday.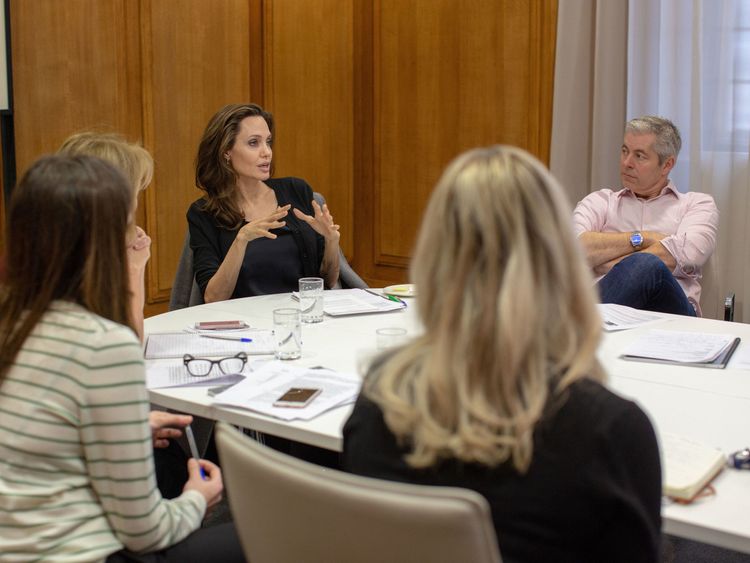 She said: "If you asked me 20 years ago I would've laughed. I really don't know. I always say I'll go where I'm needed.
"I don't know if I'm fit for politics… but then I've also joked that I don't know if I have a skeleton left in my closet.
"So I'm pretty open and out there. I can take a lot on the chin so that's good. But I honestly will do whatever I think can really make change."
The actress, a mother-of-six, is currently a special envoy for UN refugee agency the UNHCR where she said she was able "to do a lot of work directly with the people in need".
She added: "I'm also able to work with governments… so I sit in a very interesting place of being able to get a lot done, without a title and without it being about myself or my policies.
"So for now I'll sit quiet."
Jolie laughed when it was suggested she could be on the list of 30 to 40 Democrats running for the party's presidential nomination.
Four years ago, the actress launched a campaign with then foreign secretary William Hague to end the use of rape as a weapon in war zones.
Source: Read Full Article