Iron Man director, Jon Favreau has confirmed he will direct the film version of the hit Broadway musical, Jersey Boys.
Casting for the lead roles has begun for the movie adaptation of the award-winning story of Frankie Valli and The Four Seasons.
Favreau tweeted on Wednesday: "Yes, I'm directing Jersey Boys, and there's an open call for the lead roles."
Filming is expected to begin early next year in New York and New Jersey.
Jersey Boys is the multi award-winning musical which tells the turbulent story of Frankie Valli and the other members of the pop sensation group, The Four Seasons during their rise to stardom.
Since it first opened on Broadway in November 2005, the stage musical has held more than 2000 performances and has gone on to tour north America and Australia.
It made its West End debut at London's Prince Edward Theatre in February 2008 with the same creative team responsible for the Broadway production.
The show won best new musical at the Olivier awards, and won four Tony awards in the US three earlier.
Jersey Boys will be Favreau's first directing job since the 2011 American science fiction Western film, Cowboys and Aliens, starring Daniel Craig, Harrison Ford, and Olivia Wilde.
His other films include Elf and Iron Man and its sequel – both critical and commercial successes, that helped cement his reputation as a director.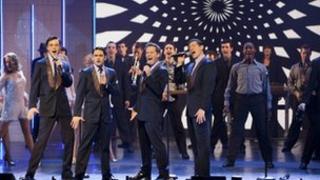 He also wrote a mini-series for Marvel Knights titled Iron Man: Viva Las Vegas, which started in September 2008.
The actor and director confirmed via Twitter that he will return as the character Happy Hogan in Iron Man 3.
The screenplay for the Jersey Boys film will be written by John Logan, whose credits include Gladiator, The Aviator, Sweeney Todd: The Demon Barber of Fleet Street, and Hugo.
Casting has been announced for the four lead male singer-actors to portray Frankie Valli, Bob Gaudio, Tommy DeVito, and Nick Massi of the Four Seasons.
Auditions for other roles in the film have not been announced.
Source: Read Full Article