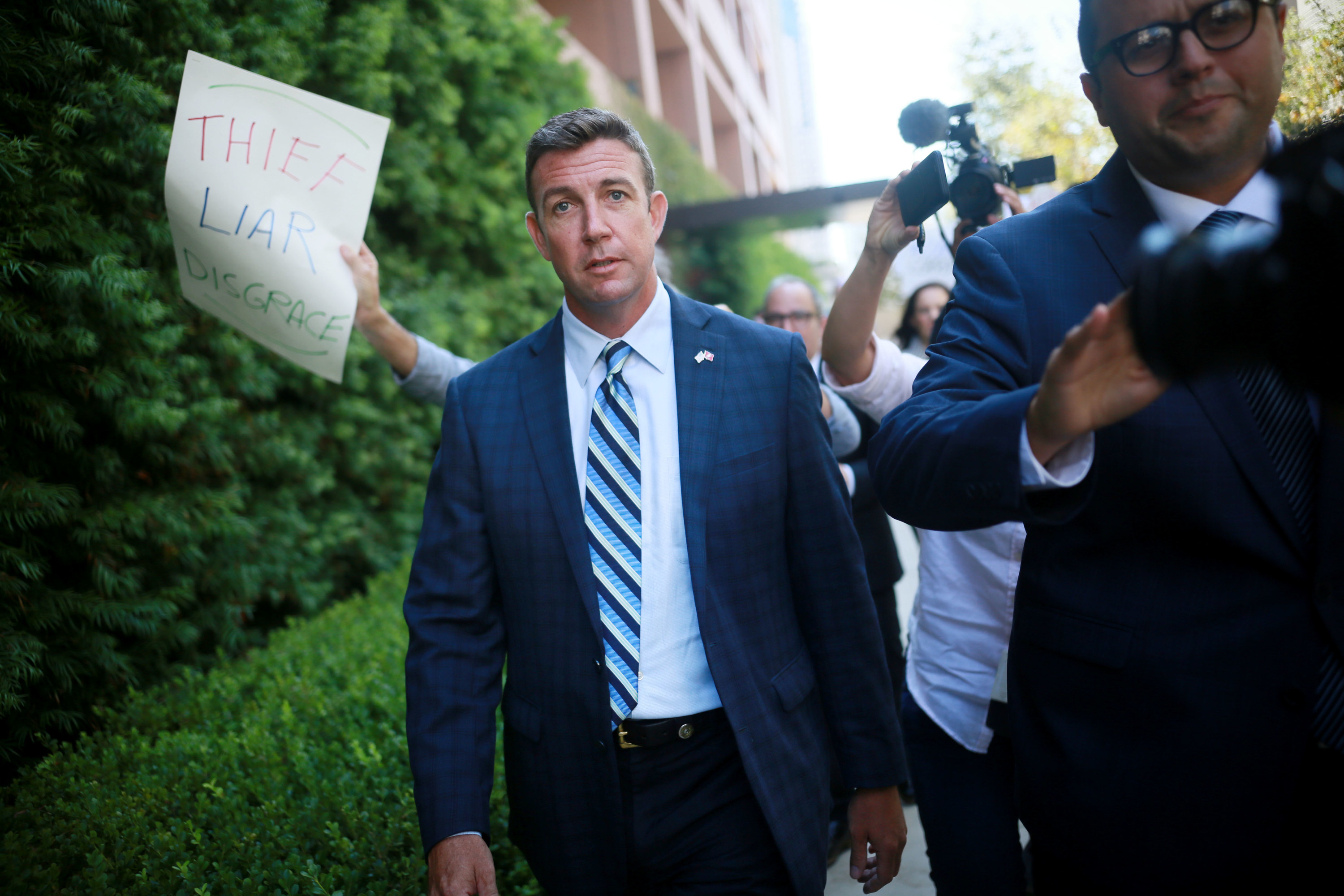 Rep. Duncan Hunter after an arraignment hearing on Aug. 23, 2018
California Rep. Duncan Hunter will change his plea to guilty in a federal campaign finance violation case, the San Diego Republican announced Monday, saying he's prepared to serve time behind bars.
Hunter and his wife were first arrested in August 2018, accused of using his campaign funds as a personal bank account, spending more than $250,000 on family vacations, theater tickets, and meals for family and friends. The couple initially pleaded not guilty, and Hunter blamed the misuse of funds on his wife, who had served as his campaign manager.
Among the allegations by federal prosecutors was that Hunter used campaign money to cover date nights, vacations, and bar tabs of five women he was having affairs with. The women were identified as lobbyists and a member of his staff, but lawyers for Hunter said there was a political purpose to the spending. Hunter was simply "mixing business with pleasure," his lawyers argued.
But in June, Margaret Hunter agreed to cooperate with prosecutors and changed her plea to guilty. On Tuesday, the representative will do the same, according to a federal court docket published Monday.
In an interview with San Diego TV station KUSI, he said he wanted to spare his three children a public trial, which had been scheduled to begin in January.
"It'd be really tough for them," he said. "It's hard enough being the kids of a public figure."
Hunter told KUSI he planned to plead guilty to one count of misusing campaign funds and he was prepared to be sentenced to prison.
"Whatever my time in custody is, I will take that hit," he said. "My only hope is that the judge does not sentence my wife to jail. My kids need a mom in the home."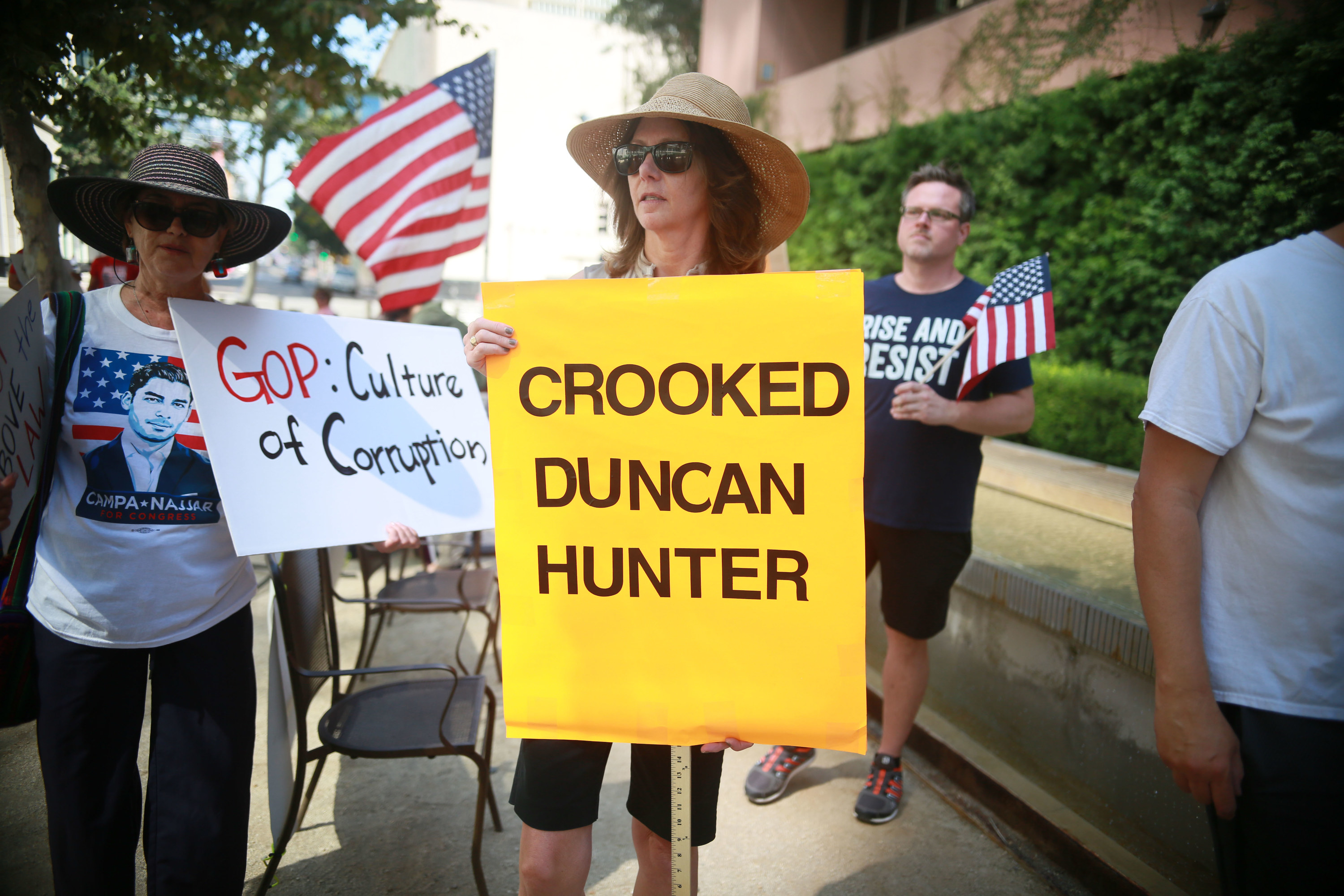 Protesters outside of the San Diego Federal Courthouse during an arraignment hearing for Rep. Duncan Hunter on Aug. 23, 2018
After being indicted, Hunter went on to win reelection in the district he has represented since 2009. It was previously represented by his father, also named Duncan Hunter, for three decades.
A campaign website for the younger Hunter remained active on Monday, but he told KUSI that he and his staff were preparing for his service in Congress to end.
"We're going to pass it off to whoever takes this seat next, and we'll make sure that's a seamless transition," he said.
Twelve candidates have registered to run for the seat in 2020, including former Republican member of Congress Darrell Issa and Democrat Ammar Campa-Najjar, who secured 48% of the vote in 2018 in spite of an anti-Muslim campaign against him by Hunter.
More on this
An Indicted California Lawmaker Is Falsely Accusing His Opponent Of Being Part Of A Muslim Conspiracy

Claudia Koerner · Oct. 18, 2018

A House Republican And His Wife Have Been Charged With Using Campaign Funds For Their Own Expenses

Stephanie K. Baer · Aug. 21, 2018

A Republican Now Says He Spent Money During Booty Calls For A Legit "Political Purpose"

Dominic Holden · June 29, 2019
Claudia Koerner is a reporter for BuzzFeed News and is based in Los Angeles.

Contact Claudia Koerner at [email protected]

Got a confidential tip? Submit it here.
Source: Read Full Article