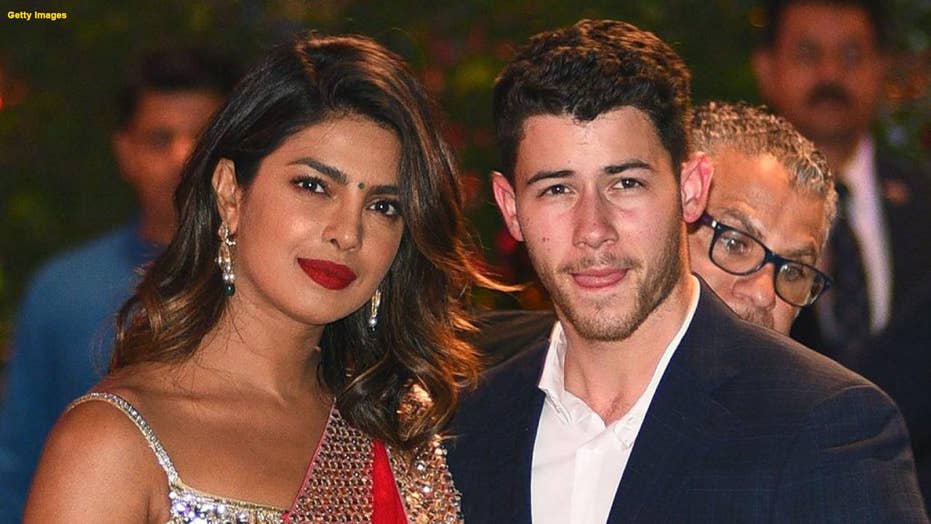 Nick Jonas tells James Corden what he really thought about having multiple weddings ceremonies to Priyanka Chopra
Nick Jonas and Priyanka Chopra aren't rushing to have kids, Jonas said Monday.
Jonas was promoting his new animated movie, "Ugly Dolls," in an interview with Extra when he was asked if he was competing with his brothers to see who would have children first.
NICK JONAS SAYS HE WAS 'DONE' WITH MULTIPLE CEREMONIES TO PRIYANKA CHOPRA AFTER LOOKING AT PRICEY BILL
"No," he said. "We're taking our time."
Jonas, 26, and Chopra, 36, were married in December. Jonas' eldest brother Kevin, 31, was married in 2009 and their middle brother Joe, 29, is set to be married to "Game of Thrones" star Sophie Turner later this year.
"They're going to have a beautiful wedding," Jonas told Extra.
He went on to explain that as a groomsman in Joe's wedding, he would be helping plan the bachelor party.
"For the planning aspect and everything like that, you need me," he said. "I know Joe very well."
NICK JONAS SAYS JONAS BROTHERS 'SPENT A YEAR BASICALLY DOING THERAPY' BEFORE GETTING BACK TOGETHER
When Jonas and Chopra were married last year, they celebrated with two ceremonies — a Christian wedding in the U.S. and a Hindu wedding in India. Additionally, the couple had pre-wedding rituals in India that lasted for two days, Chopra told James Corden during an appearance on "The Late Late Show" in February.
The youngest Jonas revealed he was "done" with all the ceremonies on an episode of "Carpool Karaoke" with Corden in March.
During the episode, Jonas — along with brothers Kevin and Joe — were hooked up to a lie detector. Corden asked Jonas if at any point he thought he was "done" with the weddings and Jonas admitted: "Yes," which was confirmed by the lie detector.
"It was when I looked at the bill!" he added with a laugh.
Fox News' Madeline Farber contributed to this report.
Source: Read Full Article