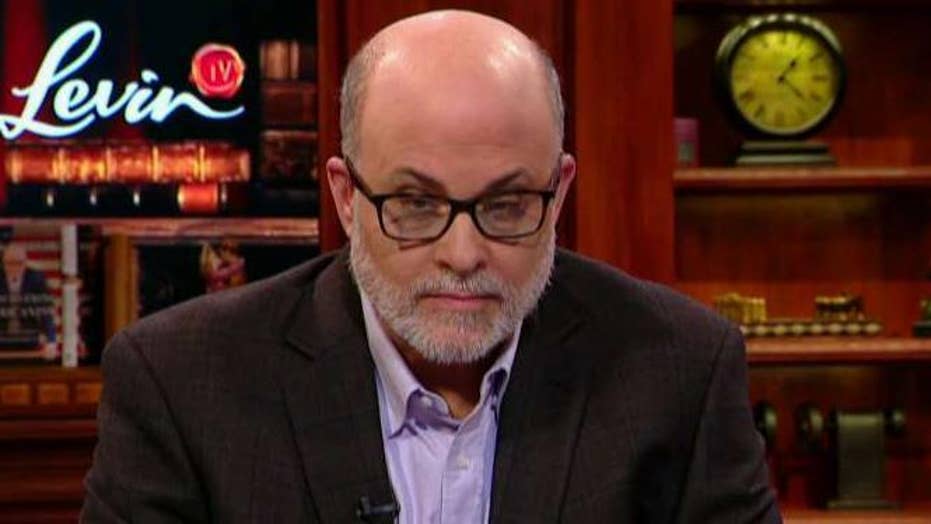 Levin: The media are liberal and Democrat
'Life, Liberty & Levin' host Mark Levin reacts to the rise of anti-Trump media and corruption in journalism.
A fired up "Life, Liberty & Levin" host Mark Levin slammed liberal mainstream media members as "intellectually corrupt" who commit "yellow journalism" to harm President Trump.
Levin joined Sean Hannity to discuss the recent examples of mainstream media rushing to judgment in order to condemn Trump and his supporters following the BuzzFeed and Covington debacles.
MEDIA TREATMENT OF COVINGTON STUDENTS 'WAY WORSE' THAN KAVANAUGH COVERAGE, CRITIC SAYS
"What a mess," Levin told Hannity. "Poll after poll. Survey after survey shows that the media are liberal and Democrat. And they don't disappoint liberals and Democrats."
Levin said they have "a groupthink mentality," and noted the lack of uniformed, required standards among news outlets.
"No clear line between news and opinion. This is an opinion show, I give an opinion… you give an opinion," Levin said of "Hannity."
Levin said "news is different" and that there are "no universal rules of professional conduct for journalists" despite other professions such as lawyers and doctors being expected to follow particular guidelines. He then named NBC's Chuck Todd, CNN's Chris Cuomo and ABC' George Stephanopoulos as examples of "Democrat hacks" who are working as journalists.
NBC RAISES EYEBROWS OVER $400 MILLION RELATIONSHIP WITH BUZZFEED
"No commitment to objectivity and that's the bottom line. No commitment to truth-telling. The result is old fashioned yellow journalism," he said. "Scandalous, sensational, intellectually corrupt."
The "Life, Liberty & Levin" host said mass media was committed to Hillary Clinton but has pivoted to "ousting" President Trump.
"They're sloppy, they misreport, they don't care, they figure they'll throw out an apology is they must. They try to destroy the president, his family, anybody associated with him, his staff, Kavanaugh, anything," Levin said. "They have never treated liberal Democrats this way."
Source: Read Full Article