Ariana Grande just can't get this Japanese tattoo right.
Earlier this week, the pop star revealed a new palm tattoo using Japanese Kanji character symbols that were meant to say "7 Rings," in honor of her latest single, but actually translated to "shichirin," which is a word for a Japanese style BBQ grill.
Observers were quick to point out the mistake, singeing the songstress with jokes and criticism that she shouldn't use a language she doesn't fully understand because it looks cute:
After receiving some notes about the ink from her Japanese tutor Ayumi, who told her to add the character for "finger" (指) in between and above the original tattoo, Ari attempted to correct the mistake.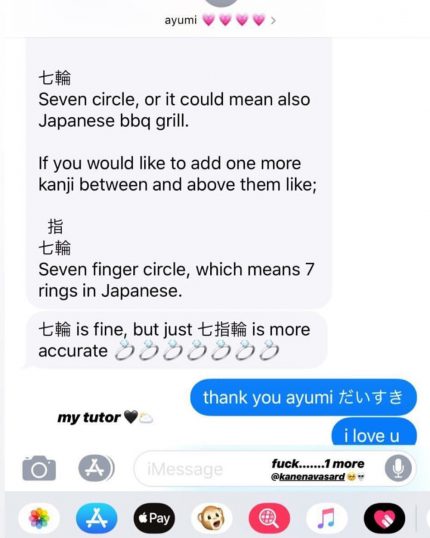 Only, gurl didn't follow Ayumi's exact instructions. A picture shared to her Instagram story (below) showed the new symbol had been added directly beneath the character for seven (七), along with a heart, because, re: cute.
So now, Ariana's tattoo actually translates to something like "Japanese BBQ finger":
*Screams in Japanese*
Alongside the new pic of her palm, Ari revealed she had to get a numbing shot from her doctor to get through the painful update, writing:
"Slightly better. Thanks to my tutor for helping me fix and to @kanenavassard for being a legend. And to my doctor for the lidocaine shots (no joke). RIP tiny charcoal grill. Miss u man. I actually really liked u."
Someone get Ayumi… we've got another emergency here.
Source: Read Full Article