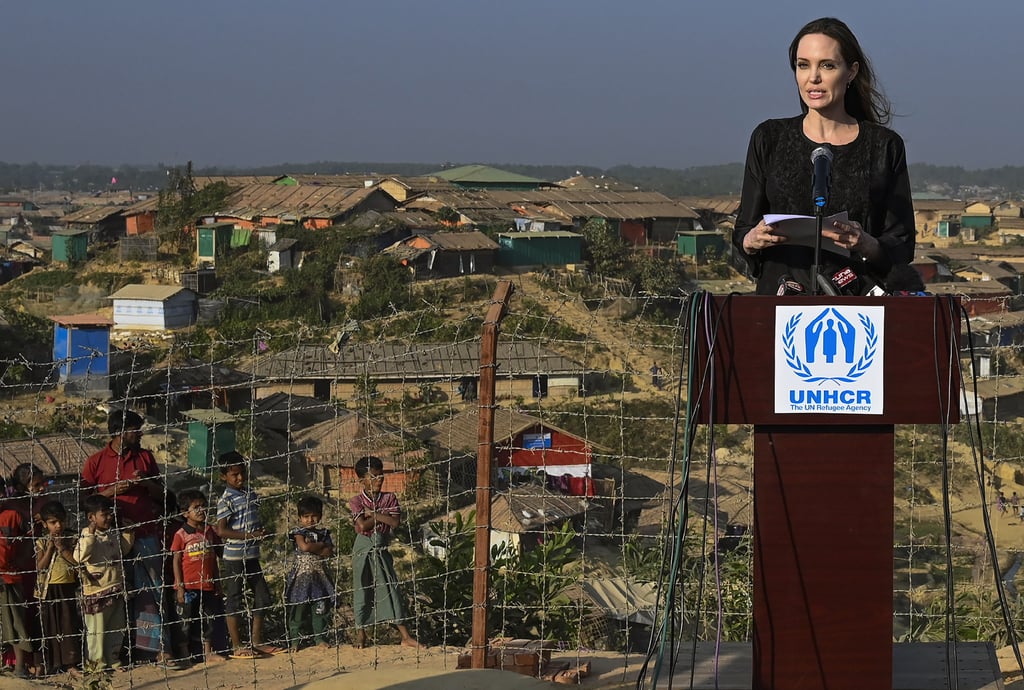 Angelina Jolie is continuing her mission to make a difference in the world. The 43-year-old actress and Special Envoy for the United Nations High Commissioner For Refugees (UNHCR) touched down in Bangladesh on Monday for her official three-day visit in Cox's Bazar. The country has been home to more than 730,000 Rohingya refugees from Myanmar since August 2017, and Angelina is on hand to help those in need and assess the challenges Bangladesh is currently facing as a host country. On Tuesday, Angelina visited a school at Kutupalong refugee camp and hosted a press conference ahead of a new appeal for nearly $1 billion to look after the refugee influx.
In her speech, Angelina touched on "Bangladesh's generosity in giving Rohingya people a place of safety" and urged Myanmar authorities to "show the genuine commitment needed to end the cycle of violence and displacement." "I am here to see what more can be done to ensure Rohingya children can gain education with recognized qualifications that they need to retain a clear vision for their futures, and, when conditions allow, rebuild their communities in Myanmar," Angelina added. "To the Rohingya refugees, I want to say I am humbled and proud to stand with you today. You have every right to live in security, to be free to practice your religion and to coexist with people of other faiths and ethnicities. You have every right not to be stateless, and the way you have been treated shames us all."
Angelina is also set to visit Dhaka, where she'll have meetings with Prime Minister Sheikh Hasina and Foreign Minister AK Abdul Momen to discuss how the UNHCR can support the Bangladeshi government. This marks Angelina's first visit to the country and comes ahead of the launch of the 2019 Joint Response Plan, which aims to raise $920 million to help the Rohingya refugees.
Source: Read Full Article