Not to pick favorites, but Emily Blunt and John Krasinski might just be the cutest damn couple in all of Hollywood. The fact that they were able to film a movie together (A Quiet Place, which John directed) and not kill each other/get a divorce is truly a miracle, and it proves just how much they lurve each other. Their relationship is so beautiful, it's actually induced many a tear (in John, in Emily, and in me), and TBH, reading this timeline will probs make you cry too. Here we go.
June 2006:
Emily stars in a little movie called The Devil Wears Prada. John, somewhere in Scranton, Pennsylvania, sees the movie for the first of about 75 times and, like the rest of America, falls in love with her. Years later, after the two were married, John, a bona fide superfan, opened up about the time Emily asked him if he had actually seen the movie.
View this post on Instagram
This is a big mood !! How you feeling today? 🎭 "The Devil wears Prada"-movie. #emilyblunt #devilwearsprada
A post shared by Emily Blunt (@emily.bluntt) on
"I said, 'Yes,' and she said, 'How many times?' And I said, 'A lot.' She said, 'What's a lot?' And I said, '75 times,'" he told Glamour. "I'm lucky enough that she stayed with me and didn't realize that she had really married her stalker!"
November 2008:
John and Emily meet through a mutual friend at a restaurant in Los Angeles. You can watch Emily adorably recount the story to Seth Meyers below:
Meanwhile, John says he knew that Emily was it for him as soon as he met her.
"It was one of those things where I wasn't really looking for a relationship and I was thinking I'm going to take my time in L.A.," he told Ellen DeGeneres just after the two got married. "Then I met her, and I was so nervous. I was like, 'Oh god, I think I'm going to fall in love with her.' As I shook her hand, I went, 'I like you!'"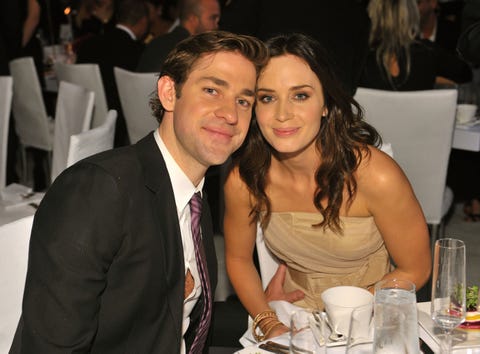 August 2009:
John proposed to Emily in L.A., and according to him, there were "unicorns and oceans and clouds." All joking aside, John told Access Hollywood that the proposal was super chill and that they were both crying at the end.
"She did cry after I cried, and we cried and then everyone around us was crying. Then I think people weren't really sure what was going on, but they were crying because we were crying. But it was great. At the end of the day, she said yes, which is great. It's a big part of this whole thing."
July 2010:
Your faves got married at George Clooney's estate in Lake Como, Italy, with all their famous friends. NBD.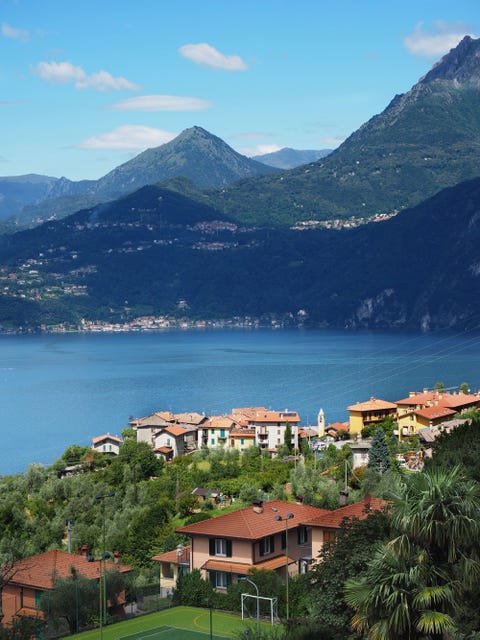 May 24, 2012:
Emily covers MANHATTAN magazine and opens up about being married to John, which is an "effing blast," of course. "This is what I find difficult about talking about my marriage: It's hard to sum up something that's so vital and means everything to you in a sound bite. Do you know what I mean?" she remarked. "All I can say is that it's an effing blast. It's just great, and I'm so happy."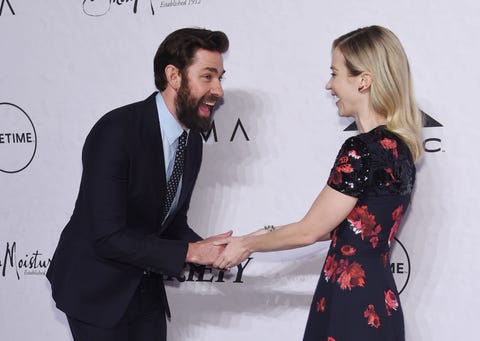 April 2013:
In her cover shoot for the May 2013 issue of InStyle, Emily straight up said that meeting John changed her life. "When I feel the support that I have from him, I feel invincible. There's someone behind you on your good days, and someone in front of you on your bad days." Are you a puddle yet? Same.
September 2013:
News breaks that Emily is pregnant with the couple's first child. A spokesperson tells Us Weekly that the pair "couldn't be more excited." This was truly a happy day for everyone.
January 4, 2014:
This picture of a pregnant Emily walking hand-in-hand with John in Los Angeles after seeing a movie together comes out, and the world smiles in unison.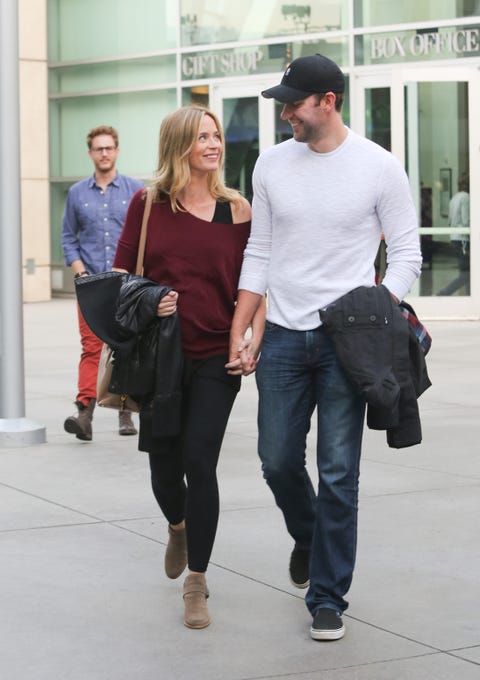 February 16, 2014:
John announces the birth of baby Hazel Grace on Twitter by writing, "Wanted to let the news out directly. Emily and I are so incredibly happy to welcome our daughter Hazel into the world today! Happy bday!"
Wanted to let the news out directly. Emily and I are so incredibly happy to welcome our daughter Hazel into the world today! Happy bday!
May 13, 2014:
John gives the world a glimpse of Hazel. She has already mastered her Jim Halpert stare.
Pics of kids should only come direct from parents. So I'm thrilled to introduce you guys to Hazel!!! #NoKidsPolicy pic.twitter.com/qVvUTRdllP
That same day, Emily appears on The Ellen Show and says what we're all thinking after that pic: "She's just stinkin' cute."
August 2014:
Ah, summer 2014. Surely you remember the Ice Bucket Challenge? Well, John took it upon himself to challenge an unsuspecting Emily, and she's definitely surprised. Please, lol forever at this:
December 16, 2014:
The world finds out about the couple's prank war with Jimmy Kimmel.
January 15, 2015:
Emily wins Best Action Movie Actress at the 20th Annual Critics Choice Award for her work in The Edge of Tomorrow. She begins her speech only to be interrupted by a super proud John running from backstage to give her a hug on national television and I'm not crying, you're crying:
August 2015:
"It's really that we just got lucky," John told People of their relationship. "It's one of those things, I'm having more fun now than the day I met her, and it's pretty wild."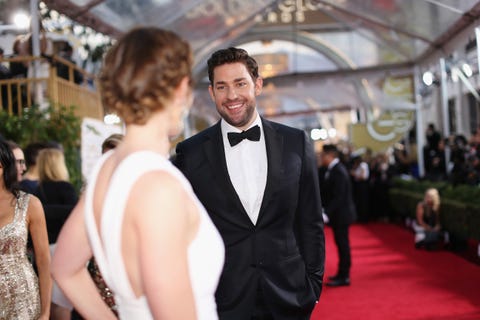 January 2016:
The couple announces that Emily is pregnant with their second child right after John sits down with The Daily Beast and says this beautiful thing:
June 2016:
Violet is born and now Hazel's a big sister, and it's all too cute and too much to handle:
What better way to celebrate the 4th… than to announce our 4th family member!!! 2 weeks ago we met our beautiful daughter Violet #Happy4th
August 2016:
In case you don't remember, John Krasinski got ~ripped~ a couple years ago for 13 Hours, and Emily was super into it. In the September issue of ELLE, John opened up about their sex life when asked point blank if it was different now that he has a solid eight-pack. "Absolutely," he told the magazine. "And again, totally selfishly, it is so much better for me being jacked because you feel so much more confident and you see yourself as this much more sexual person, which is really fun."
October 15, 2016:
Emily graces the Saturday Night Live stage as host and John literally cannot contain his excitement on Instagram:
View this post on Instagram
Gotta be honest…finding it VERY hard to contain my excitement that my incredible wife is hosting SNL with the one and only @BrunoMars !!!
A post shared by John Krasinski (@johnkrasinski) on
View this post on Instagram
Aaaaaaaaaaaaaaagh!!! So proud of her!!! #SNL
A post shared by John Krasinski (@johnkrasinski) on
March 15, 2017:
News breaks that the brilliantly talented couple are finally going to work together on A Quiet Place, with both of them starring and John also writing and directing. John confirms with what is one of the best Instagram captions ever:
View this post on Instagram
Question: "John, who's the one actor you've been wanting to work with?" Answer: (see above)
A post shared by John Krasinski (@johnkrasinski) on
September 17, 2017:
This Instagram happened:
View this post on Instagram
Yup… terrible decision to work together. #AQuietPlace
A post shared by John Krasinski (@johnkrasinski) on
January 2, 2018:
We kicked off the new year with Emily covering Vanity Fair and John telling the magazine that he "just immediately wept" the first time he heard Emily sing at a recording session for 2014's Into the Woods. We also get an inside look into what it was like for the two of them to work together. Well, really, what it was like for John to admire her while she does her thing:
Damn.
Pretty Much All of 2018:
Honestly, their entire press tour for A Quiet Place was truly amazing. Below, some of the funniest, cutest, and heart-melting interviews..
There's that time Emily forced John to cast her as his wife in the movie and John said A Quiet Place is the best collaboration of his career on The Graham Norton Show:
And then we all believed in love again when John told Jimmy Fallon that he's super aware he married way up:
Here, Emily spoke to Today about how their marriage actually got stronger from working together:
You've truly made it as a married couple when you have a secret language:
And here's Emily dishing on John's directing skills:
December 2018:
John and Emily grace the cover of The Hollywood Reporter, and they look beautiful as always. John is really going for the brooding look here:
View this post on Instagram
As the biggest year of John Krasinski & Emily Blunt's lives comes to a close with #MaryPoppinsReturns, the actors — part of our year-end Rule Breakers issue — give a rare joint interview and reveal why they've kept their careers separate, the reason they made an exception for #AQuietPlace, and how they navigate marriage, parenthood, famous friends and staying down to earth on the A-list. Link in profile. Photo: @andrew__hetherington
A post shared by Hollywood Reporter (@hollywoodreporter) on
And here's another pic of them sharing one (1) coat, because why not?
View this post on Instagram
Emily Blunt and John Krasinski always kept their careers separate – until #AQuietPlace. Blunt sheds some light why the film was worth the risk of sharing a project, "It was the only idea that had come our way that seemed bigger than our marriage. The narrative of our marriage was not going to overwhelm this movie and this amazing opportunity for him as a director, as a filmmaker, as a writer." 📸: @andrew__hetherington
A post shared by Hollywood Reporter (@hollywoodreporter) on
"We've always allowed and rejoiced in each other having a very full life outside of the other one," said Emily of their marriage.
January 2019:
Emily wins a SAG Award for her performance in A Quiet Place, and her speech is so sweet, it literally brings TEARS to John's eyes.
"I am going to share this completely with my husband, John Krasinski, because the entire experience of doing this with you has completely pierced my heart directly," she said while the camera panned to a teary-eyed John. "You are a stunning filmmaker. I am so lucky to be with you and to have done this film with you."
CRYING. JUST CRYING SO MUCH.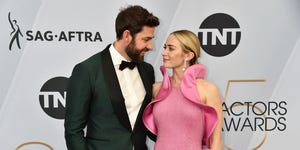 Follow Sarah on Twitter and Instagram.
Source: Read Full Article