Fitness YouTuber Chase Barron is known for testing his body by doing physical challenges. He previously did 100 burpees for 30 days, and also tried doing yoga for every day for 30 days, following it up with trying to do 200 burpees for 30 days. Most recently, he challenged himself to try something new: walk 10,000 steps everyday for 30 days.
Usually, he finds some interesting, relatable thread to make his videos useful for his audience. But this time around, he found himself in a scenario that made achieving his goals even tougher—and even more worth watching. He took on the 30 day walking challenge in March 2020, right when the coronavirus quarantine began.
"We humans are funny creatures. We spend the early stages of our lives trying to use our legs as much as possible. And then we spend the rest of our lives trying to use our legs as little as possible," he says in the beginning of his video.
He notes that he spends most of his days in front of a computer, sitting all day. So he decides to challenge himself to get moving and walk 10,000 steps a day (roughly 5 miles) that he will track using a Fitbit Versa 2. His goal? It's not to lose weight, become super fit, or tack on extra workouts to achieve something astounding. He's simply trying to prioritize activity during his otherwise largely sedentary life.
Here's what he learned:
Takeaway #1: Consistency is comforting.
"Knowing that I'm going to be taking 10,000 steps a day helps me have a better grasp on my own energy in versus energy out equation (in regards to calories)," he says. "It's kind of like economics class, supply and demand. How do you know what to supply? You've got to have a better grasp on your demand."
Takeaway #2: Taking more steps = taking more action.
"If you really want those steps, you will take those steps. Knowing that I had to hit 10,000 steps every day just made me a much more active person in general. I was always looking for more ways to get extra steps in," he says.
Takeaway #3: He walked all his troubles away.
This wasn't exactly a one-to-one fix for his problems, he admits. But hitting his steps helped to reduced his stress.
"Generally speaking, the more walking I do, the less stressed I feel. The more walking I do, the lower my resting heart rate is. The more walking I do, the better I sleep," he says. "Walking is becoming a form of meditation for me."
Takeaway #4: COVID-19 vs. 10,000 Steps
With the coronavirus pandemic, his standard morning commute that tallied 6,000 steps was cancelled. So he had to get more creative with how he got his steps in. To stay safe, he woke up as early as possible to get in a walk (while wearing a mask). And it made him super grateful to be able to still go outside in his native Pittsburgh.
"This made me feel surprisingly grateful. I have it good. I can go outside, I can walk I have legs. I have my health, my family is pretty healthy," he says.
Takeaway #5: He can't stop walking.
"I've been taking 10,000 steps everyday since March, and it's now May. 10,000 steps is a new norm for me," he says. "This habit is definitely sticking. Some exercise is better than none."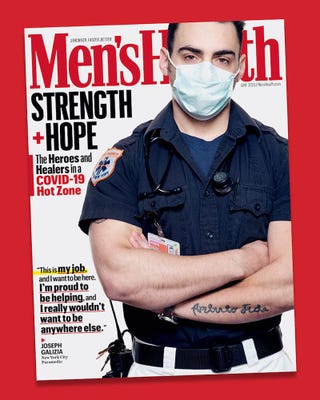 Source: Read Full Article