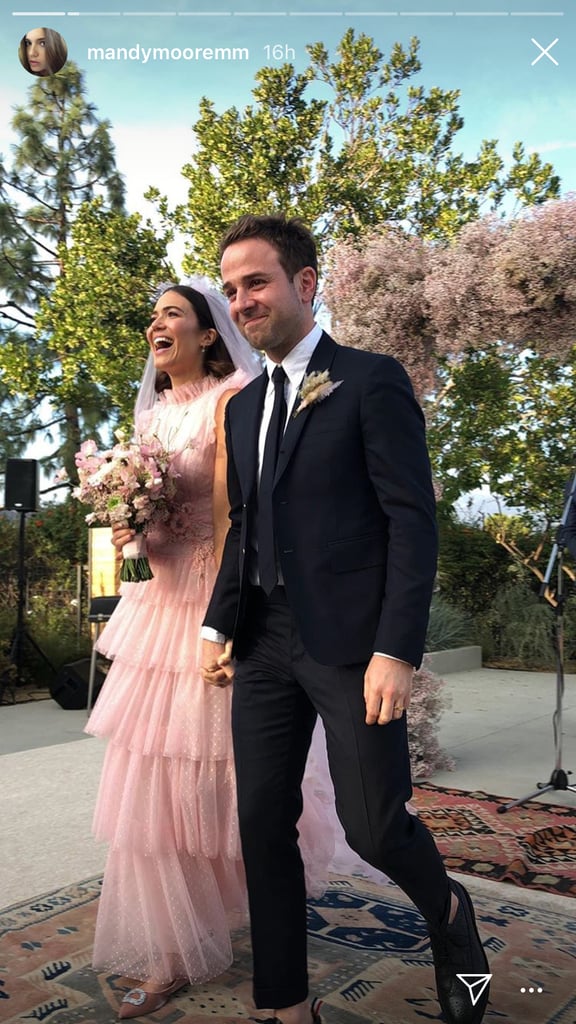 Mandy Moore followed an old-school beauty rule for her intimate wedding to Taylor Goldsmith on Nov. 18: she matched her bridal makeup to her pink Rodarte wedding dress, and it just worked.
Done by makeup artist and friend Jenn Streicher, Moore's makeup was soft and ethereal with glittery pink eye shadow, feathery eyebrows, and bronzed cheeks. For her hair, Ashley Streicher adorned Moore's glamorous waves with delicate clusters of baby's breath.
In an interview with POPSUGAR prior to her wedding, Moore said she didn't want to feel too "fussy or done-up" on the day of. "I just want to feel like the best version of myself," she said. "I've heard that brides regret their hair or makeup; that they sort of forced themselves into this idea of what they thought they should look like at their wedding. It wasn't true to who they really are. I don't want to fall into that trap."
Instead, Moore said she wanted to look "easy and breezy." She added, "Not too much makeup. I don't think I'll wear my hair up. I want to feel like myself and look back and go, 'Oh, my gosh, yeah. That was a special day, and I look like me still.'" Based on the pictures we've seen so far, we think it's safe to say she achieved that goal.
Source: Read Full Article