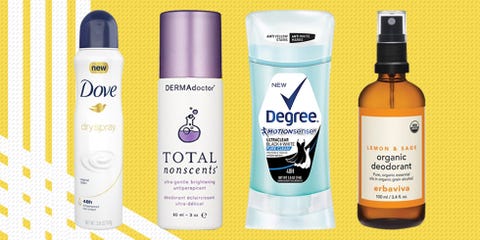 While deodorant is definitely not the most glamorous product in your beauty arsenal, imagine a world without it. Think of what your sweatiest spin class would be like… or the beach… or tense office presentations… Scary, right?
A quality deodorant or antiperspirant not only stops body odor, but it also keeps you (and your armpits) fresh no matter the sitch. Behold, the best deodorant for women: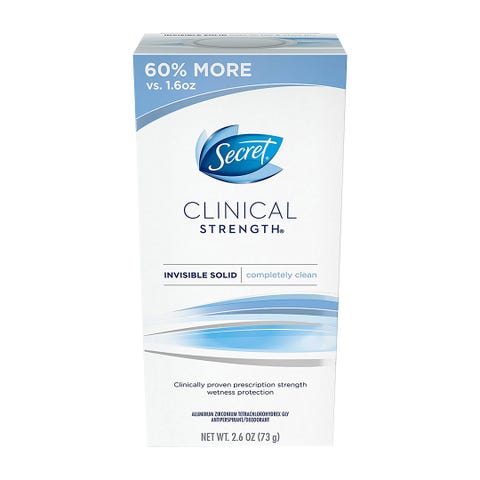 Secret
Secret Clinical Strength Invisible Solid
BUY IT $12, amazon.com
"It comes in lots of scents, doesn't streak clothes, and works well on people who need a bit of extra support," explains dermatologist Karyn Grossman, M.D., and founder of KARYNG. "It also lasts a bit longer (up to 48 hours), which is ideal for those who can be a bit lazy."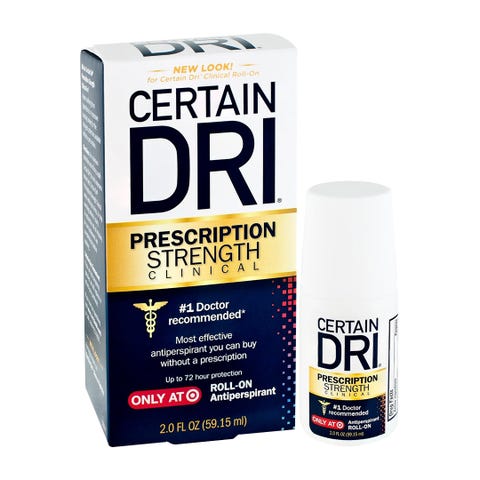 CERTAIN DRI
Certain Dri Prescription Strength Clinical Antiperspirant
BUY IT $9, amazon.com
"This over-the-counter antiperspirant uses aluminum chloride as its active ingredient, similar to a prescription antiperspirant," explains NYC cosmetic dermatologist Sejal Shah, M.D. It contains the highest level of aluminum chloride you can get without an Rx, which is precisely why this ranks as a best deodorant for women.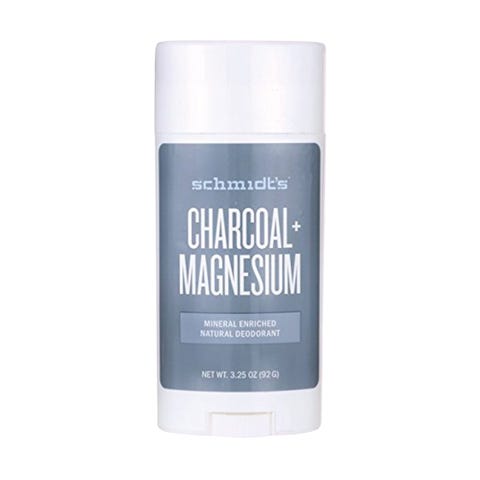 SCHMIDT'S NATURALS
Schmidt's Charcoal + Magnesium Mineral Enriched Natural Deodorant
BUY IT $12, amazon.com
Unlike an antiperspirant, deodorants like this one can't prevent you from sweating. However, "the charcoal, sodium bicarbonate, and magnesium hydroxide can help absorb moisture," says Shah.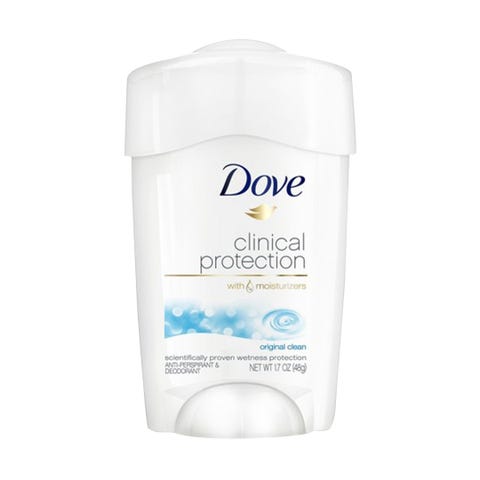 DOVE
Dove Clinical Protection
BUY IT $15, amazon.com
Apart from drastically reducing wetness and sweat, it smooths your underarm area, too. "It contains moisturizers to condition the skin," says Shah.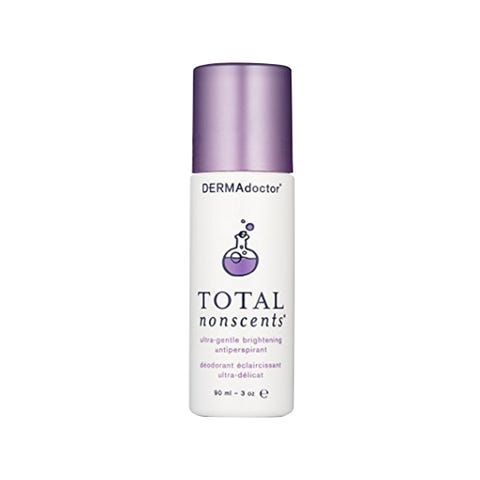 DERMADOCTOR
DERMAdoctor Total NonScents Ultra Gentle Antiperspirant
BUY IT $28, sephora.com
"Besides the awesome, catchy name, it's great for more sensitive skin," says dermatologist Mona Gohara, M.D.. It's an ideal alternative for ladies who are prone to eczema, atopic or contact dermatitis, or anyone who typically is unable to use antiperspirants and deodorants.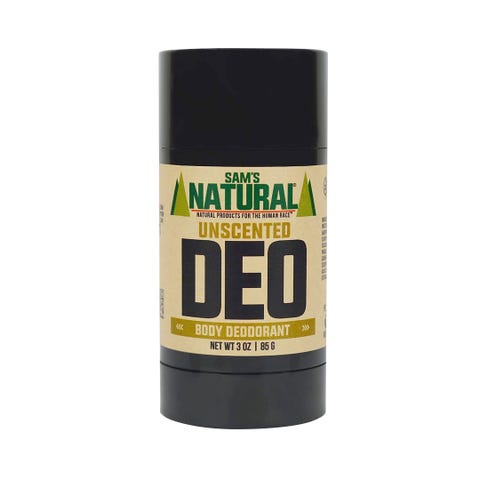 SAM'S NATURAL
Sam's Natural Unscented Deodorant
BUY IT $10, amazon.com
If you're looking to really clean up your beauty routine, opt for this natural stick. "It's vegan, cruelty-free, aluminum- free, and fragrance-free," says Gohara.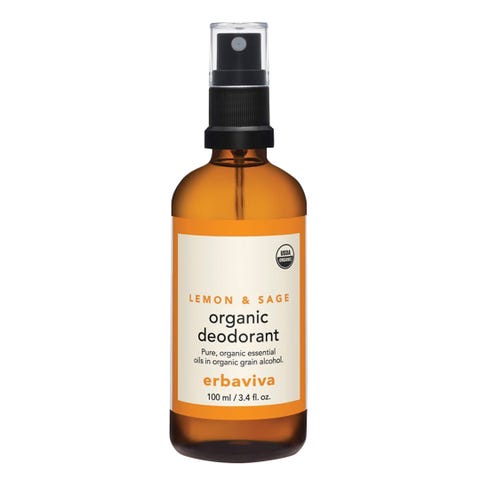 ERBAVIVA
Erbaviva Lemon Sage Organic Deodorant
BUY IT $28, amazon.com
"It's made with essential oils and grain alcohol," says Grossman. "While it won't stop the sweating, it will make you smell nice and clean."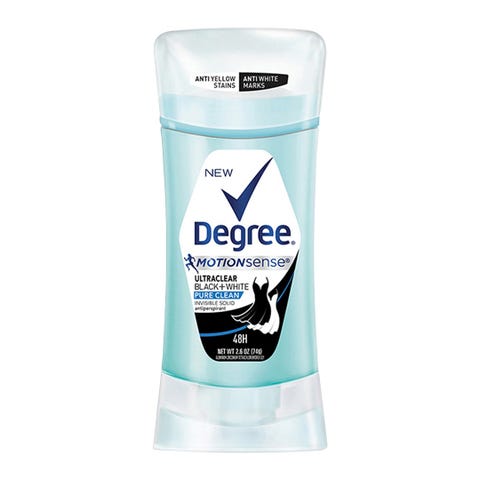 DEGREE
Degree Motionsense UltraClear Black + White Pure Clean
BUY IT $4, walmart.com
If you're always on the move, reach for this motion-activated formula. "It contains unique microcapsule technology that releases throughout the day," says Shah. Smelling as fresh as you did right out of the shower has never been easier.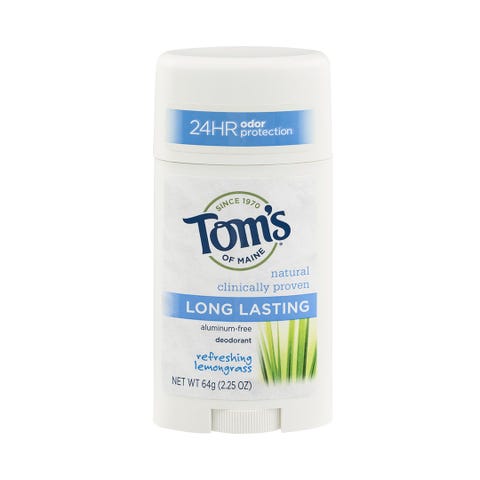 TOM'S OF MAINE
Tom's of Maine Refreshing Lemongrass Deodorant
BUY IT $5, amazon.com
This natural stick is aluminum-free. "It has a nice, clean smell," adds Grossman.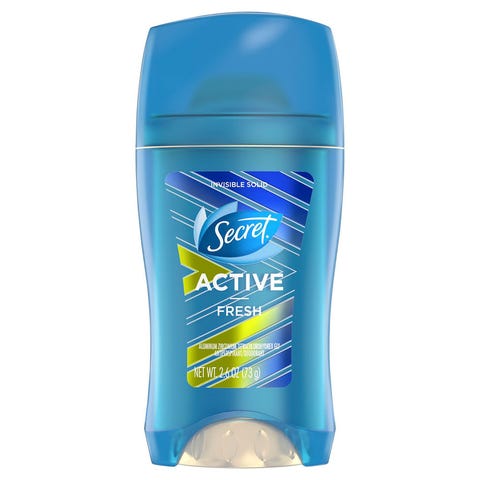 Secret
Secret Active
BUY IT $5, target.com
All antiperspirants work by plugging your pores with an aluminum-based compound, says New York City dermatologist Joshua Zeichner, M.D. Secret's new formula goes beyond that. Its star ingredient, beta-cyclodextrin, kicks in as you sweat, trapping odor and replacing it with a fresh scent. The more you sweat, the more it works.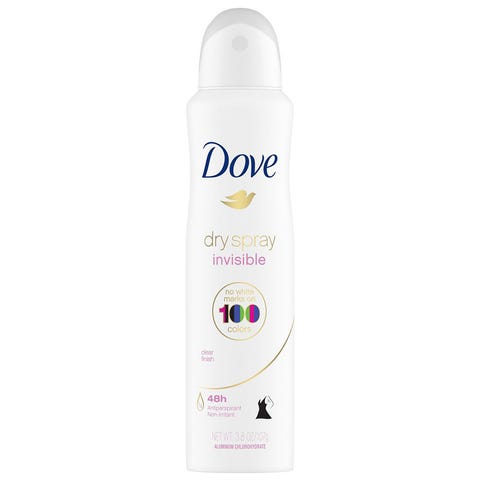 Dove
Dove Invisible Dry Spray
BUY IT $6, amazon.com
If you want a weightless feel, switch to a dry spray antiperspirant. "They create a flexible film of active ingredients on your skin and remain dry," says Perry Romanowski, a cosmetic chemist in Chicago. Dove's has finely milled aluminum for invisible protection, plus a special masking oil to prevent any marks from getting on clothes.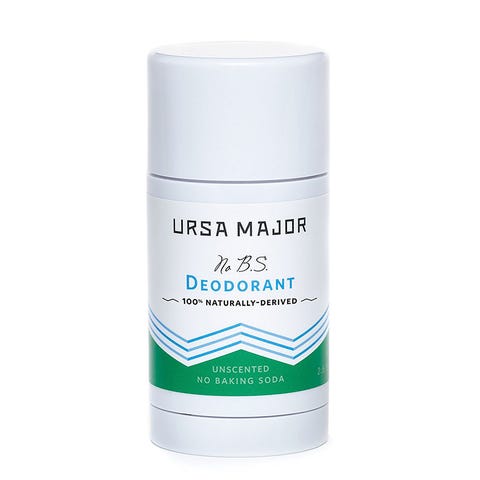 Ursa Major
Ursa Major No B.S. Deodorant
BUY IT $18, amazon.com
Sensitive-skinned gals should avoid irritants like aluminum, baking soda, and fragrance—all three can cause redness, burning, and peeling of the skin, says Zeichner. This gentle stick uses chamomile to soothe skin, hops to ward off the bacteria that make sweat smelly, and kaolin clay to absorb moisture.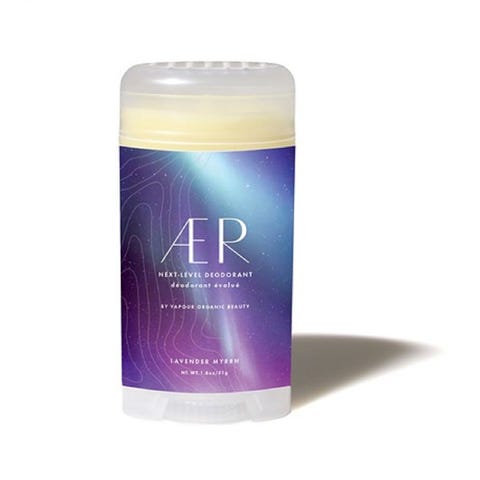 Vapour
Vapour Aer Next-Level Deodorant
BUY IT $24, amazon.com
If you're one of those #blessed people that doesn't sweat that much, swipe on this deodorant. It won't stop you from perspiring but will cover up odor. This one from Vapour uses lavender and myrrh to banish BO and arrowroot to soak up wetness. FYI: "A deodorant's effectiveness depends on your unique underarm microbiome, so you may need to try a few to find what works," says Romanowski.
Some of these recommendations originally appeared in the June 2018 issue of Women's Health.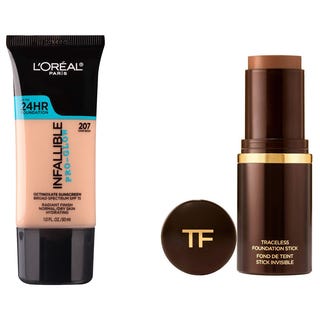 Source: Read Full Article