The half sister of former Fremantle Docker Rhys Palmer says doctors prepared family for the worst as the "beautiful" 30-year-old was taken into surgery for serious injuries sustained in a motorcycle accident southwest of Perth on Saturday.
Katie Gallin in a Facebook post on Sunday said her half brother was "fighting for his life" in hospital after doctors "prepared us for the worst".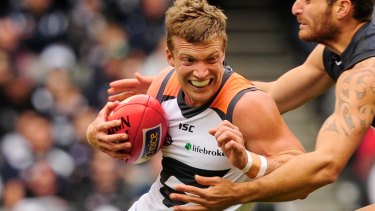 Former Docker Rhys Palmer was seriously injured in a motorcycle accident in Bicton. Credit:Fairfax
"He made it through the first round of surgery and has got to this morning but even if he survives his physical injuries, there is his brain injury and how much damage has been done we don't know yet and if he will ever have quality of life again," she wrote.
"Rhys is a beautiful, 30yo boy who has a lot of people who love him and he doesn't deserve to die today."
Palmer is currently in an induced coma in Royal Perth Hospital after he was seriously injured in the motorcycle accident in Bicton.
He was driving his motorbike with a female passenger about 7pm when a car collided with them.
According to a statement from the 30-year-old's current WAFL club, Swan Districts, Palmer was not to blame for the accident.
WA Police are investigating the crash in which a 2005 black Mitsubishi Lancer turning from Canning Highway onto Murray Road collided with the 2007 blue/black Yamaha motorbike travelling along Canning Highway.
Palmer suffered serious injuries and was taken to Royal Perth Hospital, where her underwent emergency surgery.
"It's understood that Rhys is now in a stable condition and the passenger has no significant injuries," the club statement read.
Palmer's 25-year-old female passenger received a minor hand injury and was also taken to RPH for treatment.
The 45-year-old male driver of the Mitsubishi received minor injuries.
A witness at the scene of the crash said the man was put in the ambulance with a neck brace while his female passenger was lying on the footpath, covered in a blanket.
"It didn't look good", the witness said.
The scene of the crash in Bicton on Saturday night. Credit:Fran Rimrod.
Traffic crash investigators want to speak to witnesses or anyone who saw either vehicle prior to the incident.
The accident comes after recent media coverage in which Palmer was accused of throwing shoes at horses on the trotting track at Gloucester Park on Friday night.
"The health and wellbeing of Rhys and his passenger is of utmost importance to the club," Swans chief executive Jeff Dennis said.
"There is no consideration of anything else of at this point in time.
"The thoughts of everyone at the club are with both of them and their families at this very difficult time."
In response to the shoe throwing allegations, Palmer had turned to social media to "provide some clarity" where he said "no shoe was deliberately thrown at a horse during any race".
Addressing alleged shoe throwing incident, Ms Gallin said it was "disappointing" people believed the media "bulls-t".
"Rhys 100 per cent did not throw that shoe."
Ms Gallin said there was footage of a barefoot Palmer and a younger teammate being "dickh—s" but he didn't throw the shoe, which wasn't his anyway.
"It's only because he has a recognisable face and was unable to flatly deny it publicly," she wrote.
"He has been harassed, trolled and abused on the phone and through social media.
"It's absolutely disgusting what my family and I have had to read."
Source: Read Full Article